Kathy Griffin Cuts Ties With Former Friend And Co-Host Anderson Cooper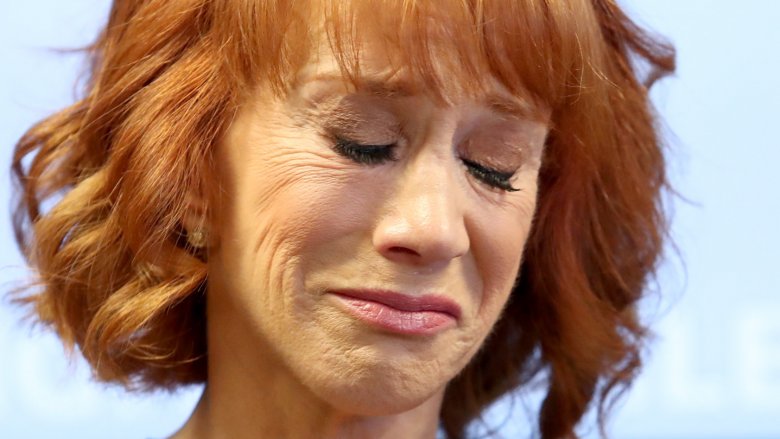 Getty Images
Anderson Cooper, you can stop braiding your friendship bracelet for Kathy Griffin. The comedian's not interested.
In an interview with The Cut, Griffin, 56, opened up about her relationship with her former CNN New Year's Eve show co-host, revealing that she's ended their 17-year-long friendship. And it was all because of Cooper's reaction to Griffin's controversial photo shoot.
As many may remember, Griffin faced severe backlash after she shared an image of herself holding the prop of Donald Trump's bloody decapitated head. While she soon took down the photo and apologized, many celebrities spoke out against her—including Cooper, who'd tweeted, "For the record, I am appalled by the photo shoot Kathy Griffin took part in. It is clearly disgusting and completely inappropriate."
But, while he'd condemned the photo, Cooper, 50, later told Watch What Happens Live that he and Griffin were still friends, adding, "I didn't think what she said was appropriate, but I wish her the best and I hope she bounces back."
And while his late night remarks may have sounded nice enough, Griffin apparently wasn't all too pleased because, though he'd said they were friends, Cooper had allegedly never reached out to her following the photo backlash. As The Cut noted, she'd thought "their long friendship afforded her a call or text message" before he'd tweeted. She also noted that Cooper didn't even reach out to her until August 2017—months after the incident.
According to the publication, when Cooper finally contacted Griffin via text message, she decided to tell him that their friendship was over.
Fortunately for Griffin, other celebrities did come to her defense, including Jamie Foxx and Jim Carrey.
While we wait for Cooper to comment on Griffin's latest interview, read up on all of the controversial jokes that got comedians into serious trouble.