Kathy Griffin Tearfully Speaks Out: 'You Shouldn't Silence A Comic'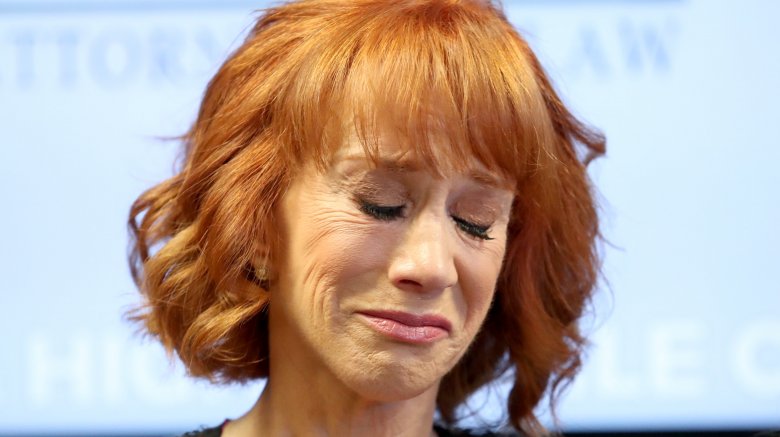 Getty Images
The redheaded comedian is hitting back against some of the hate she's received for her recent controversial photo shoot.
Us Weekly reports that Kathy Griffin held a press conference in Woodland Hills, Calif. on June 2, 2017. Calling President Donald Trump a "bully," the 56-year-old told reporters, "A sitting president of the United States and his grown children and the first lady are, I feel personally, trying to ruin my life forever." 
"You guys know him. He's never going to stop," she continued.
Griffin reaffirmed that she's sorry for participating in the photo shoot, standing by her initial apology. However, she added (via AOL), "You shouldn't have to die for this."
The comedian, who was fired from several projects after receiving backlash for the photo, also doubted that her career could survive, due in part to Trump's own pot-stirring. "I don't think I will have a career after this. I think, I'm going to be honest, he broke me," she said, fighting tears. "He broke me, and then I was like, 'No, this isn't right.'"
Regarding her termination from CNN, Griffin stated, "It's hurtful to me," adding, "There's a bunch of old white guys trying to silence me, and I'm just saying that's wrong. You don't have to like me, but you shouldn't silence a comic."
Griffin, who confirmed that she is being investigated by the Secret Service, also asserted that Trump is using her actions as a way to distract the public from his own agenda. "I'm the shiny object," she explained. "We all know what's going on there. They're using me as the shiny object so no one's talking about [Trump's] FBI investigation."
Actors Jim Carrey and Jamie Foxx recently came to Griffin's defense this week, alleging that Griffin crossed the line in an attempt to do her job as a comedian.