Kathy Griffin's Wedding Was Officiated By An Acting Legend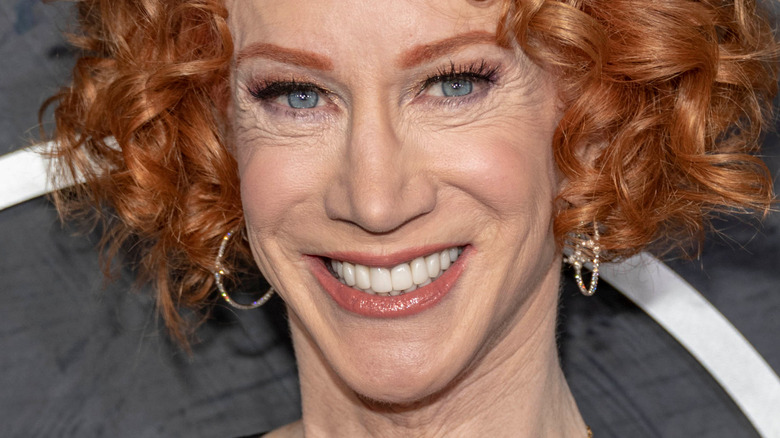 Eugene Powers/Shutterstock
Kathy Griffin has made no secret of her love for longtime beau, Randy Bick. According to HuffPost, the comedian first began dating Bick in 2012. However, after seven years as an item, the two split up. "God help me, but I¹m gonna be one of those people who announces a break up," Griffin tweeted in 2018 (via Us Weekly). "After 7 years, Randy and I have decided to part ways. It's not acrimonious and I will always adore him."
Despite their temporary time apart, Griffin and Bick rekindled their romance and the two have been together ever since. In December 2019, the "Pulp Fiction" actor shocked fans when she announced plans to marry her longtime boyfriend, Randy Bick, in a shotgun New Year's wedding. "Happy New Year! And, surprise! We're getting married! Tonight! After midnight," the two said in a video posted on Twitter (via People). And while the news of Griffin's wedding was shocking enough, it was later revealed that an acting legend played a key role in the surprise nuptials.
Lily Tomlin officiated Kathy Griffin's wedding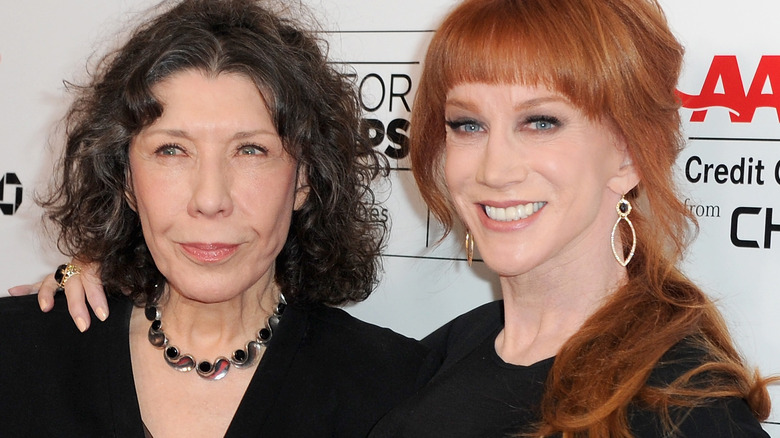 Joshua Blanchard/Getty Images
Kathy Griffin has spoken candidly about her relationship with Randy Bick, and once admitted that she thought their time together would be short-lived. "Well you know I didn't think it would last [because] he's 18 years younger than I am," she jokingly told People. "I thought he was just a man-w***e, if you will." Griffin went on to exclaim that Bick is "very sweet and very mellow."
Despite her previous hesitance, Griffin ultimately said "I do," before tying the knot with her beau in 2020. After their ceremony, Griffin revealed that her wedding was officiated by a huge movie star. "The entire ceremony was just under 14 minutes but I have to give you guys the uncut first 75 seconds," Griffin tweeted (via CNN). "LOVE IT! We promised you atypical. We are in love and we cannot stop laughing. Thank you @LilyTomlin and Jane Wagner #HappyNewYear." Griffin also shared a video of the short event on her YouTube channel, which showed Tomlin curating the entire event.
Lily Tomlin owed Kathy Griffin a $25,000 favor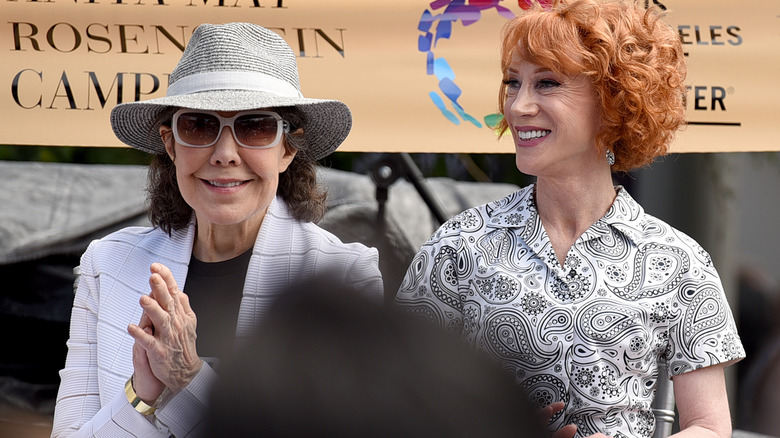 Presley Ann/Getty Images for Los Angeles LGBT Center
While some may have been surprised to see Lily Tomlin at Kathy Griffin's wedding, the two appear to have been friends for over a decade. Tomlin previously appeared on Griffin's "Kathy Griffin: My Life on the D-List," where she played a joke on Jane Fonda. The two have also joined forces for more heartfelt causes, and recently attended the opening of the Los Angeles LGBT Center's new campus.
Tomlin previously opened up about her friendship with Griffin during an appearance on "The Late Late Show with James Corden," and joked that she owed the reality star a favor. "We'd both gone to the Traverse City Film Festival (in Michigan) and had rented a chartered jet, which cost her 50 grand," Tomlin said. "She gave me a free ride and ... kidded me a lot about owing her 25 grand. So I told her I would officiate at the wedding for $25,000 and then we'd be even."