Where Is Anthony Weiner Now?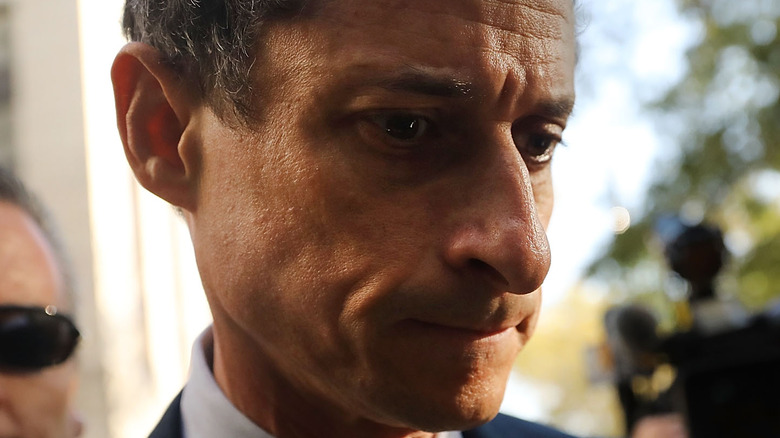 Spencer Platt/Getty Images
Anthony Weiner may be one of the best-known U.S. congressmen in modern American history, in no small part due to his controversial and often salacious scandals. Elected to the U.S. Congress in 1998, Weiner served New York's 9th congressional district for over 12 years until he was notoriously brought down by a controversial sexting scandal in 2011. It was publicly revealed in May of that year that Weiner had sent multiple women sexually suggestive photos of himself via text, which resulted in his resignation the following month. 
Years later, in 2016, it was reported that Weiner had sent sexually suggestive images to a 15-year-old girl in North Carolina, culminating in his conviction on charges of transferring obscene material to a minor the following year. He was sentenced to 21 months in prison and released in 2019. He will also have to be registered as a sex offender for the rest of his life. 
In the meantime, Weiner had famously attempted a comeback to politics, running as a Democratic candidate in the 2013 New York City mayoral election. However, he ended up placing fifth in the primary, losing to — among others — future mayor Bill de Blasio. While he isn't the only politician to have ruined his career on the internet, many have wondered what happened to Weiner in the years since his scandals. Well, followers of the former congressman shouldn't be surprised to hear that the outgoing New Yorker is probably doing exactly as you'd suspect (within the boundaries of the law).
Anthony Weiner is now a podcast host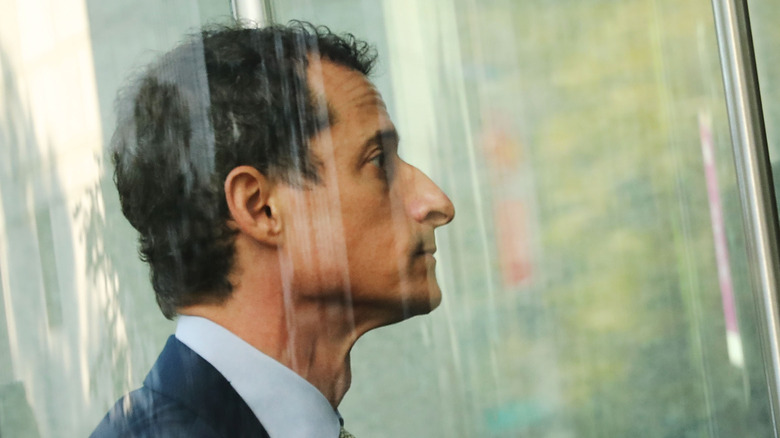 Spencer Platt/Getty Images
In March 2022, New York Magazine reported that former congressman Anthony Weiner began working as a radio show host alongside prominent New York City Republican Curtis Sliwa. At WABC radio — where he co-hosts his live show — Weiner has also launched a podcast called "The Middle With Anthony Weiner," where the former congressman offers his take on "the news of today."
With Sliwa, a decades-long activist who founded New York City's Guardian Angels, Weiner hosts a radio show called "The Left Versus The Right," where the pair discuss the most prominent issues currently facing the U.S. and New York. Sliwa has also tried his hand in politics, running as the Republican nominee for New York City mayor in 2021. According to Politico, he lost to current mayor Eric Adams by almost 40 points, garnering a paltry 27.8% of the vote overall.
As the Daily Beast reports, Weiner makes little reference to his time spent in prison, and how — or whether — he has grown from it. Nonetheless, the podcast continues to air, and he most recently released an episode with Joel Berg in which the two tackle the issue of hunger and poverty in America.
Anthony Weiner's divorce with Huma Abedin is still ongoing
Andrew Toth/Getty Images
As followers of the disgraced congressman will recall, Anthony Weiner was married to longtime Democratic staffer and Hillary Clinton campaign aide Huma Abedin amidst his sexting scandals. The pair tied the knot in 2010, and she stood by his side as he weathered the storm of his initial scandals. Abedin finally separated from Weiner in 2016 after the New York Post reported that he had engaged in sexting with another woman. She filed for divorce in May 2017 after he pleaded guilty to transferring obscene material to a minor.
However, Insider reported that both Abedin and Weiner decided to withdraw the divorce case from court in January 2018, which Abedin described as an attempt to shield their only child — a then-six-year-old son — from further embarrassment. "In order to ensure the proceedings have a minimal impact on their child," one of Abedin's attorneys said in a statement, "the parties have decided to finalize their divorce swiftly and privately." 
As of November 2021, their divorce is still ongoing, although CBS News reported that it was reaching its final stages, and both continue to jointly raise their son. "We're good," Abedin said of her relationship with her former partner. "He is my co-parent. And I learned the full truth. I processed it and moved on. I wish him well."