Where Do Vicki Gunvalson And Kelly Dodd Stand Today?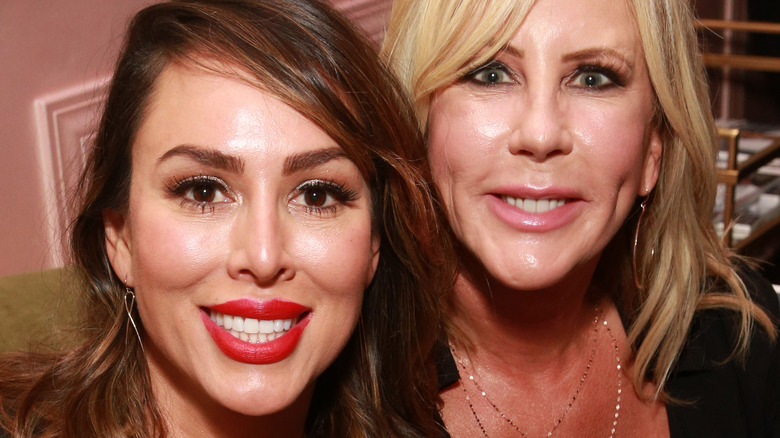 Robin Marchant/Getty Images
Vicki Gunvalson and Kelly Dodd became good friends when the latter joined "The Real Housewives of Orange County" in Season 11. Gunvalson, who was on the show since Season 1, was on the outs with her other castmates and welcomed newcomer Dodd with open arms. Dodd didn't immediately get along with the other women, who were taken aback by her abrasive personality. However, Gunvalson had her back and the two allied together against the other housewives.
In Season 13, their friendship took a hit when Dodd found out that Gunvalson had set up her ex-husband, Michael Dodd, with her then-boyfriend Steve Lodge's friend (via Bravo). Dodd was further incensed when Gunvalson admitted that she and Lodge had gone on double dates with the new couple. Lodge later revealed that the set-up was his idea but the betrayal Dodd felt at her friend's hands caused a long road of contention between the two housewives. So, where do they stand today?
Vicki Gunvalson made a shocking claim about Kelly Dodd
Jesse Grant/Getty Images
During "The Real Housewives of Orange County" Season 13 reunion, Vicki Gunvalson and Kelly Dodd fired shots at each other. As the two housewives went head-to-head, Gunvalson alleged that Dodd did cocaine. Dodd vehemently denied it and accused Gunvalson of ingesting edible marijuana. While the two kept pointing fingers at each other, host Andy Cohen had to remind the ladies that marijuana was legal in California. Gunvalson made another serious accusation when she stated that Dodd was never with her daughter, Jolie. Yet, although Gunvalson tried to backtrack her claims, the damage was already done.
Following Gunvalson's drug claims, Dodd shared that the statements had a negative impact on her teenage daughter (via People). She revealed in Season 14 that Jolie had been bullied online, with people calling Dodd a "coke head." The incident caused Jolie, who was close to Gunvalson, to now "hate" her. "Vicki has no idea the magnitude of hurt she has done to my family," Dodd told the cameras.
Kelly Dodd eventually forgave Vicki Gunvalson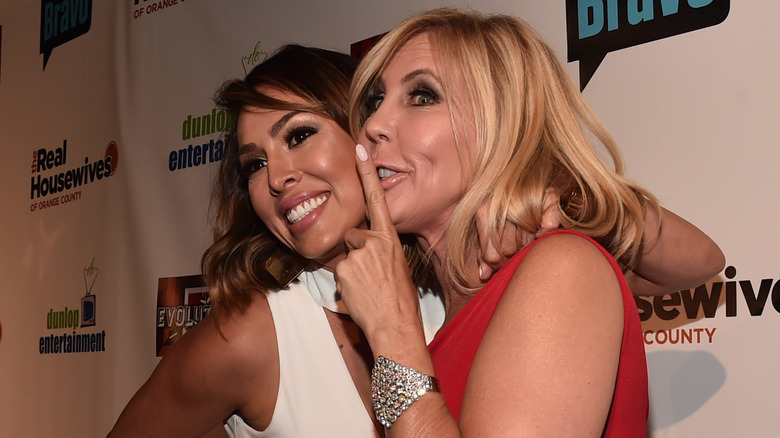 Alberto E. Rodriguez/Getty Images
It seemed as if Kelly Dodd would never forgive Vicki Gunvalson. In "The Real Housewives of Orange County" Season 14, Dodd sent Gunvalson an expletive-filled message using a pig Animoji. Although Gunvalson tried to talk to Dodd during Tamra Judge's housewarming party, the latter wasn't having it. "She chases me around Tamra's house," Dodd described to Entertainment Tonight. "I really don't want to give her the time of day... I just want her to leave me alone."
After Season 14 wrapped, Dodd told Entertainment Tonight that she had gone to a party at Judge's house and was told that Gunvalson had refused to come if she was there. Dodd seemed to have moved on from their feud, saying, "I'm not mad at her, but she's clearly mad ... I've always had a great time with her. I mean, I'm hoping that, you know, we'll one day talk again."
In 2021, Dodd and Gunvalson finally made amends. Dodd, who was let go from the show following Season 15, shared an Instagram Story of her hanging out with none other than Gunvalson, per Page Six. In fact, the two former housewives are teaming up to host a podcast together, according to Heavy. Dodd's husband, Rick Leventhal, confirmed that it's in the works and stated, "Kelly and Vicki have terrific chemistry together." After a years-long feud, Dodd and Gunvalson have finally put aside their differences and are ready to move on from their "Real Housewives" drama.