Prince Harry Admitted He Rarely Eats One Extremely Popular Food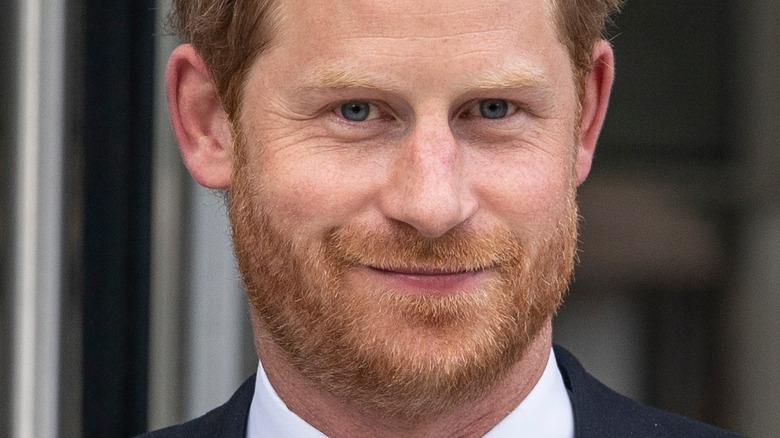 lev radin/Shutterstock
Although he may be a prominent member of the British royal family, Prince Harry, Duke of Sussex, arguably leads one of the most normal private lives of all the royals.
For one, the duke has many interests and hobbies which may strike many as being surprisingly down-to-earth. He has been one of the royal family's most enthusiastic athletes, for instance, and is a big fan of competitive polo, skiing, and motorbiking, according to the royal family's website. Like many of his family members throughout the generations, he was also famously in the UK Army for 10 years, from 2005 to 2015, and even served in Afghanistan for a 20-week deployment from 2012 to 2013. 
However, there is at least one instance in which Harry's preferences may not fall in line with the majority of the public. Indeed, the duke even revealed at one point that he had a rather bizarre eating preference, admitting that he rarely partook in one of the west's most popular dishes. 
Prince Harry rarely eats pizza
In October 2017, Prince Harry and former first lady Michelle Obama made a widely-publicized visit to Obama's native Chicago, in which the two took the time to speak with a group of students from the Hyde Park Academy high school. As Carolina Adler, Obama's communications director, told ABC News, "The warm and wide-ranging conversation, lasting over an hour, covered how the Obama Presidential Center will showcase the South Side of Chicago for a global audience, the importance of young people staying inspired and hopeful, and the transformative power of students using their voices to change the world." 
However, one video posted to the royal family's YouTube channel revealed a conversation Harry had with some of the students afterward, in which he made a shocking revelation: he rarely eats pizza. However, he made an exception for Chicago and their famous pies. 
"When Prince Harry's here, he eats Chicago," one of the students declared in the video. "Make sure he has a pizza." Harry then replied: "I had pizza last night. I don't even eat pizza anymore, but I had pizza last night." He then added, "We had deep-dish, and we had thin crust. I promise you, I will make sure I eat Chicago."
Prince Harry loves American food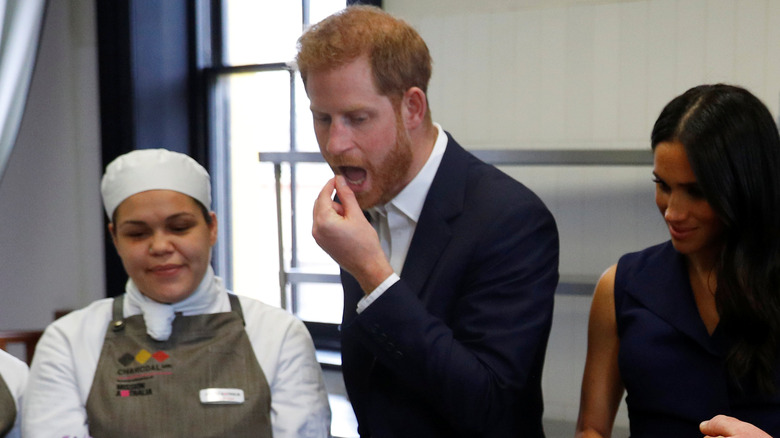 Pool/Getty Images
Although some fans and followers of Prince Harry may be shocked to learn that the Duke of Sussex almost never eats pizza, some of his American fans will be glad to hear that his favorite food to eat is actually an American specialty: American fast food. 
This preference may be fitting, considering he's the first royal to marry an American since his great-great-uncle King Edward VIII, and is now a permanent resident of California with his wife, Meghan Markle. In fact, Meghan revealed in an October interview with Variety that Harry's favorite snack was an American favorite: the In-N-Out Burger. In fact, he's such a fan, that the employees at their go-to restaurant know his order by heart. 
"My husband's favorite is In-N-Out," Meghan revealed of the couples' favorite snack breaks. "There's one at the halfway point between L.A. and our neck of the woods. It's really fun to go through the drive-thru and surprise them. They know our order." This is no surprise, as fast food has always been a favorite of Harry's. In 2017, for instance, former royal chef Darren McGrady told Marie Claire that going out to McDonald's with their mother, Princess Diana, used to be a favorite pastime for Harry and his brother, Prince William. "Yeah, the boys loved McDonald's, and going out to pizza, and having potato skins," McGrady recalled. "Sort of the American foods. They were royal princes but had children's palates."