The Real Story Of How Chris Stapleton Met His Wife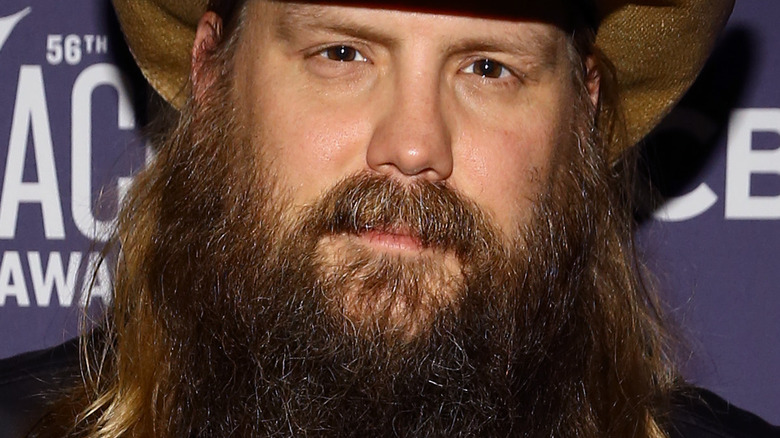 Terry Wyatt/acma2021/Getty Images
Chris Stapleton is a man of many talents. He's an award-winning singer-songwriter who has reimagined country music and has a career stacked with reputable accolades. Rightfully so, he's been in the industry for over a decade and has also worked with some of the best artists today such as Adele and George Straight. The multi-talented songwriter also wrote Kenny Chesney's "Never Wanted Nothing More" and Luke Bryan's "Drink a Beer," which were both top hits as well.
The "Tennessee Whiskey" crooner made history in the fall of 2015 when he became the first artist ever to win Album of the Year, Male Vocalist of the Year, and New Artist of the Year at the Country Music Association Awards. The success doesn't stop there, the following year he received four Grammy nominations and took home two awards: Best Country Solo Performance and Best Country Album for his debut solo album, "Traveller." The debut album was a huge success but the music stemmed from a family tragedy.
"I lost my dad in October 2013 and did a little bit of soul-searching, Chris shared with Billboard in April 2015. "I thought a lot about music and my dad and the things that he would have liked that I should be doing." Chris has had immense success throughout his career and he often gives credit to his wife, Morgane Stapleton. Morgane has made a major impact on the country music singer, so how did the pair meet?
Chris and Morgane Stapleton met in 2003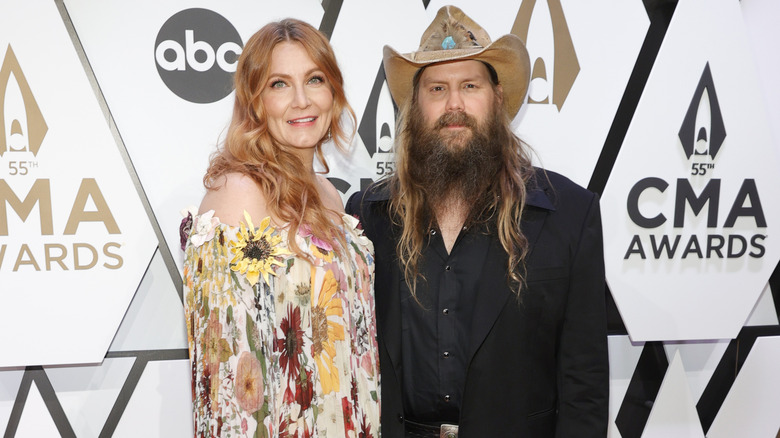 Jason Kempin/Getty Images
Chris and Morgane Stapleton are more in love than ever. It's hard to think that there was a time when the pair weren't an item. They met in 2003 in Nashville while working as songwriters at neighboring music publishing companies. "I kinda did stalk him. A little bit," Morgane shared with Paste Magazine in August 2015. "I was friends with his song plugger and I would go hang out in her office, like, every day," she added. Eventually, Chris asked Morgane if she wanted to write a song with him on a Friday night and the rest is history. The desire and attraction were mutual as Morgane later added, "We tried to write a song, but we just ended up making out most of the night." The dotting pair is a strong unified front and their relationship has blossomed ever since.
On their 14th wedding anniversary, Morgane took to Instagram to share a sweet tribute to her husband. "14 years today. I don't remember much about life before you. Thank you for loving me. Thank you for hearing me. Thank you for teaching me. Thank you for respecting me. Thank you for giving me everything I cherish in this life. I love you more than I'll ever be able to put into words, but I'll spend the rest of my time here on earth trying. Happy anniversary my love!"
Together, they juggle parenthood and their careers while putting each other first.
They mix business and pleasure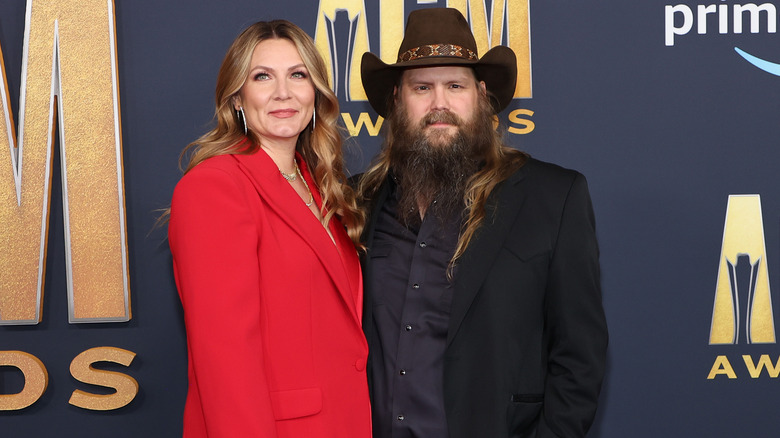 Mike Coppola/Getty Images
Chris and Morgane Stapleton have a lot in common. In addition to their undying love for each other, they are both artists and have collaborated on various projects together. It's clear that the loving pair have no qualms about mixing business with pleasure and actually find a bit of comfort in doing so. "As much as I can talk about him being a comfort to me, I think in that way I also am a comfort to him. We can look at each other and know, 'OK, I got you.'" she shared with New York Times in May 2017.
The "Down Home" singer often joins her husband on tour as a backup singer. In fact, Chris often credits Morgane for a lot of his success in his career.  "Make no mistake, [Morgane's hands are] always all over everything," he told Rare Country in 2017, per HollywoodLife. "She's my Jiminy Cricket in a lot of ways. She's the voice of reason because I'm not always reasonable." The "You Should Probably Leave," singer later added that Morgane knows him better than others and doesn't let him be "lazy" when it comes to performing.
Chris and Morgane Stapleton have chemistry both on and off the stage and currently have five children together. While the lovebirds tend to keep their personal lives private for the most part, they are very vocal about their support for each other in life and within this grueling industry.