The Phone Call That Saved Hulk Hogan's Life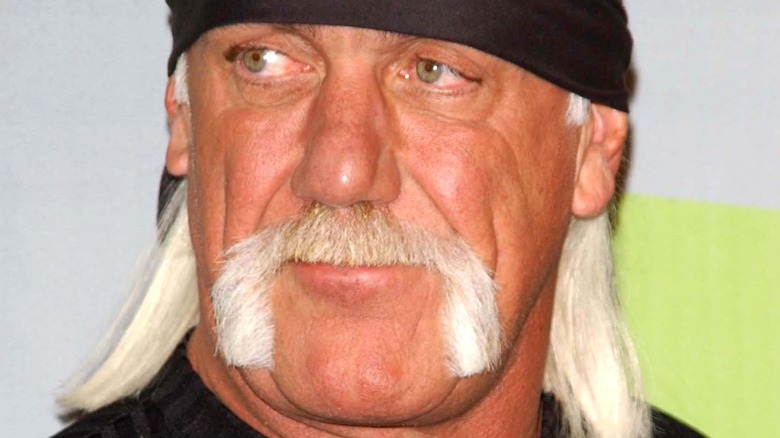 s_bukley/Shutterstock
We may receive a commission on purchases made from links.
Wrestler Hulk Hogan has had an infamous career as an international entertainer. Hogan rose to fame as one of the leading stars of the WWE, winning six championships and countless pay-per-view matches. In addition to his time in the ring, Hogan starred in a slew of movie and television productions. In 1982, he appeared alongside Sylvester Stallone in "Rocky III," and has since appeared in shows like "The Goldbergs," and "Robot Chicken."
And while fans of Hogan may be familiar with the athlete's outlandish personality, or his popular reality show, "Hogan Knows Best" – some may be surprised to learn that his life was also derailed by substance addiction. Hogan's ex-wife, Linda, opened up about her husband's struggles and alleged that the professional wrestler had been using drugs since the 1980s. "From the very onset of our marriage, he took a lot of steroids; he was always on drugs, recreational drugs," Linda wrote in her book, "Wrestling the Hulk: My Life Against the Ropes." "He had all kinds of stuff he was doing, along with all of the other wrestlers."
For his part, Hogan has made no secret of his past. The former reality star once spoke candidly about his substance abuse problems and even admitted that a surprise phone call saved his life.
Hulk Hogan says a call from Laila Ali saved his life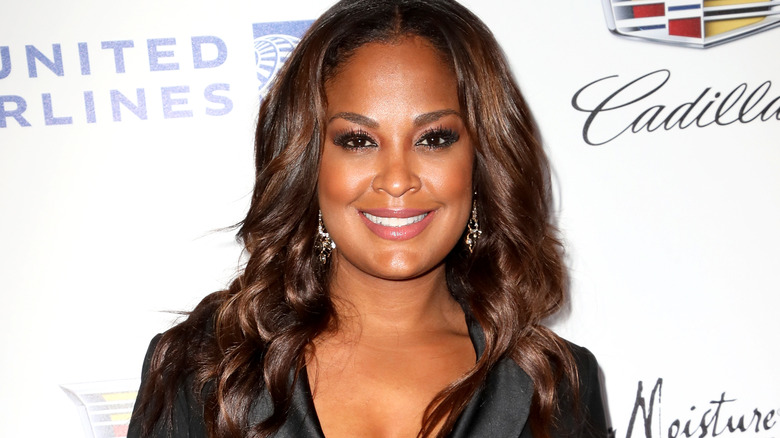 David Livingston/Getty Images
In 2008, Hulk Hogan was tapped to co-host NBC's "American Gladiators" – alongside Laila Ali. And while the competition series only ran for two seasons, Hogan later revealed that his relationship with Ali changed his life. In his memoir, "My Life Outside The Ring," Hogan recalled a chance phone call from his "Gladiators" co-star, which came while he was severely depressed.
The athlete opened up about the divine moment, during an interview on the "Today" show. "All of a sudden the phone rang," Hogan recounted. "And it was Laila, and she said, 'Hey, what's going on? You're on the set. You're all depressed. We're worried about you. You going to be OK?'" The former "Hogan Knows Best" star went on to explain that hearing the concern from Ali caused him to snap out of his depression.
Furthermore, Hogan admitted that the tumultuous period, which occurred in 2007, came on the heels of his wife's request for a divorce and his son's tragic car accident.
Laila Ali was unaware of her impact on Hulk Hogan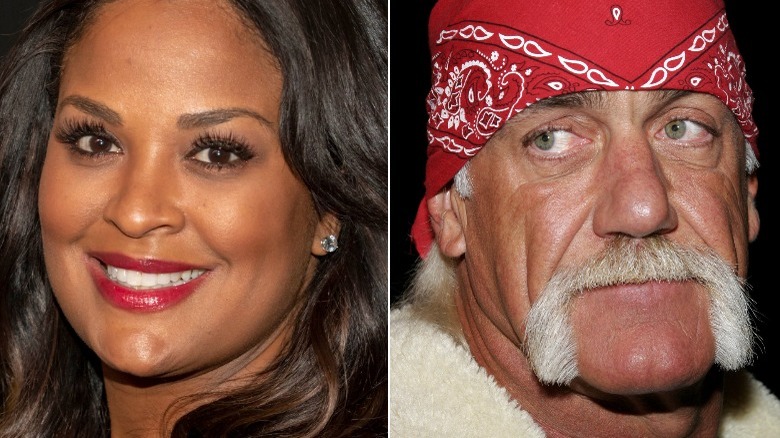 Eugene Powers & Tinseltown/Shutterstock
Hulk Hogan has spoken candidly about his history of substance abuse, and once admitted that he had been using drugs and illegal steroids since the start of his professional career. "Everybody was doing it," he told the Los Angeles Times in 1993. Adding, "A lot of people thought it was just Hulk doing it; now they realize the whole sports world in the '80s was doing it. I survived it and I'm going to be around for a while." Unfortunately, the wrestler's problems didn't end there, and his issues seemingly continued. Years later, Hogan credited Laila Ali for changing his life – however, Ali was initially unaware of her impact.
Following the release of Hogan's 2009 book, Ali revealed to Access Hollywood that she was shocked to learn that she saved the wrestler's life. "I did call him from time to time when we were shooting the show for whatever reason & I did offer him lots of words of inspiration & support," she said. The professional boxer went on to add that while she was worried about her co-host, she was simply offering him comfort during the troubling period. She added, "I think that was just divine intervention."