The Scary Surfing Accident That Left Amy Schumer With 41 Stitches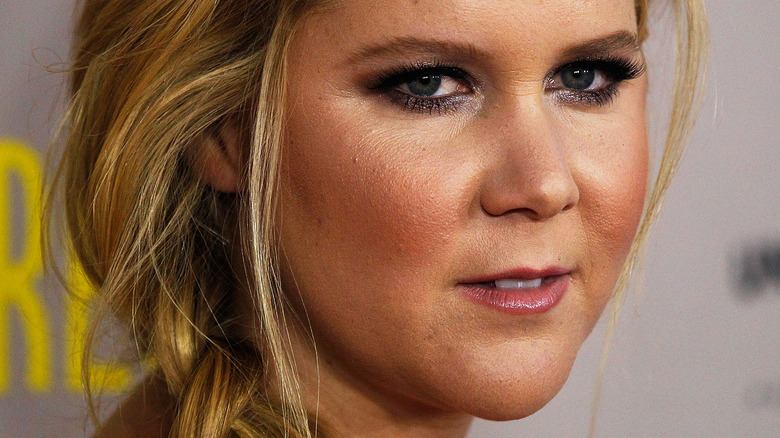 Brendon Thorne/Getty Images
Amy Schumer's landed her big breakthrough with Comedy Central s "Inside Amy Schumer," created by and starring the comedian. The series lasted five seasons and earned her an Emmy in 2015 for Outstanding Variety Sketch Series. That same year, Schumer made her move to the big screen as the writer and lead in the film "Trainwreck." Unfortunately, the comedian's health has at times seemed like a train wreck, like when she gave birth to her son Gene in 2019 through a cesarean delivery. To get to that point, Schumer used in vitro fertilization, but the process was difficult enough to have her question whether to have any more children. "IVF was really tough on me. I don't think I could ever do IVF again," she told "Today." 
Schumer revealed she began throwing up five weeks into her pregnancy, which then became a normal occurrence. In total, she counted only 10 days during her pregnancy where she didn't become sick, Schumer explained on the Informed Pregnancy and Parenting podcast. This was due to a pregnancy condition called hyperemesis gravidarum and, as a result, she opted for a C-section as early as possible. She later posted a mirror selfie showing off her scar from childbirth. Schumer also has a scar from earlier in her life. Schumer may be an expert at leaving people in stitches with her comedic timing and hilarious jokes, but one time, the comedian was the one in stitches due to an accident while surfing.
Amy Schumer's ocean experience gone wrong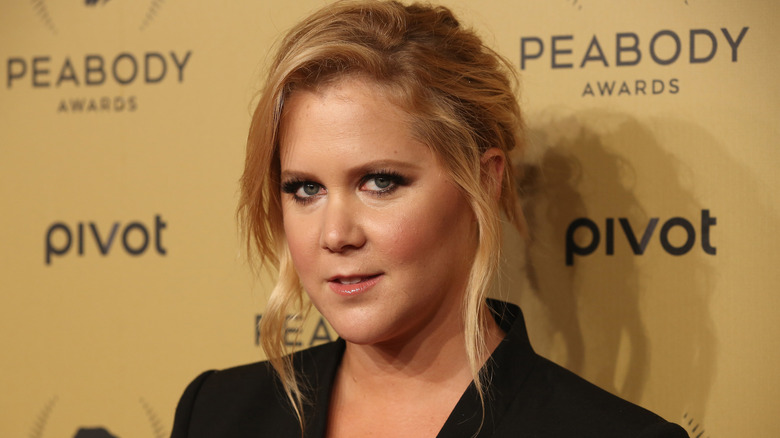 Jemal Countess/Getty Images
Long before she was paid to make people laugh, Amy Schumer was a typical high school student who enjoyed playing volleyball. She also liked to surf. Schumer explained how one day she went to a beach near Manhattan in the winter to catch some waves. While out in the water by herself, "I skegged myself. My whole fin went into my leg, and I had to yank it out," she told Vanity Fair about colliding with her board. Schumer said she first thought about getting out of the water for the possibility of sharks. Then, "I thought, Well, I'm going to die. I can't believe I'm going to die like this." 
While she fortunately didn't die, she recalled thinking, "I'm going to lose my leg. And now I'm going to have to go and be a speaker at high schools and, like, motivate people." Schumer was fine in the end, but instead of hanging ten, she was hanging by 41 stitches in the aftermath. She credited a man on the beach with holding her wound closed with his bare hands while they waited for an ambulance. "He saved my life, for sure," Schumer explained.
Even after the horrific accident, Schumer was unafraid to go to the beach and continue surfing. She shared a video (via People) of herself body surfing in the ocean. This time, however, Schumer stopped for a different kind of accident, explaining that her time got "cut short because my bathing suit fell right on off!"
Inside the aftermath of Amy Schumer's accident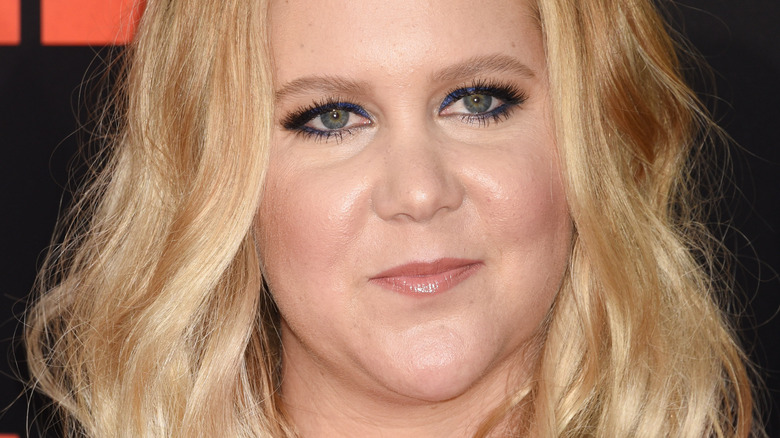 Ga Fullner/Shutterstock
After recovering and later becoming a celebrity, Amy Schumer joked about her surfing accident. Like when she proudly showed off her scar during an appearance on "The Late Show with David Letterman." When the host asked what it was, the always-on comic Schumer responded, "That's my vagina." She then revealed it was her scar from the surfing accident. Joking aside, the accident had a bigger effect on Schumer than she realized. According to the comedian she went to a chiropractor in 2020 who was shocked by the scar. "He said, 'Oh my god, this is completely why your body is pulling this way — it's protecting itself,'" Schumer recalled to Time. "He told me, 'This scar has caused you so much pain for so long,'" she added. 
Not only this, but Schumer had chronic issues, including what she described as "excruciating" back pain. She used all these traumatic experiences as inspiration for her Hulu series "Life & Beth." As Schumer explained about making the show, "The metaphor that you need to deal with the emotional trauma from the past so you can get out of physical pain was not lost on me."
To help alleviate some of her physical pain, Schumer worked with a former physical therapist for the Los Angeles Lakers. In an Instagram post, she revealed, "From old volleyball and surfing injuries I have a herniated disc, a bulging disc and a labral tear in my hip." Fortunately, Schumer said this physical therapy helped.