What Hoda Kotb's Ex Joel Schiffman Really Does For A Living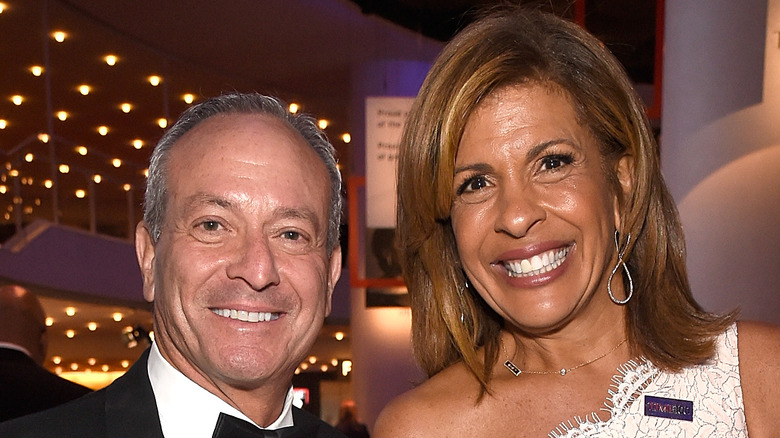 Kevin Mazur/Getty Images
Hoda Kotb and Joel Schiffman seemed like they had it all. The "Today" anchor was pretty open about her sweet relationship with Schiffman on the NBC morning show and in interviews, with the twosome even adopting two adorable daughters together, Haley and Hope. It came as a bit of a shock to fans then when Kotb announced she and Schiffman had ended their engagement (he popped the question in 2019) and they'd gone their separate ways after eight years together. "Joel and I have had a lot of prayerful and meaningful conversations over the holidays and we decided that we're better as friends and parents than we are as an engaged couple," Kotb explained on "Today" in January. "So we decided we are going to start this new year... on our new path as loving parents to our adorable, delightful children, and as friends," she added, noting that there was nothing dramatic that led to their split.
Kotb has since opened up about co-parenting with her ex, telling People in August that she knows they made the right decision splitting. She added that she doesn't regret the time she spent with Schiffman, noting, "It's because of Joel that I have Haley and Hope, without question. I think I might have been too afraid to do it alone. That's not something I love to admit, but it's true." But just who is Kotb's co-parenting partner and what does he actually do?
Joel Schiffman is a financier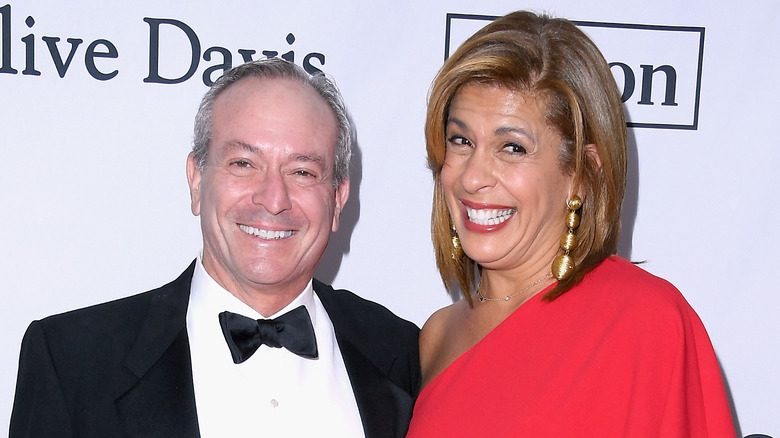 Steve Granitz/Getty Images
Hoda Kotb's former fiancé Joel Schiffman is a New York businessman. Over on LinkedIn, he lists his job as Head of Strategic Partnerships at Schroder Investment Management, which is an asset management company. The businessman worked his way up to his current position at the company, first starting out there in 2019 (the same year he got engaged to Kotb) as Head of Intermediary Distribution in North America before then moving up to be Head of Strategic Partnerships.
Schiffman has had quite a few different roles in the finance field, too. Before landing his current position, he also worked at Janus Henderson Investors as Vice President and Director of Financial Institutions, while a few of his other resume standouts include working as Director of Retirement Platform Relationships at Lord, Abbett & Co. LLC, and Senior Vice President of Business Development & Client Services at Reed, Connor & Birdwell. As for his education, Schiffman obtained his BA in Economics from the University of California in the 1980s. He then returned to school a few years after graduating to become a Certified Investment Management Analyst from The Wharton School.
The best part of his job, though? It turns out we have Schiffman's line of work to thank for him meeting Kotb, as she explained on "Watch What Happens Live" in 2015 they met when she was giving a speech to who she described as "a bunch of Wall Street guys."
Hoda Kotb met Joel Schiffman after delivering a speech
Hoda Kotb met Joel Schiffman's meet cute is a seriously cute one. After she delivered her speech to the group of businesspeople (who she claimed on "Watch What Happens Live" weren't exactly paying her the most attention) he came over to her and asked for her autograph. "He goes, 'Can you sign this?' And I said, 'Who should I write it to?' And he said, 'How about to me?'" she recalled of their first meeting. The "Today" anchor then asked someone she was with that night to scout out the businessman, and they noted he wasn't wearing a wedding ring. Kotb's cohort later emailed Schiffman, to which he responded by asking Kotb out! Adorable.
Sadly, we know this one wasn't meant to be, but it sounds like their healthy co-parenting situation allows the two to spend as much time with their daughters as possible while also being able to focus on their important careers. "He'll have a Saturday, and I'll do the Sunday. We switch each week," Kotb revealed to People of how they co-parent around each other's busy schedules. "He'll take the girls and do some fun things, and I'll take some quiet time. It's a healthy mix, and the kids love it. He's a great dad," she added, noting that they're very good at communicating if things need to be changed.
Kotb and Schiffman are clearly showing us a healthy co-parent situation, and we certainly love to see it!