The Chip And Joanna Gaines Divorce Rumors Explained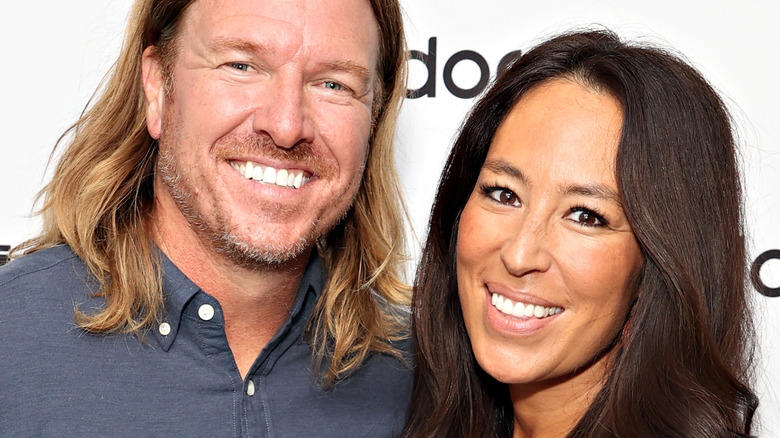 Cindy Ord/Getty Images
Chip and Joanna Gaines have been winning the hearts of many ever since their debut on the beloved HGTV hit, "Fixer Upper." The home renovation show became reality TV gold, as it focused on restoring homes in need of TLC to restore them to pristine condition. Their success is more than the concept of the show; people adore the dynamic couple behind it. Chip's the light-hearted lovable husband, while Joanna's more relaxed, but very business-focused.
Millions of people tuned into the beloved award-nominated show, as it offered joy-filled escapism and  showcased a down-to-earth couple simply trying to figure it out. "They appeal to America because they're almost like a piece of Americana," "Today" co-host Jenna Bush Hager revealed to The Hollywood Reporter in June 2021. "I can walk around the market with Reese Witherspoon and nobody pays attention. But you go with Joanna Gaines, it's as if you are in Graceland with Elvis."
At the height of their success, the power couple opted to make Season 5 of "Fixer Upper" their last. In a joint statement posted to their blog, Magnolia, the pair cited the importance of focusing on family, and fans couldn't help but wonder if that meant trouble in paradise for the pair who seemed to have it all.
Chip and Joanna Gaines quickly squashed divorce rumors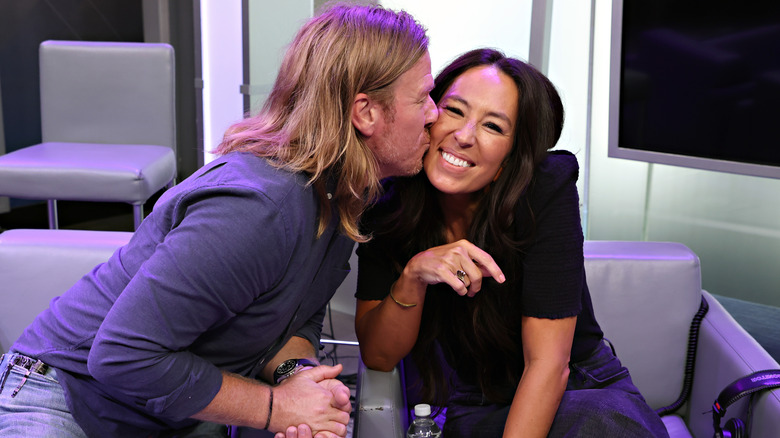 Cindy Ord/Getty Images
Chip and Joanna Gaines didn't plan to reach the level of success and notoriety they ultimately achieved. In fact, the couple admitted to Entertainment Tonight in May 2016 that they "never" thought they'd reach this level of success. "For me, it's a dream come true because at the end of the day, what we're passionate about is creating homes for families."
With success comes an added layer of scrutiny and rumors when it comes to relationships and the news of canceling the show only added fuel to the fire. However, with this power couple, the rumors couldn't be further from the truth. "When I hear about these circumstances, I think they're hilarious," Chip shared with "Today" (via ET Canada). "I can't believe these things are happening to us. Part of me thinks who would care about that?" Naturally, Joanna felt a similar sentiment and later added that she simply addresses the rumors head-on. "We do our due diligence in letting people know as much as we can, (by saying) 'hey this isn't us,'" she said.
Like many Hollywood couples in the limelight, battling divorce rumors is inevitable. On another occasion, a Twitter user said they were "sick of these 'stories' claiming the two were splitting, to which Chip simply replied (via People) that it "won't ever happen." Of course the pair may bicker a bit while filming "Fixer Upper," but that's where it stops, as with them, it's all love.
Chip and Joanna Gaines remain as close as ever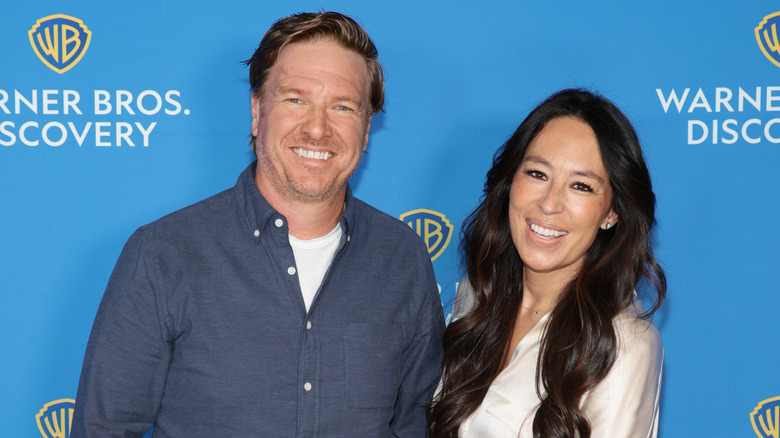 Dimitrios Kambouris/Getty Images
Chip and Joanna Gaines' success undoubtedly put their two-decade relationship to the test. From juggling their rise to fame and raising their five children, to bringing their hit television show to their own network, their romance remains top of mind. The pair remains stronger than ever and divorce isn't an option for the Waco-based couple.
"Early on in our marriage, we had some conflict. Jo and I care about each other's hearts, we care about each other's souls," Chip told Closer Weekly in July 2019. "We were like, 'No matter what comes our way, it's you and me versus the world.' The secret to our success is just to pull for one another." The secret to their long-standing marriage is due to their decision to actively choose each other in light of conflict and hardships. In addition to building an entire business empire together, the pair admits that providing a good example for their children is just as important as keeping their relationship intact. "Jo and I both made a commitment pretty early on that the two of us are the most important variable," Chip revealed to People. "If we can figure out how to be right as a couple, then obviously we have a lot better opportunity to be right for our kids."
Family first is the motto this dotting couple lives by and they wouldn't have it any other way.