How Angelina Jolie Covered Up Her Billy Bob Thornton Tattoo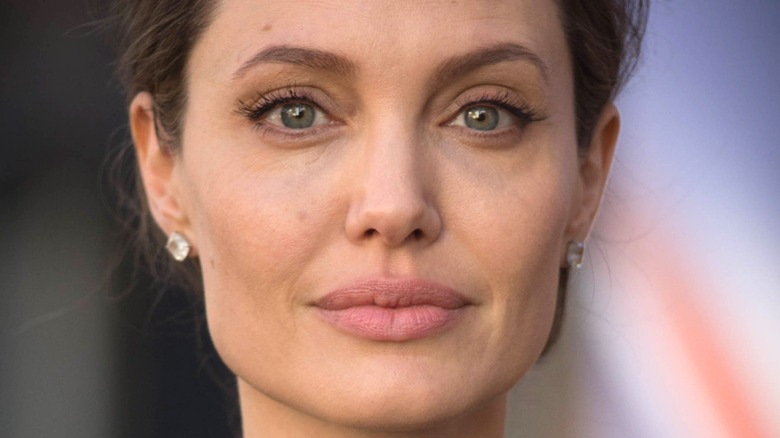 Wpa Pool/Getty Images
Angelina Jolie has been a Hollywood icon for decades. Her looks inspire fans over and over again thanks to her red carpet savvy and chic taste. She's even inspired her children's fashion sense, as daughter Zahara Jolie-Pitt re-wore Jolie's famous 2014 Oscars gown and looked as stunning as her mom did years ago. Jolie has long stated that her children are her rocks, and in the midst of her messy divorce from Brad Pitt, they've helped her cope. While the actor might be famous now for her minimalist tones, timeless silhouettes, and classic taste (think: her look in "The Tourist"), she wasn't always such an understated dresser. 
Back in the aughts, our girl was the queen of PVC, and it was not uncommon to see Jolie in head-to-toe leather with strategic cut-outs to showcase her many tattoos. She ditched the vinyl look, but the tattoos — at least some of them — have been harder to get rid of over the years. However, with a few lasers and some creativity, Jolie made it happen for one piece of ink in particular.
Angelina Jolie said she was 'stupid' to get the tattoo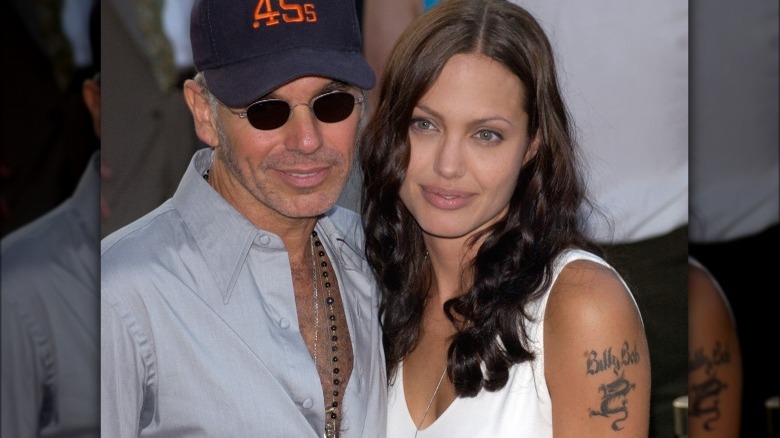 Featureflash Photo Agency/Shutterstock
Angelina Jolie married Billy Bob Thornton in 2000, and although they divorced only two years later, she got some permanent ink to mark the relationship. On her left arm, she rocked a dragon tattoo with "Billy Bob" written above it, per Life&Style. Of course, after they broke up, she was left with the awkward task of removing the bold artwork. "I'll never be stupid enough to have a man's name tattooed on me again," Jolie said of the situation.
The split with Thornton came as a shock, even to Jolie. She told Vogue (via E! News), "It took me by surprise, too, because overnight, we totally changed." She explained that their demanding acting schedules meant that they were apart for months, and in those periods, they grew in different directions until it didn't feel like a connection anymore. "I think one day we had just nothing in common," she added, per Us Weekly. So, she covered the "Billy Bob" ink with a creative series of new tattoos.
Angelina Jolie got her children's birthplace coordinates as her new tattoo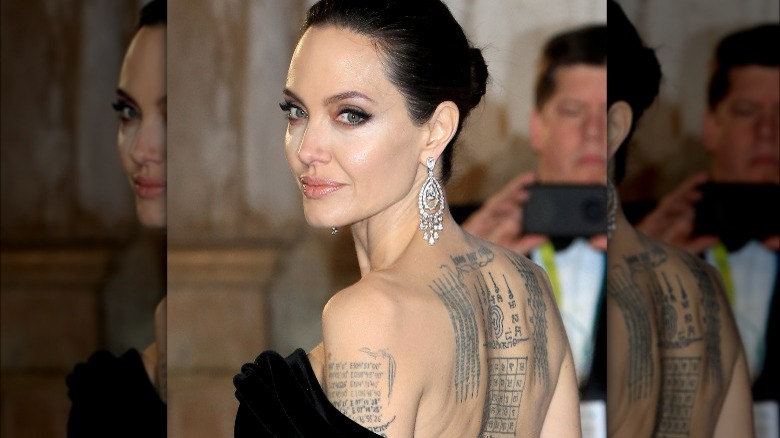 Fred Duval/Shutterstock
To replace the dragon tattoo that Angelina Jolie got for Billy Bob Thornton, the star first had it removed as much as possible from her left arm, according to The Sun. Of course, it wasn't completely gone, so she covered the remnants with the latitude and longitude coordinates of the birthplaces of her children, as well as that of her then-husband, Brad Pitt.
The "Tomb Raider" star has Maddox Jolie-Pitt's Cambodian birthplace coordinates, then Zahara Jolie-Pitt's coordinates in Ethiopia. Following this is Shiloh Jolie-Pitt's birthplace location in Namibia, where Jolie gave birth to her. Then she has her son, Pax Jolie-Pitt's coordinates for Vietnam, followed by the place in France where Knox and Vivienne Jolie-Pitt were born. Lastly, she has Brad's Oklahoma coordinates tattooed on her arm as well. It's certainly enough to cover up the old dragon! However, this wasn't the only tattoo dedicated to the "Fight Club" actor. In 2016, Jolie got elaborate tattoos on her back while in Thailand that symbolized a bond with Brad, per The Sun.
Naturally, TMZ asked Billy Bob Thornton what he thought about Jolie's tattoos for Pitt. "You can always cover them up," Thornton joked, should the tattoos be a misstep. Thornton said that one can use flesh color to cover mistakes or suggested that someone could make up their own flag if they needed to cover a lot of skin. Well, there's an idea! He's not far off from Jolie's birthplace grid.