Angelina Jolie's Children Help Her Cope With Bittersweet Family Event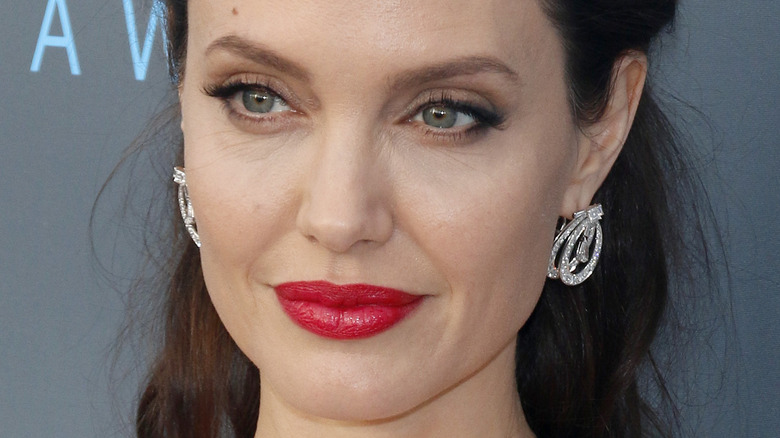 Tinseltown/Shutterstock
It's no secret that Angelina Jolie has an incredibly close relationship with all six of her kiddos. While the star is at the center of a drawn-out custody battle with ex Brad Pitt, she has remained committed to parenting her children. Angelina and her squad make red carpet appearances from time to time, including at the premiere of her film "Eternals."
In an interview with Entertainment Tonight, the actor explained how her children have become "comfortable" with the spotlight since it's been a big part of their lives, even though it's something they didn't necessarily choose. "It's a tiny piece of our life. We are just a family, but this little piece of our life where this is a moment," she told the outlet of their red carpet outings. "I'm happy that they're able to have some fun with it and not take it too seriously, and start to explore themselves, even with their fashion."
The star is also quick to point out how caring her children are, especially when it comes to Mother's Day. "My kids have always been amazing at Mother's Day," she told "Extra," adding she loves that she doesn't need to plan anything. "It is just the knowing that they are doing something together, and thinking of something together, and that they want to, and that they think it is important always makes me cry," she continued. Now, they're stepping up in another significant way during an emotional time for the star.
Angelina Jolie's kids step up as Zahara heads to school
Dave J Hogan/Getty Images
With her daughter, Zahara Jolie-Pitt, headed to college, Angelina Jolie is having a difficult time letting go. A source told Hollywood Life that the star helped Zahara get settled at school in Atlanta before she made the trek back to her home base in Los Angeles, where she will be living her new normal while Zahara studies at Spelman College. Angelina's other kiddos — Maddox, Pax, Shiloh, Vivienne, and Knox Jolie-Pitt — have served as a support system for their mother, who is going through a challenging transition.
"Sending Zahara off to college has been tough for Angelina, but luckily her kids have been stepping up to make sure she doesn't get too down about it," a source told the outlet. The insider added that while her kids are teenagers, they're still "in-tune" with Angelina and her needs. "They've been cooking dinner for her and staying home at night to watch movies, they're all very attentive," the person said. "Angelina says she feels like the luckiest mom to have such great kids." It seems like Angelina has the best support system she could ask for!
On July 31, Angelina took to Instagram to share a sweet photo of Zahara getting acclimated at school. "Zahara with her Spelman sisters! Congratulations to all new students starting this year," the mother of six wrote on the upload. "A very special place and an honor to have a family member as a new Spelman girl." That's one proud mama!