How Meg Ryan Really Felt About Being 'America's Sweetheart'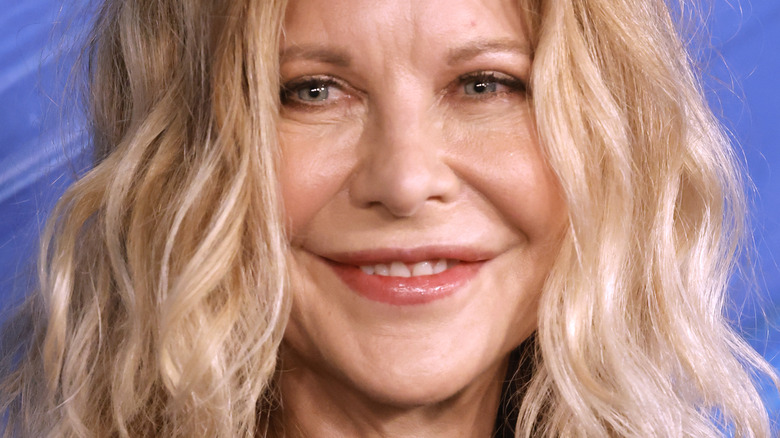 Frazer Harrison/Getty Images
Every new generation of starlets has its own crop of actors and/or performers who get lauded as "America's Sweetheart." According to History Daily, actor Mary Pickford, who rose to fame in the 1920s, was the first-ever to be bestowed the crown. Meg Ryan, according to the publication, reigned over the 1980s. However, Biography cites Ryan's starring roles in a string of romantic comedies — most which were released in the 1990s — as the catalyst that helped cement Ryan's coveted status. 
When Ryan actually earned the title aside, it can't be denied that her career benefited from her feel-good filmography, which includes the 1998 hit "You've Got Mail." Of course, her classic beauty and charming personality didn't hurt, either. Unfortunately, Ryan's once-enviable acting career hit a bit of a downswing once the 2000s rolled around, partly because Ryan became overwhelmed with the business. However, as the Mirror pointed out, Ryan's career was also ruined due to her very public, messy affair with Russel Crowe, which occurred during her marriage to Dennis Quaid.
With that said, you can't unwrite history, so Ryan's past as America's Sweetheart has already been cemented. Unfortunately for Ryan, though, that's not necessarily a good thing.
Meg Ryan had mixed feelings about being 'America's Sweetheart'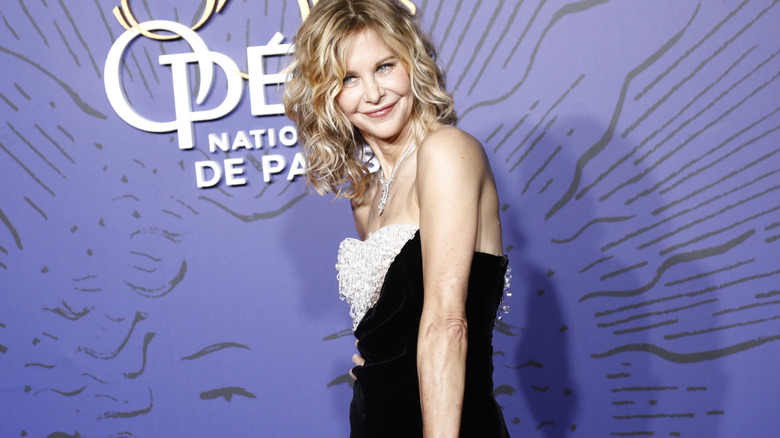 Julien Hekimian/Getty Images
If you ask Meg Ryan, being "American's Sweetheart" isn't all it's cracked up to be. During Gwyneth Paltrow's 2017 Goop Health Summit, Ryan spoke with Paltrow about a plethora of topics. Of course, the subject of acting came up, during which Paltrow picked Ryan's brain about her past label. 
While Ryan admitted that she "had a lot of fun," she also revealed that acting wasn't in her plans, and that she didn't really understand the title. "When you get labeled anything like 'America's Sweetheart,' I didn't even know what that meant," Ryan explained (via E! News). "Nora Ephron's parents wrote scripts in old Hollywood and there was such a thing as America's Sweetheart in the '40s and she decided to say that about me one day and I remember thinking, 'Is that good?'" Ryan also touched on how the title can limit an actor's range. "It doesn't necessarily imply that you're smart or sexual or complicated or anything, it's a label. And what can a label do but guess at you?" she added. 
Fortunately, the label hasn't made Ryan shy away from the genre that made her famous. In 2019, Ryan told The New York Times that she was writing (and possibly directing) her own version of a rom-com, although she kept the details a secret. "You feel like you're jinxing it if you're talking about it," shared Ryan. "Hopefully it's for me to direct."
Meg Ryan's new romantic comedy will be released soon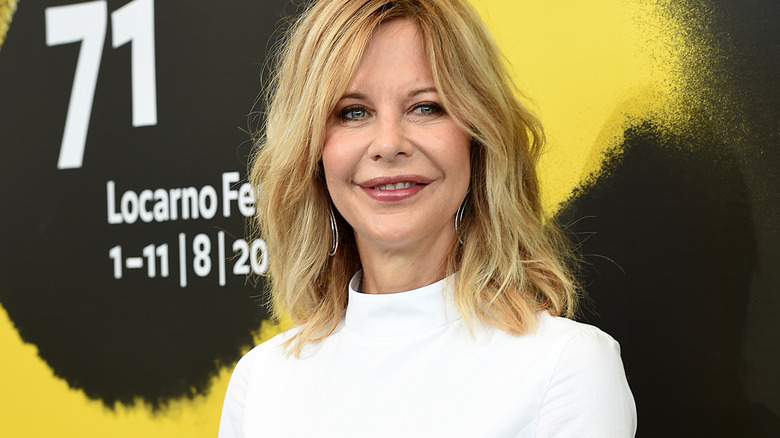 Pier Marco Tacca/Getty Images
It appears Meg Ryan, who's on her way to making a comeback, will get her wish. According to Deadline, the "Sleepless in Seattle" star will headline and direct "What Happens Later." The film is based on "Shooting Star," a play by Steven Dietz, who served as a co-writer on the screenplay, per The Hollywood Reporter. According to the film's IMDb page, "What Happens Later" is due out in 2023, and follows exes who've spent a significant amount of time apart, and are then forced to reconcile. 
So far, Ryan has been pretty tight-lipped about any further details about the movie. However, Ryan did originally announce the news by posting a photo of the film to her Instagram. In the photo, the silhouette of a couple, presumably standing amid a snowy backdrop, can be seen frolicking on the ice. Above them is the tagline, "They missed their connection." Ryan captioned the photo, "HERE WE GO," which proves how utterly excited she was to start production — though she's probably not as excited as her fans!