Zooey Deschanel Actually Went To High School With One Of Her New Girl Co-Stars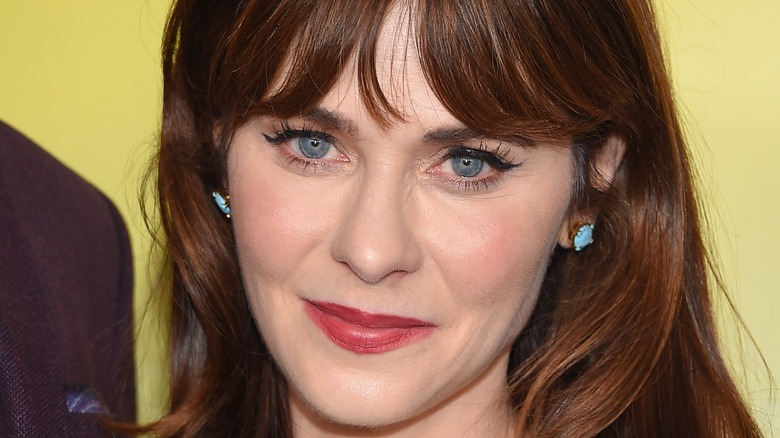 DFree/Shutterstock
Zooey Deschanel starred as Jessica Day in the beloved TV show "New Girl," alongside several other stars who gave us a fictional dream world of what it would be like to live in a loft with friends. Although Deschanel snagged roles before and after the sitcom, she hasn't done anything as major since playing the part of Jessica.
Part of the reason for the show's success was how well the co-stars got along — from Jake Johnson to Lamorne Morris, as well as Max Greenfield and Hannah Simone. They seemed to love each other so much that Simone, Deschanel, and Morris created a podcast called "Welcome to Our Show." During the podcast, they discussed how Deschanel and Johnson, who played Nick Miller, Deschanel had such great on-screen chemistry with Johnson (who played Nick Miller), that it almost became a problem. "I remember them saying that," Deschanel said on the podcast. "They were like, 'Listen, you guys have such great chemistry. This is a series, we have to play this out over time, and we don't want to put you guys in the same storylines together.'" She added, "I was like, 'Isn't that a good thing?' I think we all had good chemistry together from the get-go, in different ways."
In fact, Deschanel had a high school history with one other cast member.
Damon Wayans Jr. and Zooey Deschanel went to high school together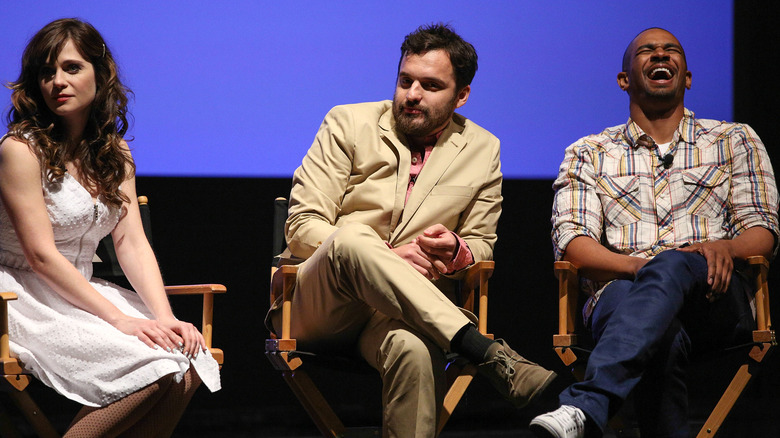 Imeh Akpanudosen/Getty Images
Comedian Damon Wayans Jr. joined the cast of "New Girl," playing the character Coach. But this wasn't the first time he had hung out with Zooey Deschanel. When he spoke with the St. Louis Post-Dispatch, he said he loved "New Girl" because of the familiarity, especially from knowing the lead. "It was fun and comforting," Wayans said. "I knew those guys for a lot of years, so it felt like family. I went to high school with Zooey Deschanel. We go way back."
It makes sense that Deschanel and Wayans went to high school together, considering both come from Hollywood families. Wayans' father is Damon Wayans Sr., a comedian, actor, writer, and producer who spent a good portion of the late '80s on "Saturday Night Live." His uncles are Marlon Wayans, Keenan Ivory Wayans, and Shawn Wayans, who worked on treasures like "The Wayans Bros." and "White Chicks." That's an impressive comedic family line!
Deschanel's father, Caleb Deschanel, is a director and cinematographer who worked on films like "The Patriot," "The Lion King (2019)," and "The Passion of the Christ." So they clearly had Hollywood in common as kids.
Damon Wayans Jr. is close with many 'New Girl' cast members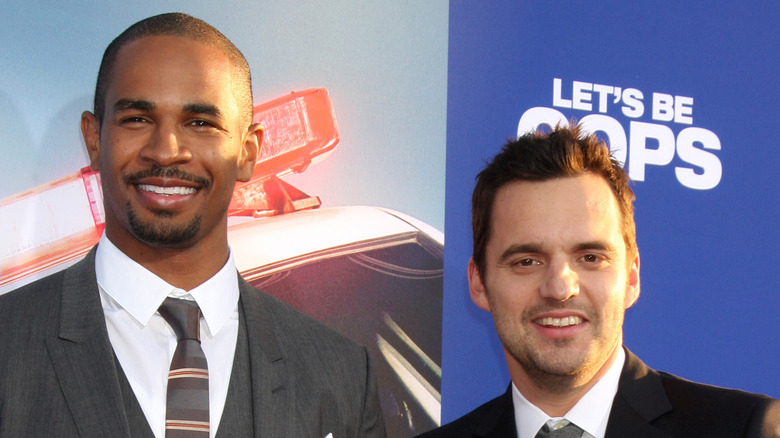 Kathy Hutchins/Shutterstock
Damon Wayans Jr. wasn't a consistent face on "New Girl." He appeared in the pilot but then mysteriously disappeared, only to return as Coach during season 3. Wayans' sporadic appearance was because his show, "Happy Endings," got renewed, and he couldn't do both at the same time, per The Hollywood Reporter. So the times when Wayan Jr. was on the show, the media was all about it. The Daily Mail caught some cute pics of Wayans high-fiving Zooey Deschanel on the "New Girl" set as they were filming Season 4 in Los Angeles.
But Deschanel isn't the only cast member with whom Wayans has remained close. He and Jake Johnson starred in "Let's Be Cops" together, and in 2016, a different report from The Hollywood Reporter revealed that the two "New Girl" alums were working on a comedy called "Henchman." It appears the group had so much fun making "New Girl" that they can't get enough of each other.