What Famous Songs Did Kandi Burruss Write?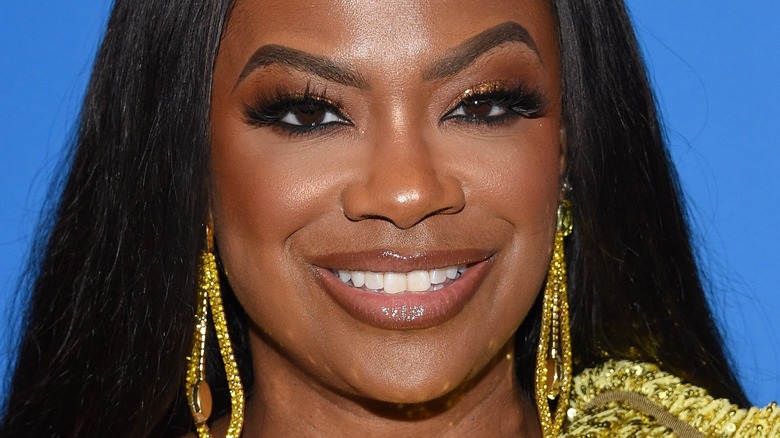 DFree/Shutterstock
With 14 seasons of "RHOA" under her belt, Kandi Burruss will become the longest-lasting cast member of all of Bravo's "Housewife" franchises after Season 15 of the show, per Deadline. But whether or not Burruss leaves "RHOA" or stays on for more seasons, she's much more than a reality star. Burruss got her start as one-fourth of Xscape, an R&B girl group that rose to prominence in the 90s with hits like "Just Kickin' It," "Understanding," and "The Arms of the One Who Love You." The group, which consists of Burruss, Tamika Scott, LaTocha Scott, and Tameka "Tiny" Harris, originally disbanded in 1998 after seven years together. Xscape later reunited in full in 2017. 
While Burruss has since enjoyed a great second run with her group members, which has included the BET Awards, a full reunion tour, and their own Bravo show, "Xscape: Still Kickin' It," she definitely made great use of the group's hiatus by becoming a songwriter. In fact, it was Xscape's breakup that inspired her to pursue an alternative path. "I needed money," Burruss revealed during a profile with The Huffington Post. "So I had to just start writing." 
Given her long list of songwriting credits for artists such as TLC, Destiny's Child, and even Boyz II Men, it's likely she penned one of your favorite nostalgic hits (which helped make Burruss' net worth more than you might think).
Kandi Burrus wrote No Scrubs and other 90s hits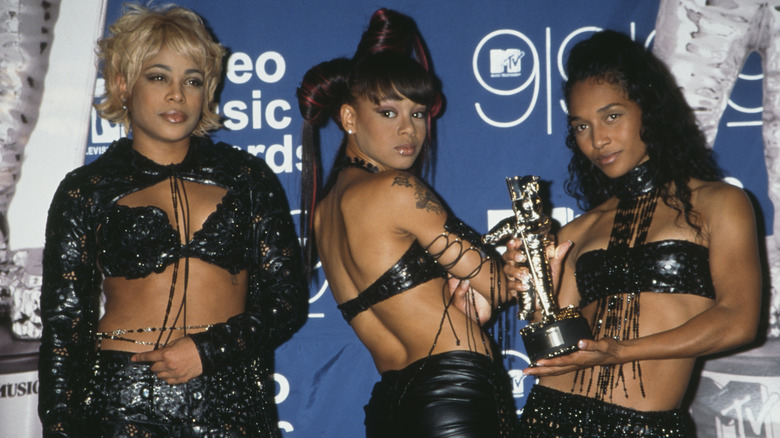 Michael Ochs Archives/Getty Images
During the 90s and 2000s, Kandi Burruss worked with a plethora of artists including Mariah Carey, Pink, Usher, and even her former "RHOA" co-star Kim Zolciak. However, Burruss's biggest hit, by far, was TLC's "No Scrubs," which was released in 1999. Per IMDb, Burruss wrote the famous song with her Xscape bandmate Tameka "Tiny" Cottle and songwriter Kevin "She'kspere" Briggs. The song spent four consecutive weeks at No. 1 on the Billboard Hot 100 charts and went on to win two Grammy awards, per Song Facts. Even over 20 years since its release, "No Scrubs" has remained an enduring favorite among fans, with "scrub" becoming a popular way to refer to a date that doesn't measure up. 
TLC wasn't the only girl group Burruss wrote for. According to Atlanta Black Star, she also co-wrote some of Destiny Child's earlier hits, including "Bills, Bills, Bills," "Bug-A-Boo," and "Hey Ladies." The opportunity gave Burruss the honor of working with Beyoncé before her meteoric rise to fame. "She is the epitome of hard work," Burruss shared with Us Weekly in 2015. "I was blessed to be able to have worked with her early in her career." Burruss also worked with another big band — NSYNC — penning their 2000 song, "It Makes Me Ill," per Bravo.
Kandi Burruss has written for Ed Sheeran and Ariana Grande songs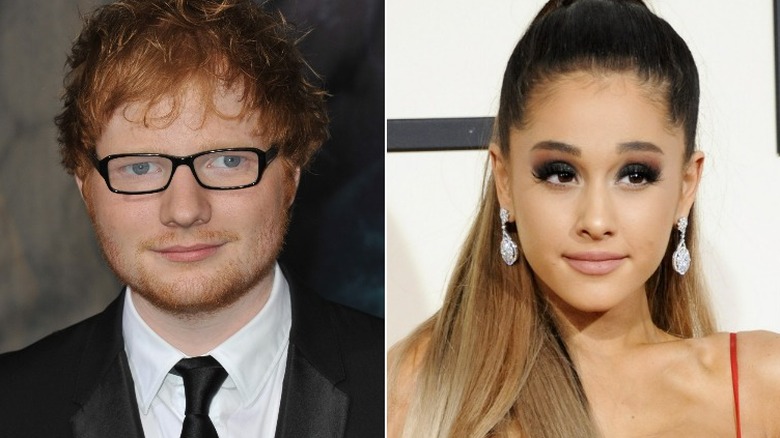 Jaguar PS & Tinseltown/Shutterstock
Kandi Burruss's songwriting skills may have helped shape R&B music from the 90s and 2000s, but her music has proved to be timeless. Even current pop stars, such as Ed Sheeran and Ariana Grande have taken inspiration from Burruss's work. Sheeran's hit song, "Shape Of You" which won a Grammy for Best Pop Performance in 2018, per Grammy.com, takes melodic inspiration from TLC's "No Scrubs." And while Burruss has gone on record to state that Sheeran and his team reached out to her about using "No Scrubs" as a sample on "Shape Of You," per Atlanta Black Star, she didn't receive writing credits or royalties on the song until after it was released.
Grande sampled NSYNC's "It Makes Me Ill" for her 2019 track, "Break Up With Your Girlfriend, I'm Bored." Unlike Sheeran, Grande borrows lines from the source material and makes them her own for the bridge. As for how this song came to be? "I've known [Ariana's] manager Scooter Braun for years, way before he became a manager, [back to] when he was an intern for Jermaine Dupri at So So Def [the former label of Xscape]," Burruss shared with Billboard. "It's crazy how things come full circle with people that you've worked with over the years."