Does Suki Waterhouse Really Wash Her Hair With Coca-Cola?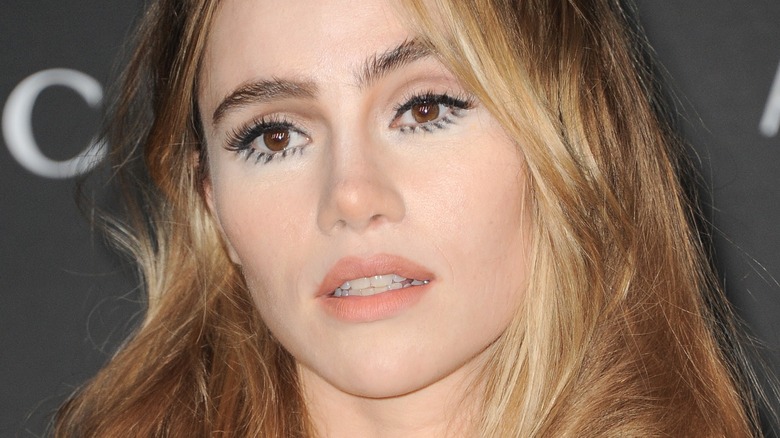 Tinseltown/Shutterstock
Celebrities are notorious for trying out some of the most bizarre beauty hacks known to man. Despite having access to science-backed techniques, a good number of them still resort to so-called beauty secrets that would have you scratching your head.
Take Kim Kardashian, for example. She once made the "vampire facial" popular, a skincare technique that involves applying your own blood to your face, per Allure. While she later admitted that she regrets doing it, the whole thing still sparked controversy since it's, well, a terrifying procedure. Meanwhile, January Jones' beauty hack is less painful, with the "Mad Men" star once telling her fans that she likes pouring beer in her bath. "I'm doing that because I feel like it's going to be hydrating for my body and I also just recently read about what Cleopatra would put in her baths, which she would bathe in," she told her followers on Instagram Live (via Page Six). "I just feel like, depending on who you've dated, it can't be that much different, right?"
Jones is apparently not the only one who uses beverages in the bathroom. In the past, Suki Waterhouse also dished that she finds soda an integral part of her hair-washing routine. But was she telling the truth?
Suki Waterhouse lied about using Coca-Cola on her hair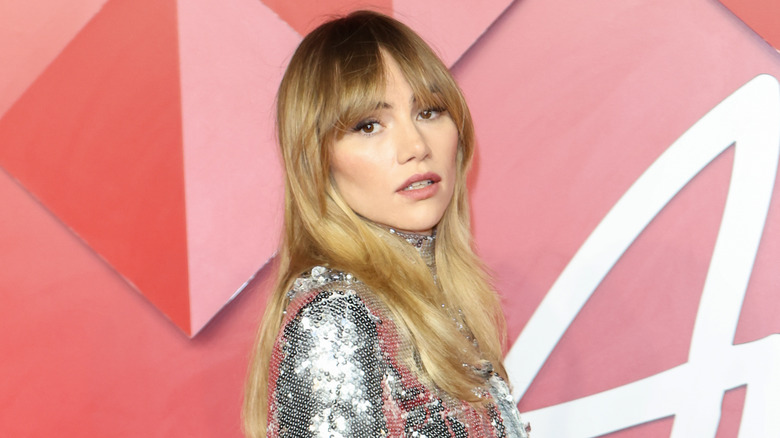 David M. Benett/Getty Images
In 2015, Suki Waterhouse shared the secret to her voluminous blonde locks. She told Us Weekly that instead of shampoo, she used soda to add oomph to her crowning glory. "I rinse my hair with Coca-Cola sometimes," she said at the time. Her reasoning? It's apparently because the popular drink makes her strands appear more textured. "I don't like my hair when it's washed — it's fine and limp — but Coca-Cola makes it tousled, like I've gone through the Amazon or something."
Fast forward to seven years later, and she admitted on Twitter that she lied about the whole thing! When a fan asked if she still rinses her hair with the soda, she busted out a confession: "ok.. i have to be honest, i got bored doing hair interviews and said this. i have never done this ma'am," she wrote. Fans then commented on how funny she was, pointing out that beauty writers had tried her supposed trick in the past. "I did Jessica dirty," Waterhouse added, along with an article written by someone who had done it.
It seems like Waterhouse and her boyfriend Robert Pattinson are really meant to be together, as the "Twilight" star also admitted to lying in interviews for the heck of it, per GQ. And it wasn't like he was doing it to cause a ruckus; he occasionally does it just to have something to say! Ha, what a clever trick!
Inside Suki Waterhouse's beauty regimen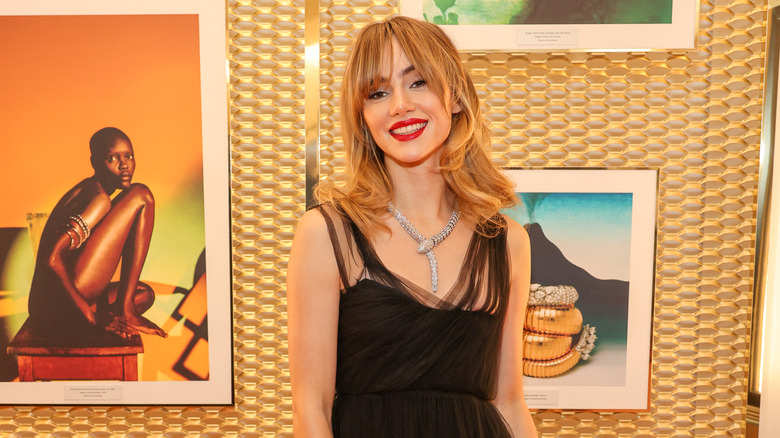 David M. Benett/Getty Images
Just because Suki Waterhouse lied about rinsing her hair with Coca-Cola doesn't mean she doesn't already practice some unconventional beauty hacks.
Speaking with Into The Gloss in 2014, she admitted that she sometimes gets lazy about wiping makeup off her face before she hits the hay. "I do try to wash my face before I go to bed now, which I never really used to do. Sometimes, if it's really dire, I won't, but most times I get around to it, even if it's just with water," Waterhouse dished. "I usually don't take off eye makeup, though, because it's a nightmare and mascara will be running down everywhere." She also claimed that she loves putting coconut oil everywhere. "I will do crazy skincare things in the kitchen, as well. I love coconut oil, so if I come home at night feeling all dry and like a fossil I'll put my hand in a jar of coconut oil and just mush it over my face," she continued. "I'll put it in my hair, too, and sleep like that."
In a 2018 interview with Harper's Bazaar, Waterhouse also offered an alternative to moisturizer, although she warns about doing it frequently. "If you really need a quick fix, mix a tiny bit of baking soda into your moisturizer and then you mush it all in and wash it off," she shared. "So if you haven't got a lot around, it's great. I don't do it very often at all, maybe once a month?" Hope she's not lying this time!