Why Billy Ray Cyrus' First Marriage Didn't Work Out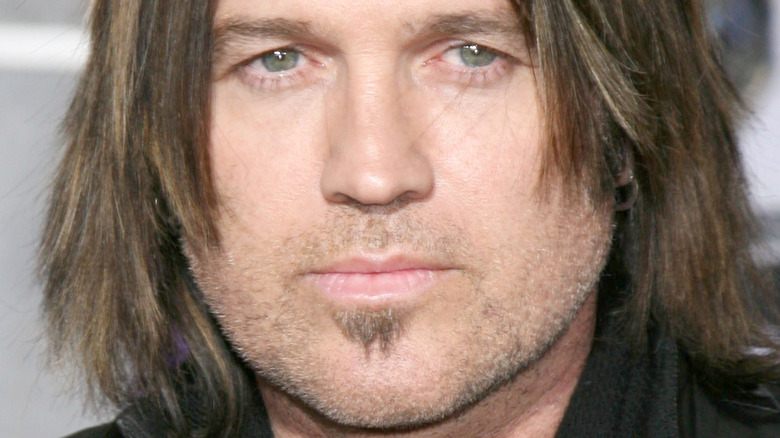 Kathy Hutchins/Shutterstock
These days, Billy Ray Cyrus is a classic voice in country music, not to mention the patriarch of a musical dynasty as the father of Noah and Miley Cyrus. However, his first dream in life wasn't on the stage–it was on the field. In an interview with Pop Culture, Billy Ray revealed that he was planning on being a professional athlete.
"I was a ball player. I was going to be the catcher for the Cincinnati Reds. Or the Dodgers ... And I would have said yes to either," Billy Ray revealed in January 2020. However, as fate would have it, Billy Ray later found his true calling when he won tickets to a Neil Diamond concert. He later added, "I saw the power of a song and witnessed the power of an entertainer holding an audience in their hands and representing God's light and God's love through the music." From that moment on the singer traded in his catcher's mitt for the stage and hasn't looked back.
In 1990 Cyrus found himself onstage opening up for country music legend Reba McEntire where an employee from Mercury Records saw the potential in the country heartthrob (via Country Music Highway). A few years later he released his breakout hit "Achy Breaky Heart" in 1992, and the rest was history. Billy Ray never had an easy journey to fame and it, in ways, consumed him, which sadly led to his split from his first marriage with Cindy Smith.
Billy Ray Cyrus and Cindy Smith were married for five years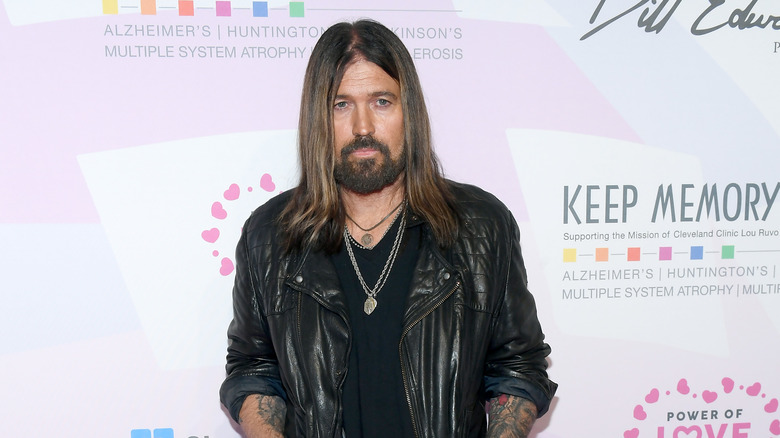 Bryan Steffy/Getty Images
Billy Ray Cyrus was already a family man when he shot to stardom. Billy Ray met Cindy Smith in 1985 and the two married one year later, in 1986, per Who's Dated Who. After five years of wedded bliss, the pair opted to divorce in 1992, shortly before the release of Billy Ray's debut album.
More than a marriage, the pair had a partnership and Smith helped with his rise to stardom and even inspired and co-wrote two of the hits on Billy Ray's debut album, 'Wher'm I Gonna Live?' and the title track of the album 'Some Gave All,' per ABTC. Unfortunately, the one thing that brought the pair together is the same thing that tore them apart.
Billy Ray's focus on his career contributed to the demise of his five-year marriage. Between Billy Ray being viewed as a sex symbol from the success (and dance moves) that stemmed from "Achy Breaky Heart," and the jealousy of his dedicated fan base, it became too much and took a toll on their relationship. Per Entertainment Weekly, despite their split, Billy Ray is adamant that the pair are "really better friends now than ever."
Billy Ray remarried shortly after their divorce was finalized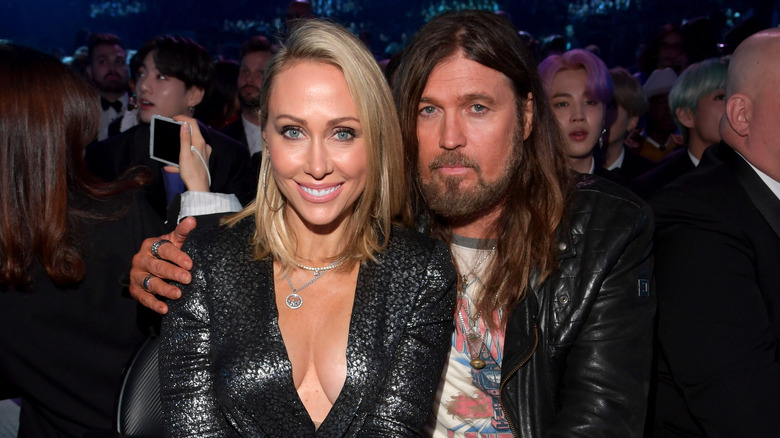 Lester Cohen/Getty Images
Love may not have panned out for Billy Ray Cyrus and Cindy Smith, but that didn't stop the singer from looking for love elsewhere. Shortly after his divorce was finalized, the former "Nashville Star" host married Tish Cyrus. Tish and Billy Ray met in 1991 and wed in 1993 and had a longstanding whirlwind romance. However, they ultimately filed for divorce after many attempts to reconcile.
"It is after 30 years, five amazing children, and a lifetime of memories, we have decided to go our separate ways — not with sadness, but with love in our hearts," the pair revealed in a joint statement to People in April. "We have grown up together, raised a family we can be so proud of, and it is now time to create our own paths." This wasn't a huge surprise, as this is the couple's third time filing for divorce. Throughout their marriage, the pair have had many ups and downs, but managed to work through their disagreements. However, in paperwork obtained by People, "irreconcilable differences," was cited as the primary reason for their final split.
Billy Ray's "Achy Breaky Heart" was temporary as he is now rumored to be engaged to Australian singer, Firerose. Relationship or not, one thing is constant for the country icon – his career. After three decades of music, Billy Ray is worth $20 million, per Celebrity Net Worth, and shows no signs of slowing down.