Why Justin Timberlake And Scarlett Johansson Once Sparked Romance Rumors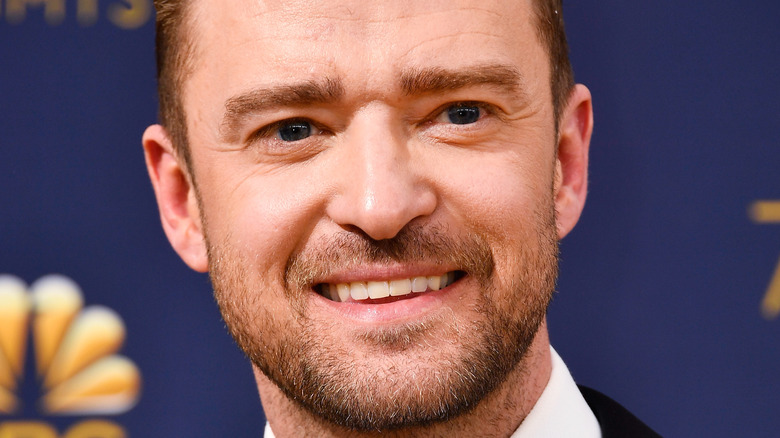 Frazer Harrison/Getty Images
Before Justin Timberlake was married, he was one of Hollywood's most eligible bachelors. Breaking onto the scene with the band NYSYNC and then pursuing his solo music career with hits like "Bringing Sexy Back," via Biography.
Fans dreamed of dating the heartthrob and were extremely curious about who the singer was dating. Us Weekly reported that his dating repertoire included several celebrities like Fergie, Cameron Diaz, and most famously pop singer Britney Spears. It wasn't until 2007 that the singer met the love of his life, actor, Jessica Biel. The couple did break up in 2011 but knew they were destined for one another and tied the knot a year later. While Timberlake has been connected to several women in Hollywood, one relationship, in particular, made people very curious. It was his alleged romance with Marvel actor Scarlet Johansson.
Just like Timberlake, Johansson has been with a couple of famous stars. From Jared Leto to Ryan Reynolds, the actor has had some public relationships, via PopSugar. Until, Johansson and "Saturday Night Live" comedian, Colin Jost, hit it off in 2017 and eventually got married in 2020. Page Six reports Johansson talked about her hubby while she hosted SNL in 2019. She shared, "I just wanna say that this place means so much to me, I have so many friends here — and I met the love of my life." Both Timberlake and Johansson seem happily married now, but before they were married, the pair allegedly hit it off.
Scarlett Johansson starred in Justin Timberlake's steamy music video
Justin Timberlake's music surrounds the idea of love and expressing that love to someone. When Timberlake gets in front of the camera for music videos, he becomes a suave and confident man. He will be singing, dancing, and even connecting with an on-screen love interest in some music videos. Most of the on-screen romances are random actresses, but when Scarlett Johansson starred in one of his music videos, it piqued people's interest.
Johansson starred in the 2009 music video for Timberlake's song "What Goes Around ... Comes Around." The sensual music video had Timberlake and Johansson kissing and cuddling in heavily romantic scenes. Johansson's character played a love interest that turned bad at the end when she cheated. The two stars, however, acted so well that it had people questioning whether it was fake, via CBS News.
When the video was released, Timberlake was coming off a very public breakup with another famous actor, Cameron Diaz. Johansson's close relationship with Timberlake might have been the reason Diaz and the singer decided to call it quits, via Fox News. A close source to Timberlake shared, "Cameron was very jealous of Scarlett ... She could not believe he went behind her back to put her in the video." It was reported that Johansson had a crush on Timberlake and because of this Diaz always felt "threatened by her." The three celebrities were in a love triangle that only ended badly for Diaz.
Scarlett Johansson denied they were ever together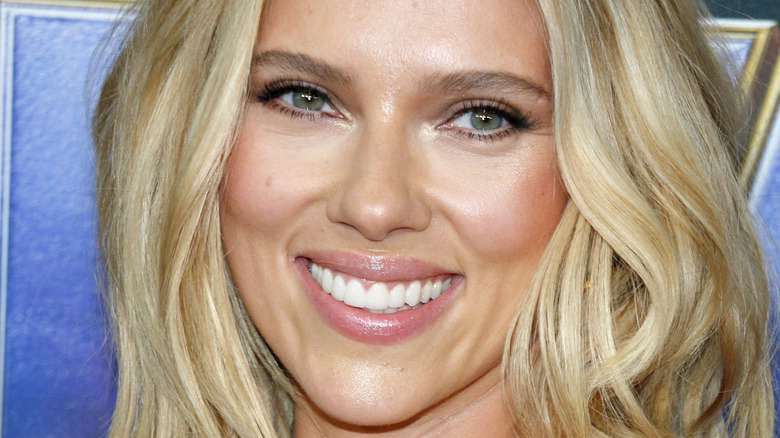 Tinseltown/Shutterstock
While rumors swirled about Justin Timberlake and Scarlett Johansson, the two never publicly said they were in a relationship. Instead, they kept whatever they had private.
In 2007, CBS News reported that Johansson and Timberlake got friendly at a Super Bowl party. A source shared, "They were talking, dancing, holding hands all night — it was very cozy." The two had some connection with one another, so much so that when Timberlake had a brief split from his current wife in, Jessica Biel, in 2011, he went back to Johansson, via US Weekly. The outlet reported the two were partying in New York and only focused on each other. The source shared, "Other guys were trying to talk with Scarlet, but she was only focused on Justin." Timberlake reportedly even went back to Johansson's place.
Despite the multiple occasions they have been spotted together, the pair have always denied the rumors. Johansson even spoke on the alleged relationship during a 2007 interview, via People. She shared, "We have a lot of friends in common, and Justin's a sweetheart, and it's always good to see him, but there's a lot of speculation, and I try not to read that stuff." Johansson went on to share that since the pair were both single at the time, it just fueled the rumors even more. Johansson and Timberlake did have some relationship, whether it was a friendship or more, they had mutual respect for one another.