A Resurfaced GMA Interview Shows Amy Robach Alluding To Affair Drama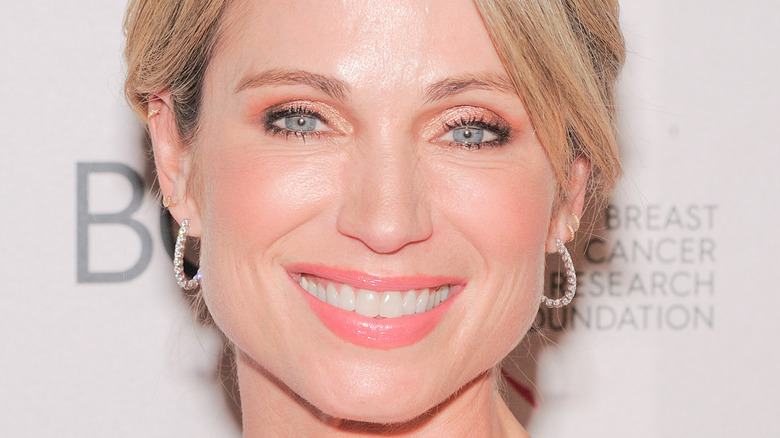 lev radin/Shutterstock
"Good Morning America" fans are having a field day finding clues to co-hosts Amy Robach and T.J. Holmes' alleged ongoing affair. After the Daily Mail caught the "GMA" anchors getting cozy in New York City and Holmes with his hand on Robach's behind, viewers have been scouring the morning show to decipher their on-air chemistry.
As reported by The U.S. Sun, after news broke of their alleged affair, Robach and Holmes returned to the set of "GMA" and they caught "signs" that the two had eyes for each other. Robach spoke about actor Will Smith's upcoming movie and how he could still be in the running for an Oscar after he famously slapped Chris Rock at the 2022 Academy Awards. "They say timing is everything," Robach quipped while looking at Holmes. Twitter users called the moment "awkward" and "telling."
Another Twitter user shared a past clip of Robach and Holmes laughing over her wearing a white dress and joking about it looking bridal. "Look, if anybody speaks purity on this set, it's this one," he cracked, pointing at his co-anchor. Robach crumpled up a piece of paper and threw it at Holmes while laughing. "This didn't age well," the fan tweeted. In yet another "GMA" segment, a fan caught Robach making a joke that seemed to allude to her supposed affair with Holmes.
Amy Robach tells Reese Witherspoon she can give her ideas for her show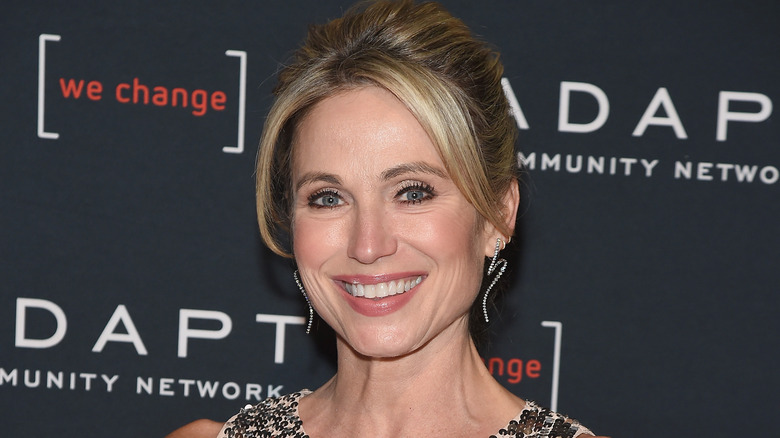 Gary Gershoff/Getty Images
Just two months before Amy Robach and T.J. Holmes' relationship was revealed, Reese Witherspoon visited "Good Morning America" to talk about her newsroom-based drama, "The Morning Show." As shared by a Twitter user, Witherspoon asked Holmes, along with co-hosts Michael Strahan and George Stephanopolous, if they liked the show. "You have no idea. The water cooler conversations..." Strahan joked. "Does it hit home a little bit?" Witherspoon asked. "We could give you a few more plot lines," Robach coyly answered.
A Twitter user replied, "omg the audacity is enviable ... no need for Reese's boring old show ... damn imma gain 10 pounds from all this buttered popcorn." Another wrote, "Yep!! She could def help them out."
Robach and Holmes have yet to address their relationship or their respective marriages. However, "GMA" president Kim Godwin told the staff that while the two co-hosts' "relationship is not a violation of company policy," she is taking time to think about the show's future and decided to take Robach and Holmes off the air for the time being, per CNN. Immediately following the scandal, Robach and Holmes deactivated their Instagram accounts and have remained tight-lipped about their romance thus far.