Sister Wives' Kody And Janelle Brown Drift Apart As Breakup Speculation Grows
It's hard to believe that "Sister Wives" has been on the air since 2010, following the lives of all members of the Brown family. Fans have seen the reality family go through plenty of challenging moments in their lives from moving to different states and seeing some of their children grow up and move away from home. However, some of the most talked-about moments highlighted in the series involve Kody and his four wives — Robyn, Janelle, Meri, and Christine.
There's no doubt that the demise of Kody's relationship with Christine has been a massive storyline for the series, and it's played out on social media and on the show. In 2021, Christine announced on Instagram that she had chosen to leave Kody, which was a huge bombshell. "After more than 25 years together, Kody and I have grown apart, and I have made the difficult decision to leave," she wrote in the November 2021 post. Christine also added that she and Kody were still focused on co-parenting their children.
Following his split from Christine, Kody has not made it a secret that some of his other relationships have suffered, especially the one with Janelle. "I'm struggling so much with this divorce," he said in late November via Us Weekly. "It's probably poisoning my relationship with Janelle a little bit and definitely poisoning my relationship with Robyn." Not long after, Kody and Janelle had a serious talk about their marriage and its issues.
Kody Brown and Janelle Brown are not on the same page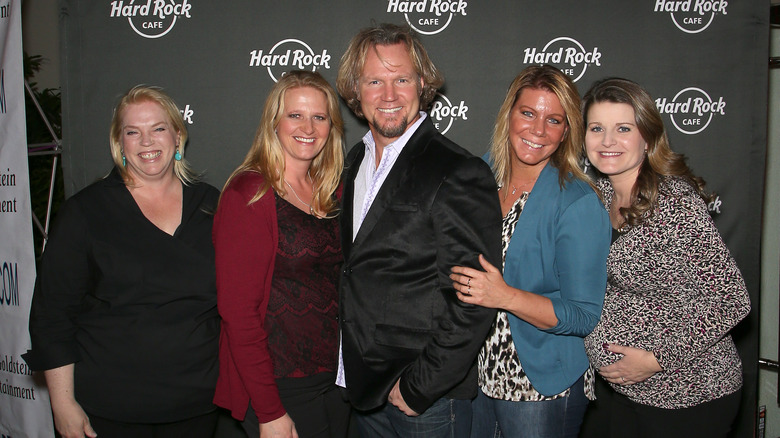 Gabe Ginsberg/Getty Images
Is Kody Brown on the outs with another one of his wives? In a snippet from "Sister Wives" posted by TLC on YouTube, Janelle and Kody talk seriously about the state of their marriage and it seems like they've hit a roadblock. "I'm not someone who throws the towel in on a marriage, but it seems almost like there's this gulf now," Janelle says in the confessional. "I'm like, 'I can't give you that?" Kody then asks Janelle if things are working between them, noting that they "don't know how to be real about things with each other."
As the conversation continues, Janelle points out that she and Kody have been able to have a "functional marriage" for a long time before referring to Kody as her "best friend." Still, Kody points out that something is "fundamentally wrong." The camera goes back to the confessional where Janelle says, "I just feel like I have to do everything I can to make this work. I'm not even sure it's possible to come back where we are." In the confessional, Kody says that it doesn't seem they are on the same page, and he's not singing a "breakup song." The clip ends with Janelle saying that she has "affection" for Kody, but she's not sure it's "love."
Since Kody's split from Christine, she and Janelle have been spending a lot of time together... could it be a hint at what's to come?