Why The Beginning Of Josh Duhamel And Fergie's Relationship Was So Strange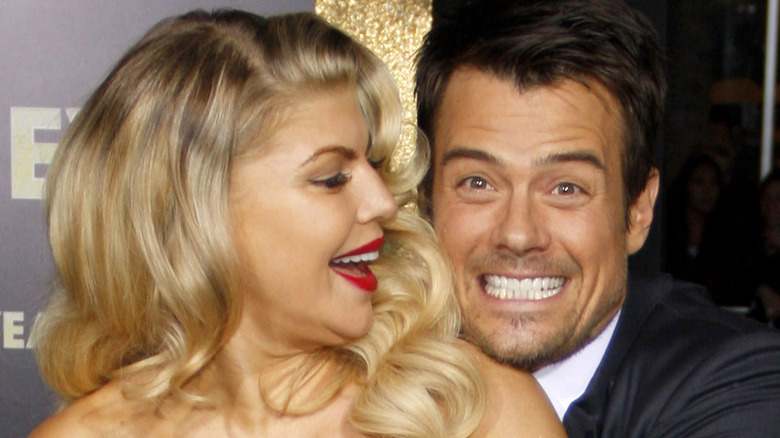 Tinseltown/Shutterstock
Josh Duhamel and Fergie stunned fans when they announced that they were going their separate ways. When they first got together, it seemed like nothing would break them apart. 
Duhamel once confessed to having the hots for the Black Eyed Peas singer years before they got together, to the point that he would have dreams about her. "My recurring dream involves the lead singer of The Black Eyed Peas. Oh, my god, I've got the biggest crush on her! God, she is hot!" he told InStyle. He also shared on "Anderson Live" that he first laid eyes on her when he watched the "Hey Mama" music video, and from that point forward, he resolved to meet her one day.
Meanwhile, Fergie got wind of Duhamel's crush, but it was her friends who convinced her to give who would be her future husband a chance. "All my friends knew about him because he had been a soap-opera star," she told Playboy in a 2007 interview (via People). "I'm not into soap operas, but they told me, 'You gotta go out with him. Do it for the group. Take one for the team.'"
They eventually met when Black Eyed Peas had a guest appearance on NBC's "Las Vegas," in which Duhamel previously starred, but while they hit it off fast, the actor admitted to doing something that would make fans raise their brows.
Josh Duhamel joked about stalking Fergie
Photo Works/Shutterstock
Josh Duhamel had to go to great lengths just to catch Fergie's attention. In a 2010 interview with Parade, the actor dished that their love story wasn't all that different from his movie, "When In Rome."
"The joke in "When in Rome" is that all these guys are stalking Kristen Bell's character because she grabbed the coins they threw into a fountain in Rome. I could relate. That's how I got my wife," he quipped. "I literally stalked her for weeks until she said yes. They say it's not stalking if she says yes." It seems like he was joking, of course. Or was he?
He certainly went through some hoops just so they could meet. In his "Anderson Live" appearance, Duhamel shared that he arranged for Black Eyed Peas to guest on the show he was in, and a year later, it happened. But he fumbled their first conversation with a corny pick-up line.
"After they finished rehearsing, I was walking out, and all of a sudden she was walking toward me," Duhamel told Best Life (via People). "I was like, Oh boy. She stopped. And this is so sad, but I said, in this desperate voice, 'You're hot! The crush of a lifetime, and that was my line!" he recalled. Luckily, Fergie didn't find him too weird and brought up how she knew that he had a crush on her. "Yeah, I read InStyle," she replied. "So ... how was I in your dream?"
Inside Josh Duhamel and Fergie's relationship today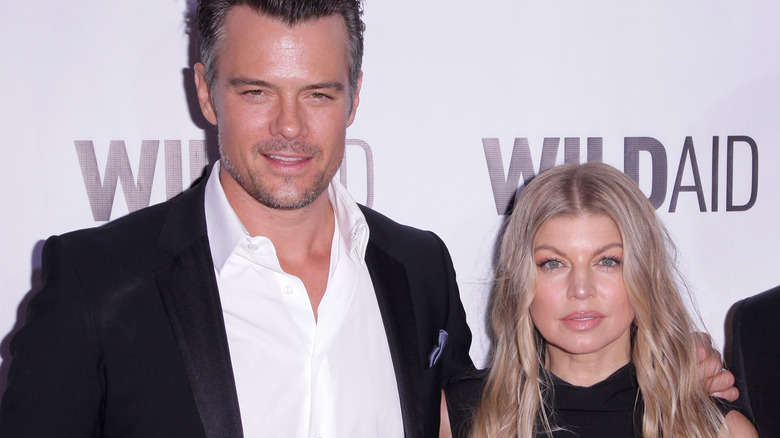 Paul Redmond/Getty Images
In 2017, Josh Duhamel and Fergie announced that they split. "With absolute love and respect, we decided to separate as a couple earlier this year," they said in a joint statement to People. "To give our family the best opportunity to adjust, we wanted to keep this a private matter before sharing it with the public. We are and will always be united in our support of each other and our family."
True to their word, the two have remained friends and loving co-parents to their son, Axl. But when they parted ways, Fergie admitted that they first had to pretend that they were still together. "We're great friends, we love each other so much, and it just got to the point where it was getting a little weird," she told the outlet of their decision to finally reveal the news to the world. "There's no perfect time so we just decided to do it."
Meanwhile, Duhamel said that he will always have love and respect for each other. "Fergie and I had a great relationship," he said on Dax Shephard's "Armchair Expert" podcast (via Today). "I loved that girl and I always will. Unfortunately, we didn't work, but I'll always have her back and she is the mother of my baby."