Jay-Z's Feud With Nas Fully Explained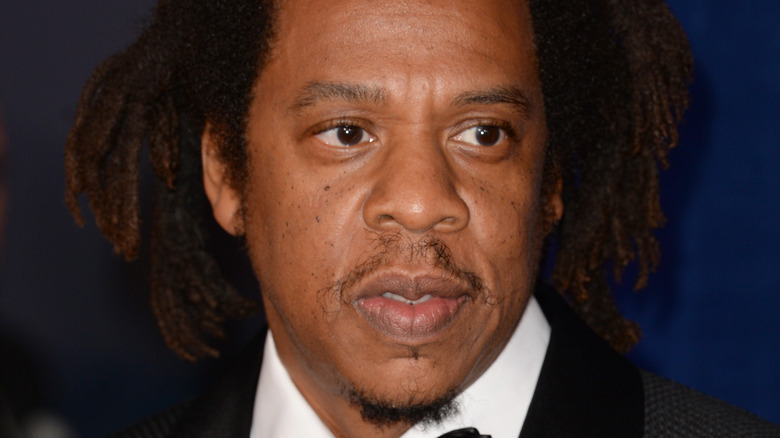 Eamonn M. Mccormack/Getty Images
Beefing is a common phenomenon in the hip-hop scene. A number of the world's greatest rappers have been tangled in nasty feuds in their careers, with some ending in tragedy and others in renewed friendship. Think Tupac versus Notorious B.I.G. and 50 Cent versus Ja Rule. These beefs had gotten so big that even those who aren't well-versed in hip-hop are aware that they exist.
However, there was perhaps no feud that the public tuned into more than Nas and Jay-Z's years-long rivalry. The two rappers, who are considered the best in the industry, used to harbor ill feelings toward each other, to the point that they took shots at one another in their tracks. And apparently, it all started in the mid 1990s, when Nas failed to make it to the recording session of Jay-Z's album "Reasonable Doubt," per Clash Music. The Tidal founder's team had to make do with a Nas sample at the time, but Nas apparently took offense.
In retaliation, the first song in his sophomore album, "The Message," had a Jay-Z reference in it. "Lex with TV sets the minimum," the line read, which Nas later explained was indeed a nod to Jay-Z. "I saw Jay Z driving a Lexus with the TVs in it. I got rid of my Lexus at that point and I was looking for the next best thing," he told Complex. Things took another turn when Jay-Z fired back in a big way: a diss track that undermined Nas' entire career.
Jay-Z and Nas wrote each other diss tracks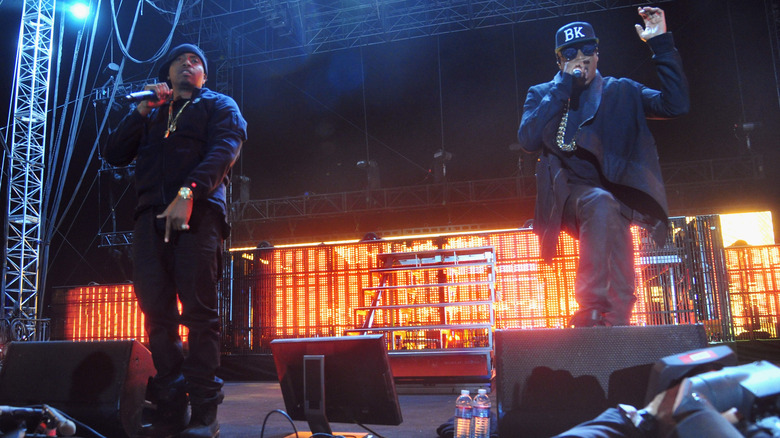 Frazer Harrison/Getty Images
In 2001, Jay-Z took his beef with Nas to another level when he released the track "Takeover," in which he insulted his capabilities to create quality music. Per Genius, the lyrics read, "That's a one hot album every ten year average / And that's so (lame)." He also ridiculed Nas' rapping style, singing, "Switch up your flow, your s*** is garbage / What, you tryna kick knowledge?" He even sampled one of Nas' tracks, and bragged about making it better. "I sampled your voice, you was using it wrong / You made it a hot line, I made it a hot song."
Not one to back down, Nas responded with a diss track of his own, "Ether," which was released in the same year. He challenged Jay-Z's claims in the lines, rapping how he had dominated the industry first: "I got this, locked since '91 / I am the truest, name a rapper that I ain't influenced." He even alluded to how Jay-Z supposedly copied his style, and ridiculed how the Roc Nation founder traded his principles for money.
The two rappers dissed one another on subsequent tracks, but for his song "Supa Ugly," Jay-Z apparently went so below the belt that his mother asked him to apologize. He told Hot 97 (via Hiphop DX), "Mom put in a call and said, 'That went too far.' And she's never, ever called me about music. So I was like 'Okay, okay, okay. I'll go shut it down."
Are Jay-Z and Nas finally friends?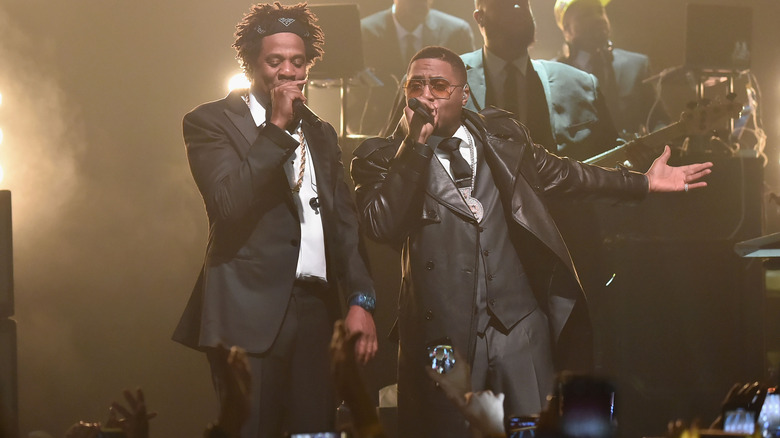 Theo Wargo/Getty Images
After a few more back and forths with diss tracks, Jay-Z and Nas buried the hatchet when they appeared on stage in 2005 at Power 105.1's annual concert, per XXL. Despite the show being titled "I Declare War," the two rap legends took it as an opportunity to reconcile on stage by performing "Dead Presidents" and "The World Is Yours" together.
Looking back, Nas said that he doesn't have any regrets having been involved in a feud with Jay-Z. "It was like, if you're in the rap game, this could happen, a battle," he shared on the "Broken Records" podcast. "It was like, 'This rap thing is real. A battle could really happen.' So I was honored to have that part of my life happen because that's how I saw the greats do it coming up. I saw some of the greats do it."
He even referenced their old feud in a track titled "Thun," rapping about how they laugh about the past now. "No beef or rivals, they playin' 'Ether' on Tidal / Brothers can do anything when they decide to," the lyrics read, per Genius. "In a Range Rover, dissectin' bars from 'Takeover' / Sometimes I text Hova like 'N****, this ain't over', laughin."