RHOSLC: Jen Shah And Meredith Marks' Complicated Relationship Explained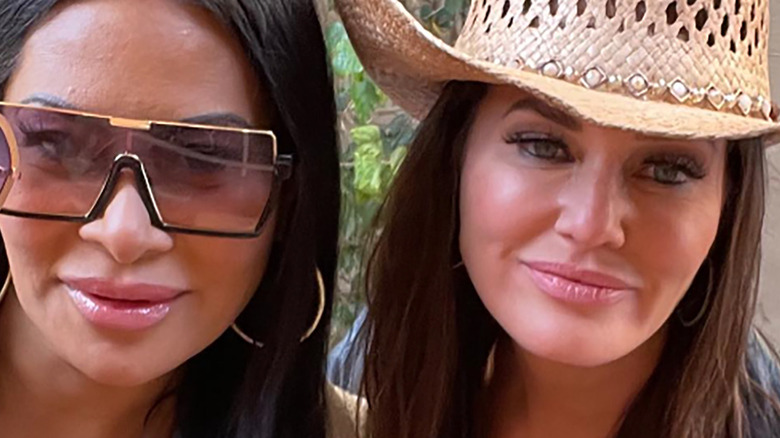 Jen Shah/Instagram
Jen Shah and Meredith Marks' friendship has had so many ups and downs, it's hard to keep track of where they stand with each other. In "The Real Housewives of Salt Lake City" Season 1 premiere, the two were so tight, Shah threw Marks an elaborate birthday party that was said to have cost her $80K. Shah had hired Tongan dancers for the bash, leading the other housewives to believe the party was all about her. However, Marks later said on "Watch What Happens Live," that she wasn't offended that the party seemed to be more about Shah. "You don't kick a gift horse in the mouth. Jen can throw a party however she wants to throw it. That's up to her. It's her party at the end of the day," Marks explained.
"RHOSLC" Season 2 saw Shah and Marks completely at odds. Marks accused her former friend of liking homophobic tweets about her son Brooks Marks, which Shah adamantly denied. "It's your f****** Twitter, Jen! The denial is not what I will accept. I can't listen to the projecting, deflecting, denying anymore. She's a f****** liar," Marks fumed in an episode (via E! News). Following Shah's alleged social media attack on Brooks, it seemed as if Marks would never forgive her and many wondered to what lengths she would go to protect her family.
Jen Shah accused Meredith Marks of digging up dirt on her
Jen Shah's arrest in "RHOSLC" Season 2 was pretty dramatic, but what happened afterward was even more shocking. When the FBI swarmed the housewives' sprinter van as they were preparing to leave for skiing in Vail, Meredith Marks was suspiciously absent. The timing made some of the castmates wonder if Marks was somehow involved in the arrests.
Shah later accused Marks of hiring a private investigator to dig up dirt on her, to which the jewelry designer explained that the investigator was for finding out who was threatening Brooks Marks online, per Page Six. This seemed to provoke Shah into thinking Marks had something to do with her arrest. "I swear to God, if you have anything to do with the bulls*** charges against me Meredith, you're f****** disgusting!" Shah shouted. Marks denied any involvement in the investigation and seemed like she would never let go of Shah's wrongdoing towards Brooks. However, after watching Shah struggle with her legal troubles, she finally made the decision to stand by her friend.
Meredith Marks supports Jen Shah through her legal battle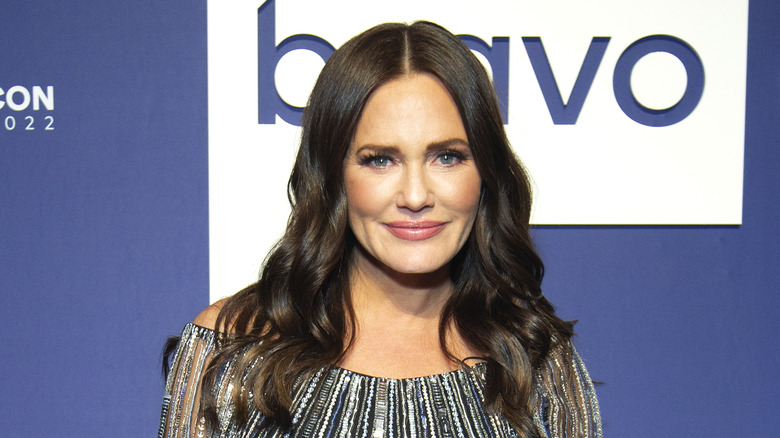 Santiago Felipe/Getty Images
Ahead of "RHOSLC" Season 3, a fan caught Jen Shah in New York City with Meredith Marks and Heather Gay (via Newsweek). Marks and Gay appeared to be lending support to Shah as she readied herself for her upcoming trial in NYC. As Season 3 aired, it seemed as if their long feud was water under the bridge between Shah and Marks.
Many "RHOLSC" fans were left scratching their heads, wondering if something had happened between seasons to mend their friendship. In a November 2 episode of "Watch What Happens Live," Marks explained, "First of all, Jen has a lot of things going on right now, as we all know, and I don't kick someone when they're down. The last thing I wanted was for Jen Shah to be worrying about Meredith Marks. I felt like she needed support and I felt like I had a level of understanding of where she was coming from. And when you have understanding, you have acceptance, and she gave me that." Marks went on to say that Shah gave her and her family "clean apologies" which allowed her to understand where her friend was coming from. 
As reported by Fox News, Shah changed her plea to "guilty" in July and can face up to 14 years in prison, so she will need all the support from her friends that she can get.