What We Know About Hailee Steinfeld's Older Brother, Griffin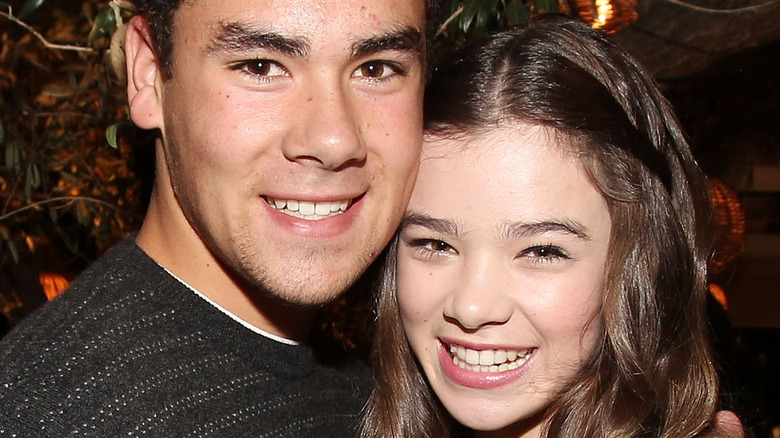 Christopher Polk/Getty Images
Hailee Steinfeld has a sibling who has forged his own impressive professional path. Hailee's older brother is named Griffin Steinfeld, and the two share a close bond with each other, as well as their parents. In a 2017 Ask Anything Chat chat, Hailee was asked who her biggest inspiration is, to which she responded by saying that her immediate family members are the ones she looks up to the most. "My biggest inspiration of all time is probably my parents and my brother, Griffin," Hailee said. "They never fail to amaze me and to inspire me and to support me [...] I live with them, and I see every struggle that they all go through and I go through, and we're in it together." 
The "Edge of Seventeen" star also talked about her family members while being interviewed by ET Canada in 2017. "I have an incredible family that is my support system and my rock, and I get to go home to them at the end of every work day," Hailee said. That same year, the actor revealed to Screen Rant that Griffin works as a race car driver and mechanic. While Hailee is almost 26, Griffin is 28 years old, per IMDb. Just like his famous sister, the professional racer is focused on his career endeavors.
Hailee Steinfeld's brother, Griffin Steinfeld, is a professional race car driver who is dedicated to his work
Hailee Steinfeld's big brother, Griffin Steinfeld, is a NASCAR driver and is passionate about his job. Griffin often posts photos and clips of his experiences as a race car driver and mechanic on social media. On November 14, he shared a picture of himself on Instagram posing with his Chevrolet Chevelle, writing, "Catch me with a big THUMBS UP now that the chevelle is ready to race!!!" Griffin later reposted an image that was taken of him next to his twin turbo Malibu while he was at the Las Vegas Street Car Super Nationals 18 that had previously been shared by Precision Turbo & Engine on November 23. He is also a dog dad and loves posting cute pictures of his fur baby, Dwight.
The public figure occasionally uploads videos on his YouTube channel documenting his life as a race car driver. He offered a video recap of his participation in the LS Fest West in May 2022, as well as another in June of himself doing off-road jumps with friends during the event. Furthermore, Griffin and Hailee have been able to collaborate professionally. As reported by Drag Illustrated, Griffin served as a stunt driver for "Bumblebee," the action film that Hailee starred in back in 2018. The two have also made sure to maintain a tight bond in their personal lives. 
Hailee Steinfeld and Griffin Steinfeld are siblings who stick together
Hailee Steinfeld and Griffin Steinfeld are famous family members who publicly show their encouragement toward each other. During an October 2021 appearance on "The Late Late Show with James Corden," Hailee opened up about her experience of traveling to Georgia to watch Griffin participate in a drag race. Corden played a clip from the race which showed Griffin driving a truck at top speed. Hailee spoke highly of Griffin's work, saying, "...It's cooler than it looks. The videos don't even do it justice. It's insane." She then stated that she's tried sitting in the passenger seat when Griffin has driven his cars, adding, "It's the greatest thing."
Hailee also gave her big bro a shoutout when she posted a series of photos of Griffin from the race. "GO BEST FRIEND THAT'S MY BEST FRIEND @griffinsteinfeld," the "Dickinson" star wrote. In December 2018, Griffin shared a heartfelt tribute to Hailee following the "Bumblebee" premiere. "You continue to raise the bar with every project you're involved with. You are truly one of a kind @haileesteinfeld," he stated alongside a photo of himself and Hailee posing at the premiere. This celebrity brother-sister duo clearly has a powerful and enduring sibling connection.