A Look At Rosario Dawson's Life And Career Through The Years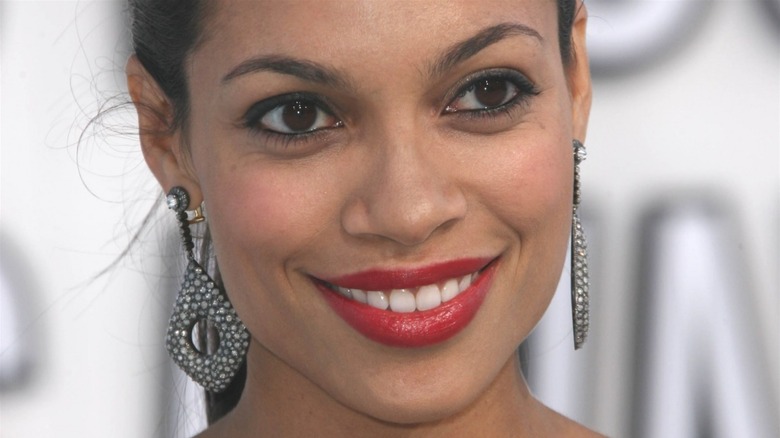 s_bukley/Shutterstock
Rosario Dawson has been making serious waves in the entertainment industry since she got her start at the tender age of 15. After experiencing a rather difficult upbringing, her big break came once she got cast in the 1995 indie classic, "Kids." Although she was eternally grateful to be cast as a newbie in such a complex role, Dawson admits that she assumed she would just go back to living a normal life once shooting wrapped up. Yet to her pleasant surprise, once the film was released, Hollywood executives were practically flooding her inbox with movie offers from left to right.
It wasn't until Dawson actually watched herself on screen during the film's official premiere that she realized she could really pursue acting in the long run. Upon discovering her talent, Dawson told Backstage, "I was really proud of [myself], because I knew I was a really nerdy, boring kid who was still very much a virgin and would be for several more years, but I really believed that I was this highly sexually promiscuous, wild street kid." She continued, adding, "I was able to take all of that information that I knew [about kids like that] and channel it into this character in a really convincing way."
And channel her knowledge she has. Since her debut role in "Kids," the Coney Island-born film star has over a whopping 100 credits to her name. But there's so much more to her than her acting career. Keep reading to learn more fascinating deets about the brilliant Rosario Dawson.
Her rocky upbringing as a squatter in New York City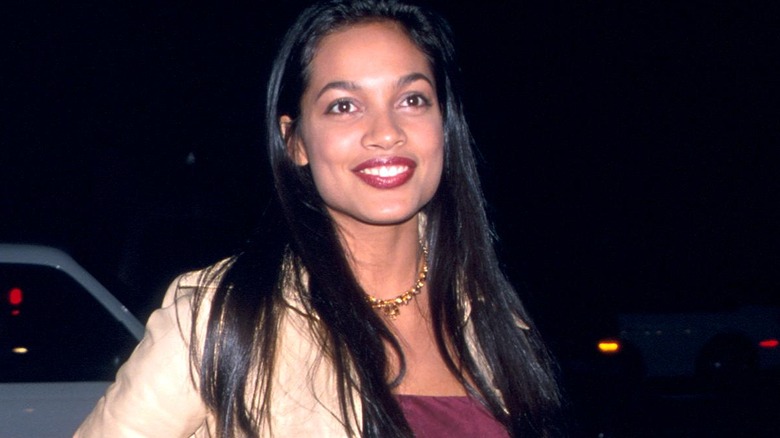 Brenda Chase/Getty Images
Born in the colorful and energetic streets of Coney Island, Rosario Dawson and her family eventually moved to the lower east side of Manhattan, where she and her parents settled into an abandoned, run-down apartment. Dawson has described the decrepit situation as being nearly impossible to comfortably live in, considering the lack of electricity, water, or even walls. "We had a big, gaping hole in the middle of the floor when we moved in," she told The Washington Post. "Sheets of plastic on the windows. At first, there was no running water, no heat, no electricity. My mother learned to be a plumber and put in all the pipes in our place."
Although this living situation was far from ideal, it taught the star a great lesson on resilience, strength, and the importance of giving back to those in need. During the difficult time, Dawson says that with the help of her neighbors, they were able to turn the broken-down place into an actual apartment that they could comfortably get by in. "To see strangers helping other strangers, just showing up and giving, was so inspiring to me," the actor revealed to Mind Body Green (via Professional Woman's Magazine).
Dawson was so moved in those earlier years by the helping hands of others that she was wholly inspired to donate her hand in philanthropy work as well. Because she knows what it's like to struggle, she also knows how valuable it is to receive that extra helping hand.
Why playing Mimi in Rent was so personal for her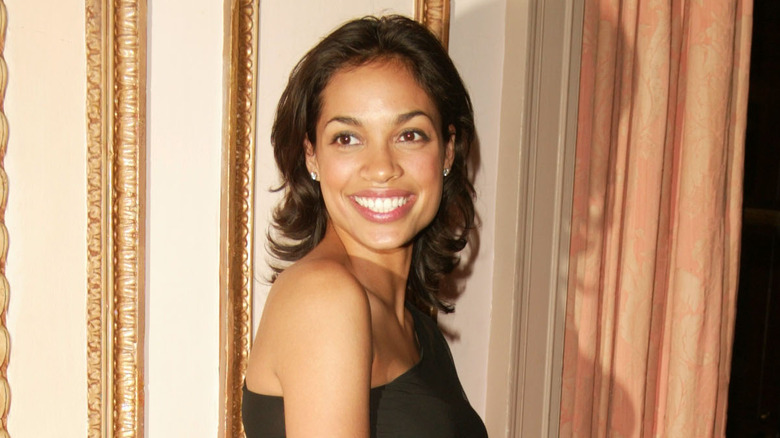 Evan Agostini/Getty Images
In the film version of Jonathan Larson's gritty Broadway musical, "Rent," the central characters face nearly unfathomable hardships. Set in the late 1980s, the story deals with a group of poverty-stricken characters who are struggling with the AIDS virus, identity issues, and the basic necessities needed to survive in New York City. At the time of the musical's release, there were hardly any depictions in the media (especially on Broadway) of people who represent these lower-income areas. According to Rosario Dawson, she was in her mid-20s when she first saw the musical on Broadway. Seeing a depiction of her own living situation while growing up was so meaningful that she knew she had to be a part of the film project by any means necessary.
She explained to Buzzfeed Celeb, "It was the first time I ever saw something that highlighted my life story and made it seem awesome, because I grew up in a squat on the lower east side and I didn't know that folks that I grew up with could be protagonists."
Being the eager go-getter that she is, Dawson explained how she fought to win the part of Mimi in the movie adaptation of "Rent." Unlike the rest of her cast in the film, Dawson was one of the few selected who wasn't a part of the Broadway musical. Dawson had to win over director Chris Columbus by showing him that she could belt a tune as well. She left the filmmaker stunned.
Rosario Dawson adopted an 11-year-old girl in 2014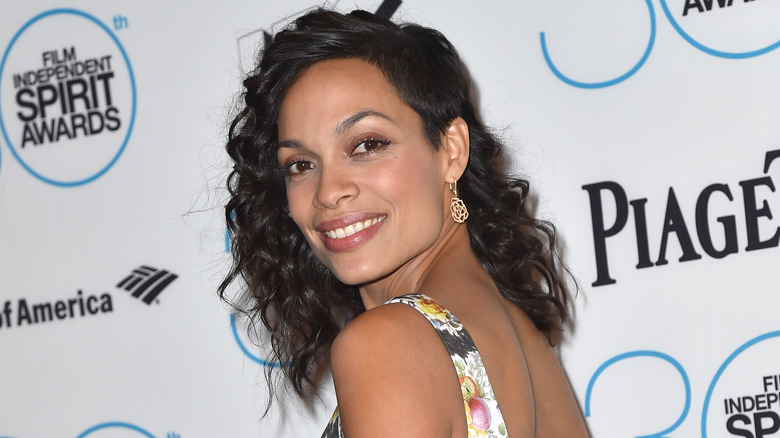 Kevin Winter/Getty Images
While it is not uncommon to hear of people who choose to go through the adoption route when it comes to raising children, it's a whole lot less common to hear of parents who adopt older kids as opposed to infants. In fact, according to this study by Partners for Our Children, only about 10% of teenagers get adopted, while 49% of adoptions are reserved for those aged five or under. 
Wen Rosario Dawson made the choice to be the legal parent of her child, it was an unconventional yet admirable decision. Dawson explained to Health Magazine that one of the reasons she chose to adopt was because she herself learned at a young age that her father wasn't her biological parent. Still, her bond with him gave way to a new mantra — family is family.
Dawson noted that this revelation came during her childhood, convincing her that she was destined to adopt in her future — her destiny came true in 2014. She gushed about her relationship with her daughter in 2021, saying, "I'm grateful for her development, our maturation, and our connection. She moved in [with me] at 11; she's 17 now and going to be 18 soon. To have a young person move in with you and to have to really consciously work through triggers and that kind of stuff is a really different thing than being pregnant and having your baby grow up in front of you — to be able to see how we're getting closer and closer."
The Kids star is an avid gamer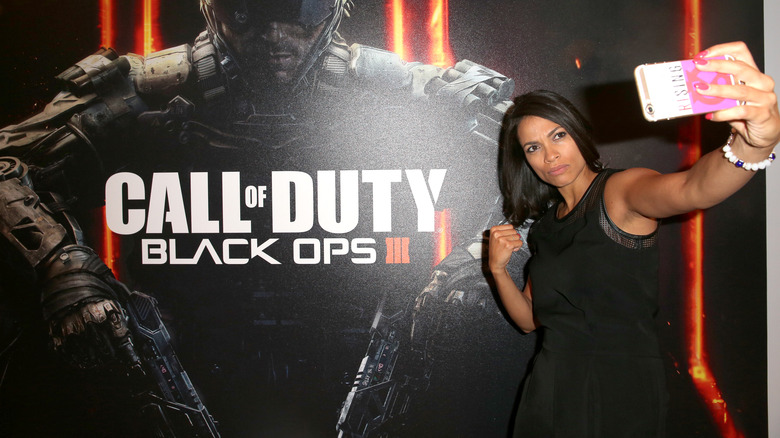 Imeh Akpanudosen/Getty Images
Who would have thought that a Hollywood beauty such as Rosario Dawson would be an avid video game player? While we are all familiar with her unique angular features and big brown eyes on the silver screen, not many realize that Dawson lends her voice to several video games! The actor has done voice-over work for popular games that include "Dying Light 2 Stay Human," Dishonored: Death of the Outsider," "Dishonored 2," "Ratchet & Clank," "Lego Dimensions," and "Syndicate," just to name a few of her works. The actor spilled in an interview on "The Late Late Show with James Cordon" that she is a big fan of playing video games, and she has been since childhood.
While speaking to Bustle, the celeb went on to gush about how great it is that there's much more female representation nowadays in the gaming world. Dawson explained, "To have the variety of characters and diversity of characters that are available now, it's from gamers and the audience's demand," adding, "They're listening and making awesome games for us." The actor notes that she thinks we as a society are headed in the right direction when it comes to more inclusive representation in the media.
Inside Rosario Dawson's fascinating dating history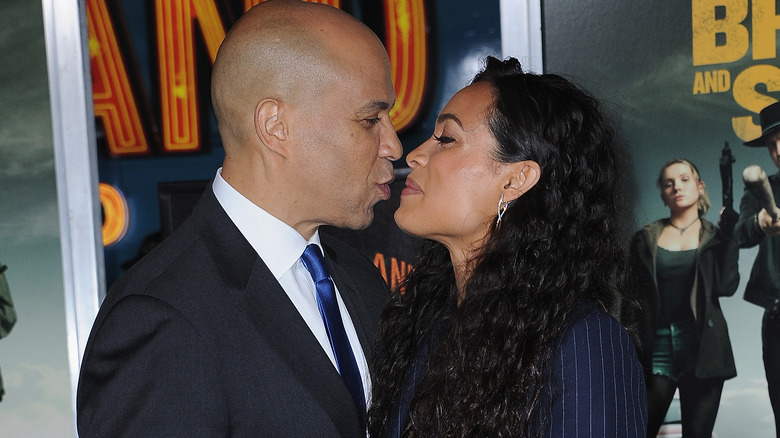 Albert L. Ortega/Getty Images
While most famous actors simply date other famous actors, Rosario Dawson has dated a diverse array of individuals, from US senators to professional poets to stand-up comedians to... Jay-Z?? That's right, back in the early 2000s, before Beyonce and Jay-Z became one of the most famous power couples in the world, the Brooklyn-born rapper and the Lower East Side actor were romantically linked. The two were only together for a short amount of time, though, because they happened to date during the same year that Beyonce and Jay-Z met.
Fortunately, Dawson was able to find love again with several interesting individuals, including Cory Booker, who is a democratic US Senator and has advocated for many of the causes that she feels deeply about. Booker and Dawson seemed quite happy together, considering they lasted for a little over two years, yet they ultimately called it quits in February of 2022. She gushed to The Washington Post when they were together that the thing that ultimately drew her in was his goofiness as opposed to his smooth-talking charm. "What wins me over with him is definitely the dad jokes," she said.
Dawson has also been linked to the absurdist comedian Eric Andre, whom she dated for over a year. Nowadays, the "Star Wars" actor is in a relationship with a renowned Nigerian poet named Nnamdi Okafor.
Rosario Dawson is now prioritizing her mental health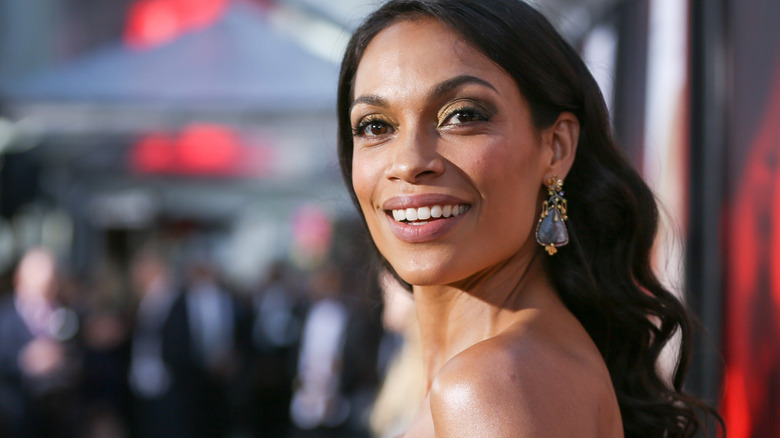 Rich Fury/Getty Images
Rosario Dawson has always prioritized her physical health and well-being. The actor is vocal off-screen about going the extra mile to lead a healthy lifestyle through physical exercise and smart eating habits. Yet according to the "Wonder Woman" actor, she admits that her mental health is something that she's always placed on the back burner. It wasn't until she adopted her daughter (who goes by "Isa"), who had been actively attending therapy throughout her whole life, that she realized how important it is to do some internal work as opposed to just the external.
According to the Coney Island-born actor, one of the things she has always struggled with is anxiety. While it's extremely common for people to have generalized anxiety, not everyone takes the necessary measures to treat it since there is still a stigma surrounding mental health-related issues. Fortunately, Dawson is now starting to fully understand the importance of doing the work that is required for mending her feelings of unease. 
Although she told Health Magazine in 2021 that she has gone to therapy for some time now, she hadn't made it a big priority in her life until more recently. Instead of just attending therapy once a week like she did before, she is now going multiple times a week and incorporating it into her everyday life. She told the magazine, "I'm grateful that I've traveled so much and worked so hard. But my priorities have shifted, and I've realized I need to slow down a bit and be nearer to the people I love most."
She is a huge activist and philanthropist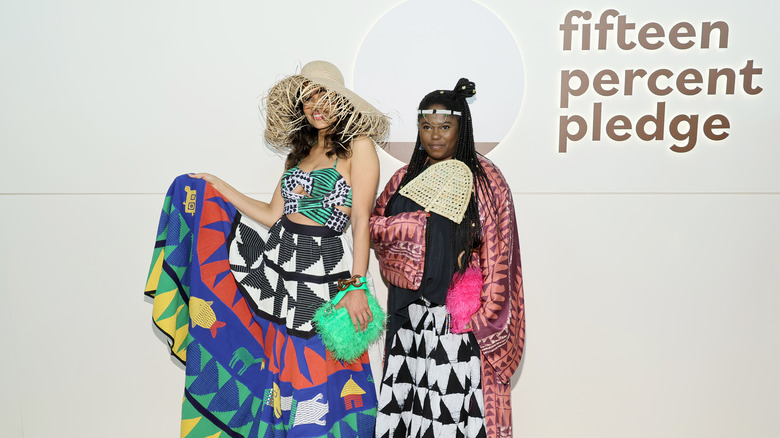 Dia Dipasupil/Getty Images
It's always inspirational when celebrities use their high-profile platforms to raise awareness on issues that truly matter. Rosario Dawson is one of those famous actors who uses her social media voice to advocate for causes and charities that require urgent help from the masses. One look at her Instagram page is all that's needed to see how dedicated she is to using her voice for the greater good. The "Men in Black II" actor has even co-founded several causes, including "Voto Latino" which inspires those in the LatinX community to vote in elections. She has also done a lot of work for Lower East Side Girls, a charity which helps underprivileged women in the burrow of which Dawson herself grew up in.
Speaking on the generous charity work she has done, Dawson revealed to White Wall, "I strive to collaborate with programs that are personally meaningful to me." Nowadays, Dawson collaborates with Studio 189, which is an African social enterprise that offers opportunities for underprivileged people in need of work. How cool is that?
What is Rosario Dawson's self-care routine?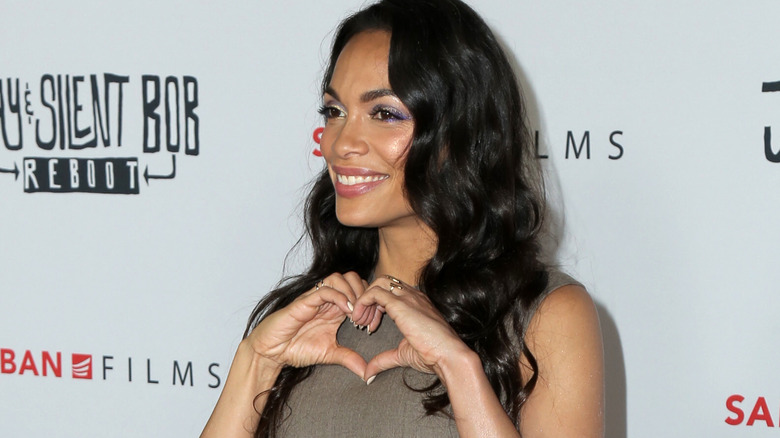 Kathy Hutchins/Shutterstock
It's safe to say that Rosario Dawson is an incredibly busy lady. With over 100 acting credits to her name and an endless amount of charity work/advocacy, Dawson seems as though she has no off switch. Speaking to Women's Health, the actor says that she is constantly on the go, thanks to her "east coast energy." But in order to be the best version of herself both for her own personal well being and the well being of her loved ones, she now understands how essential it is to take time out of her day to wind down.
So what does the actor do so she can be more focused and present in her everyday life? She spills her personal self care routine, telling the magazine, "I will take a bath or do a face mask or read something poetic that's just for me. It's only been in recent years where I'm like, 'Let me get a massage.' It's actually necessary. If I don't prioritize mindfulness, I am not going to be there for everybody the way I need to be." She adds that another way she likes to participate in self-care is by getting her heart rate up through exercise. Yet instead of simply jumping on the treadmill, the New Yorker loves to engage in fun activities like dancing to afro-beat hits from the 1980s. Now that sounds way more fun than doing crunches!
How she advocates for body positivity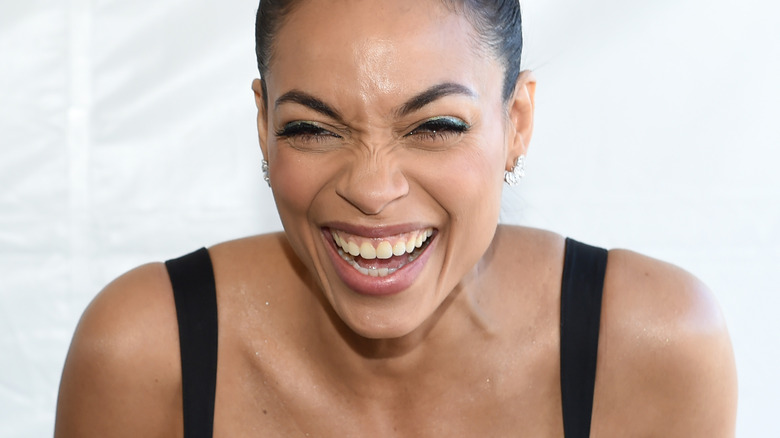 Amanda Edwards/Getty Images
It's no secret that the nearly impossible beauty standards placed on our society can play an integral role on our self-esteem. This is especially a factor when it comes to Hollywood beauty standards, where looking "red carpet perfect" without a single blemish or hair out of place can make us everyday individuals feel like hideous trolls in comparison. And while a good portion of celebrities prefer to give off the illusion of perfection to the masses, Dawson is much more vocal about letting her fans know that the majority of what you see in the entertainment world is one big facade.
In recent years, it has become a bit more common for celebs to be transparent about the extraneous effort that goes into achieving this level of perfection. Singer/songwriter Grimes has even publicly admitted that she got plastic surgery done, and that it is a total norm to do so within the industry. Yet, way back in 2011, before unveiling the curtain was considered admirable, Dawson was speaking out on the subject to whoever would listen. She told Shape Magazine (via SheKnows), "I'm constantly telling girls all the time, 'Everything's airbrushed, everything's retouched. None of us look like that.'"
Well, there you have it. It's nearly impossible not to love this A-lister, yet her hard work and advocacy has made us adore her even more than we ever thought possible. Go, Dawson!