Teddi Mellencamp Posts Promising Update On Difficult Skin Cancer Journey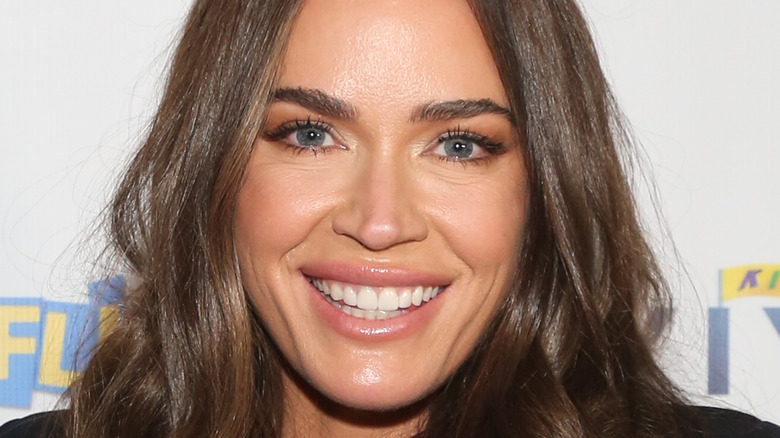 Paul Archuleta/Getty Images
Content warning: The photos in this piece may be graphic to some readers 
Teddi Mellencamp has shared a positive update regarding her health issues in a new social media post. Over the last few months, the "Real Housewives of Beverly Hills" star has remained an open book about her health and wellness –– specifically regarding her shocking melanoma diagnosis. Back in March, the self-proclaimed accountability coach first revealed the news in a somber post on Instagram. "I am doing my best to stay present and positive as I head to [film] today. Grateful that I am busy to keep my mind from racing as I await the results."
A few months after her initial post, the "Two T's in a Pod" host gave another scary update when she revealed that her melanoma diagnosis was stage 2. "Despite my anxiety, I listened to the doctors and went in for my 3-month skin check last week since my previous melanoma," she explained in another Instagram post. "They said I had another abnormal spot near my last one so they did a biopsy. I got the call this morning: Stage 2 melanoma." While her melanoma diagnosis took a scary turn, Mellencamp reassured fans that she and her doctors were already in the process of tackling the issue head-on. After a few weeks of silence, the reality TV star has finally given fans another update on her health, and things are looking up.
Teddi Mellencamp says she's all clear of melanoma
On October 26, Teddi Mellencamp took to Instagram and revealed that she had surgery to remove the multiple melanomas from her shoulder. While her surgery went off without any issues, the reality TV star revealed that the future remained uncertain. "Lots of questions about updates," she wrote. "Here is the truth; there isn't one, which may be one of the hardest parts about this. The waiting." Mellencamp also informed fans that she planned to get "additional biopsies" and "full genetic mutation testing" for BRC following her surgery.
Since that fateful day, the ALL IN fitness trainer has remained mum on her diagnosis and post-surgery results ... until now. On December 7, Mellencamp returned to Instagram and announced that she was all clear of melanoma following the procedure, successful pathology report, and genetic mutation test. "So I say peace out to 11 melanomas and 3 lymph nodes— I gladly hardly knew ya— and hello to a new sense of peace."
In addition to her joyous announcement, Mellencamp reiterated the importance of getting tested before stating that she would be getting checked "every 4-6 weeks", as her doctor suggested. In response to her positive news, an array of her industry peers flocked to her comment section to congratulate her. Real Housewives of Atlanta star Cynthia Bailey wrote, "Good news" alongside a heart emoji. "Pretty Wild" star Alexis Haines echoed similar sentiments while also wishing her "a healthy 2023."