Heather Locklear's Arrest: Disturbing Details Emerge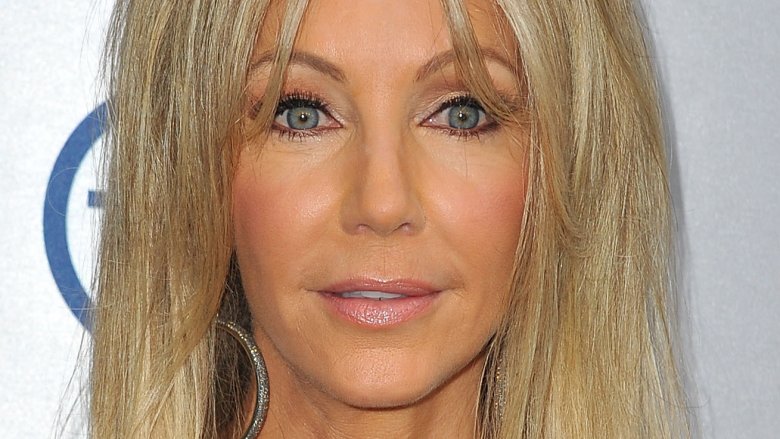 Getty Images
The Spin City star's recent arrest got pretty darn ugly.
Before she was arrested on suspicion of felony domestic violence on Feb. 25, 2018, Heather Locklear reportedly got into a nasty fight with her boyfriend, Chris Heisser. According to People magazine, which obtained the authorities' search warrant and Affidavit of Probable Cause docs, Senior Deputy Sheriff Keith Hall claimed that Locklear said Heisser had choked her and that she expressed fear that he was going to kill her. Hall wrote, "Locklear stated she did not lose consciousness, but was strangled for a long time and thought she might pass out."
So just what sparked the big fight between Locklear and Heisser? Hall reported, "Locklear said the fight first started when [Heisser] lied to her and she threw a can of Red Bull at him."
For his part, Heisser alleges that he never laid a hand on Locklear during their spat but that his girlfriend had instead attacked him. In his report, Hall noted that one of his deputies saw that Heisser "was bleeding from the bridge of his nose" and that he "had redness on his chest." Heisser reportedly told the cop that Locklear had hit him several times. Hall wrote,"He did not know how many times Locklear struck him. Locklear bit his face and described Locklear as being 'all over' him for the last 20-30 minutes acting 'crazy,' 'angry,' and 'wild.'"
Locklear also reportedly acted aggressively toward the police when they arrived at her home, allegedly ordering the authorities to leave and becoming belligerent when they did not. "Sergeant Camou asked Locklear to exit the bedroom several times before she complied," Hall stated. "She continued to yell and scream at the deputies to leave her house while pacing back and forth in a very aggressive manner. Locklear yelled profanities at the deputies and tried to physically push Sergeant Camou and Deputy Nesgis with her hands out of the house."
When cops arrested her, Locklear allegedly resisted and "continued to struggle and resist as Deputy Nesgis handcuffed her." After she kicked one of the officers, cops placed a hobble on her ankles, effectively binding her legs together.
TMZ reports that Locklear also told the police, "You f****** deserve your kids to die! You f****** deserve it! And when you find yourself in that position, think of me!"
She allegedly continued, "I hope no one f****** burns your entire department down, your f******* police department." She also reportedly said, "Get the f*** off my property. Don't ever come on it. All of you are not allowed ... I will shoot you if you come on my property and take that as a threat and f****** put another count against me."
Hours after Locklear was taken into police custody, Heisser was arrested for a DUI. According to People, his blood alcohol content was .19.
As Nicki Swift previously reported, Locklear faces one felony count of domestic violence and three misdemeanor counts of battery. She later posted bail. Cops later obtained a search warrant for Locklear's home. They'd discovered that Locklear had a gun registered in her name that she'd obtained in 1985, but the police reportedly could not find it on her property. Locklear wasn't around when the authorities searched her Thousand Oaks neighborhood home, as she was allegedly in a treatment facility at the time.