The Celebrity Hugh Jackman Had A Major Crush On Growing Up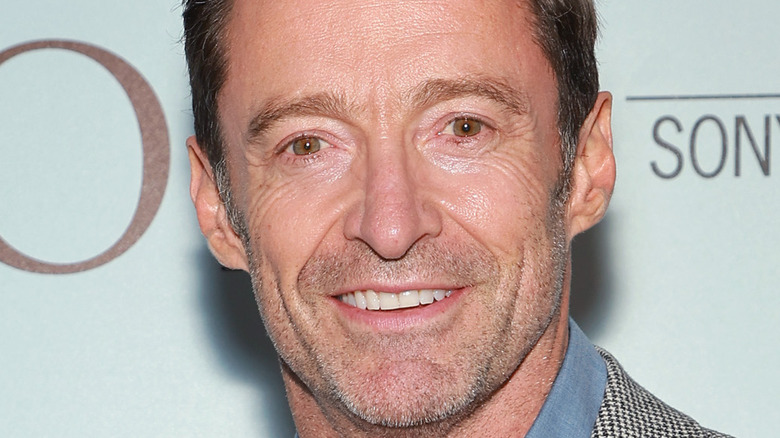 Arturo Holmes/Getty Images
Hugh Jackman and his wife of 26 years, Deborra-Lee Furness, seem like a match made in heaven. The two met on the set of the Australian series "Correlli" in 1995 and Jackman — despite being 13 years her junior — soon developed a crush on Furness. "Deb and I were already best friends, and I realized, I've got a crush on my leading lady," he said, per People. "This is the thing you do not do. It's unprofessional and embarrassing." Jackman said it took him a while to muster up the courage to confess to Furness. He recounted to the outlet, "I said, 'I got a crush on you. I'll get over it, I'm sorry.' She goes, 'Oh? Because I've got a crush on you too.' I never in a million years thought she reciprocated."
Soon after they started dating, Jackman and Furness decided to take the plunge and get married in Australia in 1996. They eventually welcomed two children, Oscar and Ava, through adoption after a series of failed IVF treatments and pregnancies, per Daily Mail. The two have been together since, and just celebrated their 26th wedding anniversary on April 11, 2022. Sharing his message for his wife on Instagram, Jackman wrote, "Today I celebrate 26 years of marriage to my extraordinary wife. Every single day is filled with so much laughter, joy and backgammon!!!! Deb you light up my life. I love you with all my heart!"
But while Jackman has been happily married for quite some time, the Wolverine actor has been open about having a massive crush on another famous celebrity growing up — one whose poster he'd kept on his bedroom wall and would kiss every night.
Hugh Jackman practiced 'tongue-kissing' on Olivia Newtown-John's poster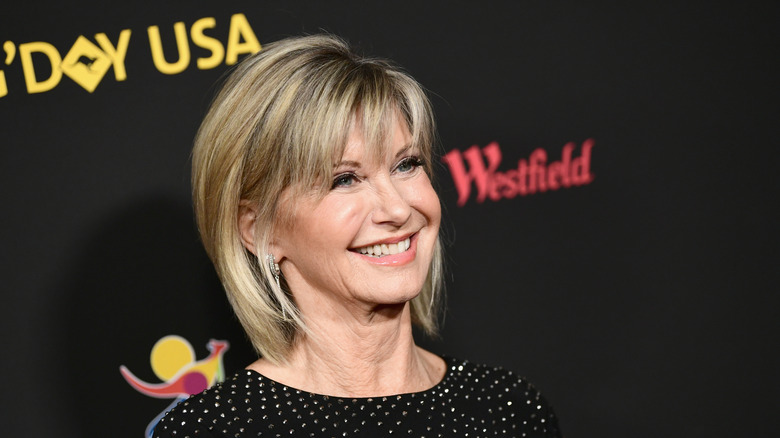 Emma Mcintyre/Getty Images
At the G'Day USA Los Angeles Gala in 2016, Hugh Jackman revealed he was a massive fan of Olivia Newton-John growing up, People reports. The "Logan" star said he had a huge crush on the late "Grease" star as a teenager, even keeping a poster of her on his bedroom wall which he would kiss every night before bed. Jackman told the crowd, "I remember when I was a kid growing up in Australia, all I wanted to do was be able to travel. I didn't have posters of footie stars or rock stars up on my wall. I had a map of the world literally next to my bed, and I used to lie in bed and dream of all of the places that I would go to when I was older."
But that wasn't exactly true. "I did have a poster of Olivia Newton-John up on my wall, which I literally kissed, maybe even practiced tongue-kissing on," he confessed. "I'm not sure!"
Speaking to Magic Radio in 2017, Jackman said the first time he met Newton-John was on the set of his 2000 film with John Travolta, "Swordfish." Having told him about his childhood crush, Travolta — who starred on "Grease" with Newton-John — decided to surprise Jackman. "I had met her and I told her... and don't ever do that. I blurted out the story and she was like, 'Right.' She totally was looking at me like, 'This is a stalker, this is my worst nightmare.' And I was like, 'Why did I say that?'" he said. "So when you meet your celebrity crush, don't tell them."
Hugh Jackman paid tribute to Olivia Newton-John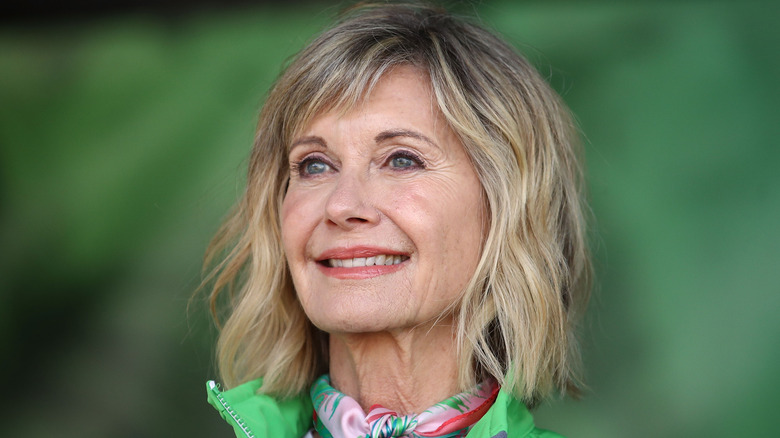 Scott Barbour/Getty Images
In 2019, Hugh Jackman showed his support for Olivia Newton-John after it was announced that the "I Honestly Love You" singer was diagnosed with stage four breast cancer for a third time. During his "The Man, The Music, The Show" gig in Sydney, Jackman recorded a video message for his longtime crush in front of his massive audience of 15,000 concert goers. "Hi Olivia, it's Hugh, with 15,000 of your closest friends and family [...] Listen, you are the most amazing person, the most amazing mum, the most amazing ambassador, singer and dancer. We just love you," he told Newton-John, via Classic FM.
Newton-John ultimately passed away from breast cancer on August 8, 2022 at the age of 73. Joining Hollywood in mourning the "Grease" star, Jackman took to Instagram to share his own heartfelt tribute to Newton-John. "I'm devastated to hear the news that @therealonj has passed away. One of the great privileges of my life was getting to know her. Not only was she one of the most talented people I've known... she was one of the most open hearted, generous and funny. She was a one of kind spirit," wrote Jackman. Noting that Newton-John was his first crush, he said, "Her legacy will only grow stronger in the years to come. A fighter for healing from cancer that knows no bounds. I love you Olivia."