How Ellen DeGeneres Made History With Johnny Carson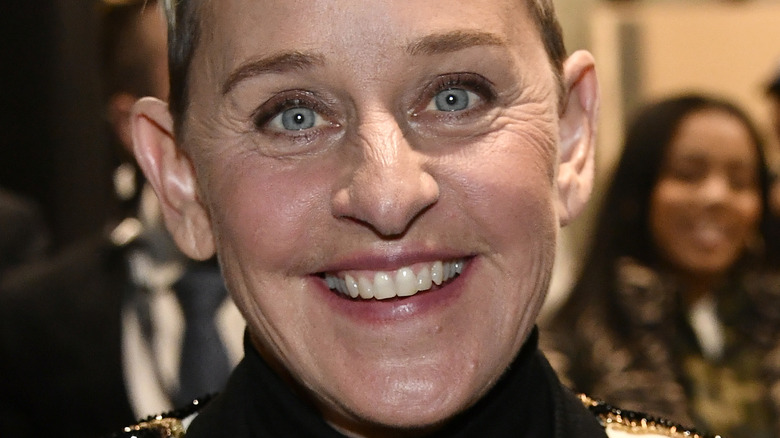 Frazer Harrison/Getty Images
Former talk show host Ellen DeGeneres has been a groundbreaking figure of daytime TV for decades now. Not only did she become the first main character of any TV show in America to come out as gay when she played a fictionalized version of herself on ABC's "Ellen" in 1997, but she has also made history more than once on the talk show for which she is best known, "The Ellen DeGeneres Show."
For one, DeGeneres has been so popular that, in 2017, she became the most celebrated celebrity in the 43-year history of the People's Choice Awards, winning 22 awards overall; she also became the first female comedian to make a groundbreaking deal with the streaming service Netflix — around $20 million — in order to make a standup comedy special, according to Forbes. 
However, what many fans may not know is that the famed comedienne actually made history long before she became a household name. In fact, she first made history back in 1986, when she first appeared on the legendary talk show of Johnny Carson. 
Ellen DeGeneres became the first woman invited on Johnny Carson's couch
In the early '80s, while she was in her early 20s, Ellen DeGeneres was just getting started as a standup comedian. It later in that decade, however, when she really made her big break when she was invited onto NBC's "The Tonight Show Starring Johnny Carson." The show was in November 1986, when DeGeneres appeared on set to do a standup routine, followed by a short interview with Carson. Most notable of all? Although it may not have been mentioned in the episode, she was the first-ever female comedian invited onto Carson's couch, per People.
Interestingly, Carson himself mentioned in the episode that he believed women had a harder time as comedians, given that he believed it was easier for men to be more aggressive and get away with it. DeGeneres responded, "I say that, and men think I'm being chauvinistic," adding, "I think men can get away with a lot more." Sure enough, DeGeneres proved right then exactly what women could do with comedy, and how well they could be received. 
There was a tragic backstory behind Ellen DeGeneres' first appearance on Johnny Carson
In a 2018 appearance on the Armchair podcast, Ellen DeGeneres recalled the tragic death her girlfriend, Kat Perkoff, to a car crash in 1980, and revealed how it actually informed her famous "phone call with God" routine, which she performed in her 1986 "Johnny Carson" appearance.
As she explained in the podcast, her next residence (a basement) was "infested with fleas," which caused her to ponder over the inhumanity of the universe. "Why is this beautiful, 21-year-old girl just gone and fleas are here?" DeGeneres recalled thinking of Perkoff's death. "And I just thought it would be amazing if we could pick up the phone and call up God and ask questions and actually get an answer."
Furthermore, that was not the only unfortunate event to plague DeGeneres that day. In a 2019 appearance on David Letterman's "My Next Guest," DeGeneres revealed that, on the day of her first "Carson" appearance, she almost thought her car had been stolen. "I went to a store on Melrose to get something and I go inside and I come back out," she explained, "and my car is gone." However, what happened next was almost a comedy routine in itself. "Then I hear horns honking," she revealed. "I had forgotten to put the emergency break on, so it had rolled all the way down [... It's just rolling, I'm running after the car. That was the day of Carson."