What Darryl Strawberry's Life In Prison Was Really Like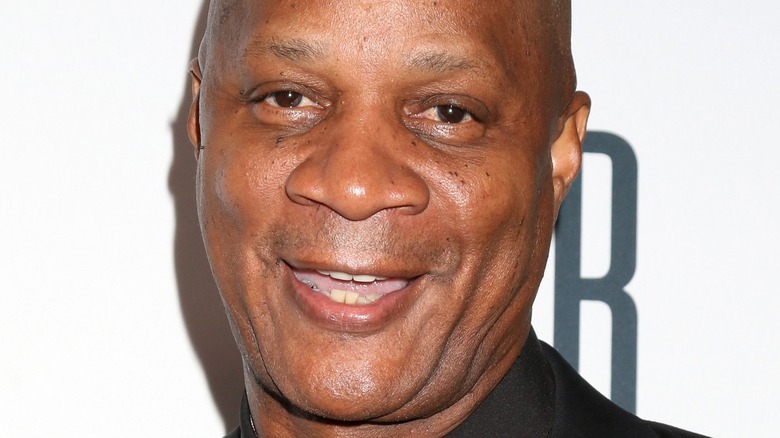 Kathy Hutchins/Shutterstock
The following article contains references to addiction and domestic abuse. 
The New York Mets have entertained not only New Yorkers but also baseball fans everywhere since their founding in 1962. They were formally known as the Metropolitan Baseball Club, Inc, according to the Met's Heritage, but have since taken on the more affectionate nickname they go by today. The team has gone on to create a legacy — with its fair share of moments in Major League Baseball's darkest secrets, too.
The team has also attracted the attention of famous New Yorkers, and once upon a time, when they were a couple, Jennifer Lopez and Alex Rodriguez wanted to buy the Mets. Rodriguez, a who for the New York Yankees, told Jimmy Fallon on "The Tonight Show" why he was so enamored with the idea of buying the team. "Here's what it is. I love New York City, number one. A lot of people don't know this but growing up I was a big Mets fan," the former Yankee said. "And with the exception of my daughters' births, both of them, the best years of my life were 1986 and 2009, when we won. So I will say this: If the opportunity came up, I would certainly look at it." He then teased Fallon: "Maybe you can buy them with me? I need a partner!"
The Mets have also faced tragedy. Former player Chuck Carr died in November 2022, and pitcher Pedro Feliciano died in November 2021. There's another player with his own tragic story: Darryl Strawberry.
What happened leading up to Strawberry's arrest?
Debby Wong/Shutterstock
Darryl Strawberry acknowledged that he struggled with substance abuse early in his baseball career, when he played for the New York Mets. He also admitted that when fans were hard on him, he used it to get back at them. "The drinking and drugging, that was a way of punishing myself and the fans, too," Strawberry said, according to ESPN. "I figured, 'If you want to get negative on me, you won't get the best out of me.'" His addictive behavior led to many suspensions from MLB teams. On top of this, he was diagnosed with colon cancer in 1998, per ABC News.
In 1990, Strawberry was arrested for domestic abuse against his then-wife, Lisa, per The Washington Post, and he entered a treatment facility for alcohol. The two later divorced. In 1993, he was arrested for domestic abuse of his partner, Charisse Simons. One year later, Strawberry and his agent, Eric Goldschmidt, were charged with tax evasion, per ESPN — and shortly afterward, Strawberry was suspended by the MLB for cocaine in his system. Then in 1999, while Strawberry was in Tampa, he was arrested for soliciting prostitution from an undercover police officer; simultaneously, law enforcement found cocaine on his person. In March 2001, Strawberry was sentenced to a two year rehab program, but he was kicked out of the center for violating their protocol.
If you or someone you know is dealing with domestic abuse, you can call the National Domestic Violence Hotline at 1−800−799−7233. You can also find more information, resources, and support at their website.
Darryl Strawberry got out of prison early on good behavior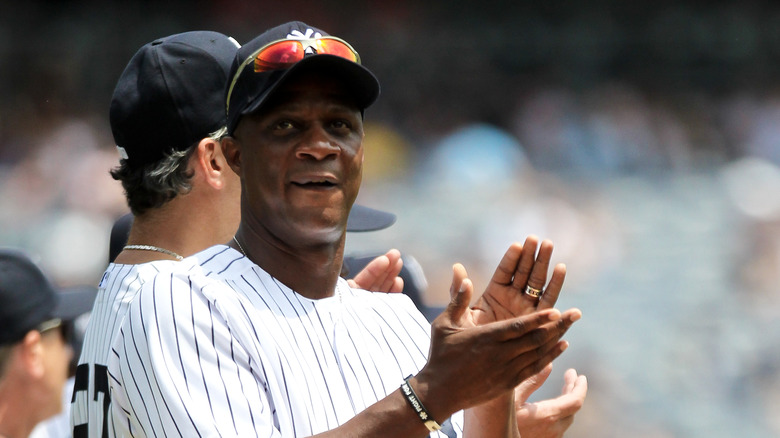 Debby Wong/Shutterstock
Darryl Strawberry was sentenced to 18 months in prison after six violations of his probation, The New York Times notes. However, since he had spent previous time in jail, he was given a three-month credit on his sentence. Strawberry served his time at the Gainesville prison in Florida, which is both minimum and medium security, per CBS News. All reports from Strawberry's time in prison were glowing, and he also took advantage of the sober support and programs offered there.
As CBS reported, Strawberry worked on the grounds (which included lawn work and moving) while serving his time. The outlet also noted that his wife, Charisse Strawberry, visited him twice. A rep for the New York Yankees also visited Strawberry while he was in prison.
Florida Department of Corrections spokesman, Sterling Ivey, told The Gainesville Sun, "He was actually a very good prisoner. He followed all the rules. He was not a problem to the staff or other inmates on the compound." Strawberry was released after 11 months, partially thanks to earning 82 days of good behavior credit. Upon his release, he accepted the standard check for $100 given to exiting inmates and was picked up by his wife.
If you or anyone you know needs help with addiction issues, help is available. Visit the Substance Abuse and Mental Health Services Administration website or contact SAMHSA's National Helpline at 1-800-662-HELP (4357).