Gayle King Says She Was Passed On For The View Over This Co-Host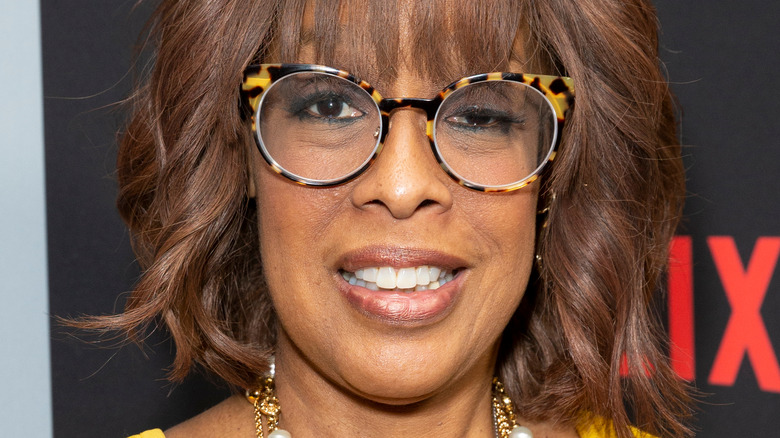 lev radin/Shutterstock
You know you can always count on Andy Cohen to get the real tea from celebs. Case in point: The December 8 After Show episode of "Watch What Happens Live," with "CBS Mornings" anchor Gayle King as a guest. King was asked by a fan calling in to confirm a rumor that she lost a spot on "The View" to one of the daytime talk show's current cohosts. 
Apparently not seeing any need to hedge, King responded immediately, "I do think it was true." She added, "You know how I knew I wasn't getting it? Cindy Adams, who is a gossip columnist here in the city ... she wrote a column that said, 'Gayle King is in the running' — because I had done the show a couple of times — 'Gayle King is in the running for a slot on The View,' and she said, 'Trust me kiddies, that will never happen.'"
But why would King believe the columnist? And who was she supposedly up against?
Gayle King almost got Whoopi Goldberg's spot on The View
Gayle King was not surprised that she didn't land a role on "The View," as retold during her December 8 appearance on "Watch What Happens Live." "Now why did I believe [Cindy Adams?]" Gayle King inquired on "WWHL." "Because Cindy is very good friends with Barbara Walters." Barbara Walters, of course, was the original creator of "The View," while Adams has been called "the Queen of Gossip" for her long-running column in Page Six. "When Cindy said, 'Trust me, kiddies, that will never happen,' I knew I wasn't getting that job," King said.
Soon after Adams' article ran, King explained, she got some confirmation that her instincts were correct. "Right after that column, Barbara called me and said, 'I just wanted to call you personally. We've decided to go in another direction...'" King continued, "And I said, 'Okay, who?' And she told me Whoopi." Whoopi (obviously) refers to Whoopi Goldberg, who was hired as a full-time moderator on "The View" way back in 2007, according to Playbill.
King doesn't say she's necessarily better off for having lost out to Goldberg, but she's not exactly captaining the struggle bus either. She and Andy Cohen agreed that she would have been great on the show but, "You know what, things have worked out. So, I'm okay."