How Steph Curry And Kevin Durant Really Feel About Each Other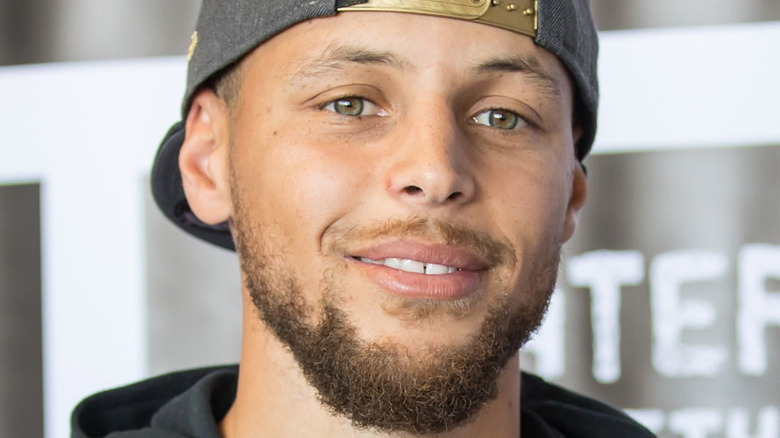 Miikka Skaffari/Getty Images
When it comes to basketball legends, many players come to mind — including Michael Jordan, the late Kobe Bryant, LeBron James, and more. Among the most influential players to ever hit the coveted NBA court are Kevin Durant and Steph Curry. Since making their respective debuts in 2007 and 2009, the two players have gone on to achieve amazing feats within the sports field.
Across his expansive career with the Golden State Warriors, Curry became the first NBA player to earn 47 points, eight rebounds, eight assists, and no turnovers in a game, per New York Post. As for Durant, who currently plays for the Brooklyn Nets, the young talent made history in November when he became the 19th player in NBA history to score 26,000 career points, per Fastbreak.
In addition to their separate feats, the two have also made waves for their impressive run as Warriors teammates between 2017 and 2019. While some fans have pitted the duo against each other, especially after Durant left for the Nets, it looks like the two share no bad blood.
Steph Curry says Kevin Durant is a really good dude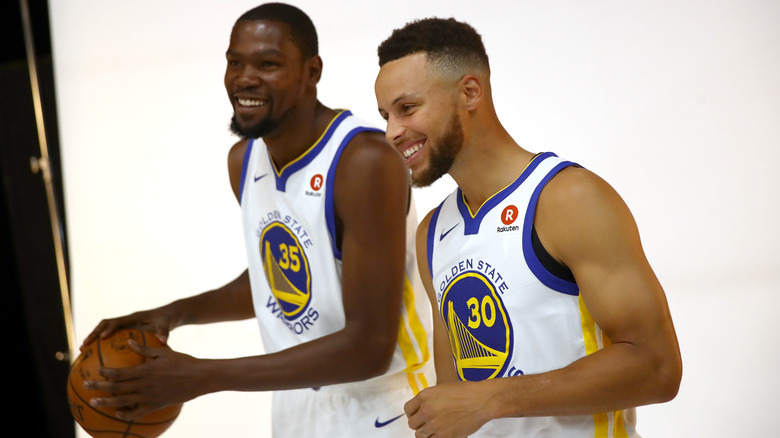 Ezra Shaw/Getty Images
Back in 2016, Steph Curry and Kevin Durant became teammates after the latter joined the Golden State Warriors as its small forward. Shortly after the news made headlines, Curry opened up to Marcus Thompson of Bay Area News Group about how the former Oklahoma City Thunder player joined the beloved California-based team. "We were just ourselves. All we did was pretty much talk. We told him how things would be, how we operated and how he would fit in," he explained (via Bleacher Report). "He would fit right in. He's a team guy. That's who he really is."
Fortunately for Curry and Durant, their time together on the Warriors proved successful — with the team winning not one but two championship titles. However, in 2019, Durant shocked the sports world when he announced that he would leave the Bay-Area team and move on to the Brooklyn Nets. While some fans have since written off any possible reunion between the two players, Curry has echoed different sentiments.
"The idea of playing with KD and knowing who he is as a person from our history in those three years, I think KD's a really good dude," the point guard told Rolling Stone in August 2022. At the time of Curry's interview, Durant reportedly requested a trade from the Nets after having issues with the head coach. "If you said, 'Oh KD's coming back, and we're gonna play him'... I'd be like, 'Hell, yeah!'"
Kevin Durant shuts down rumors of animosity toward Steph Curry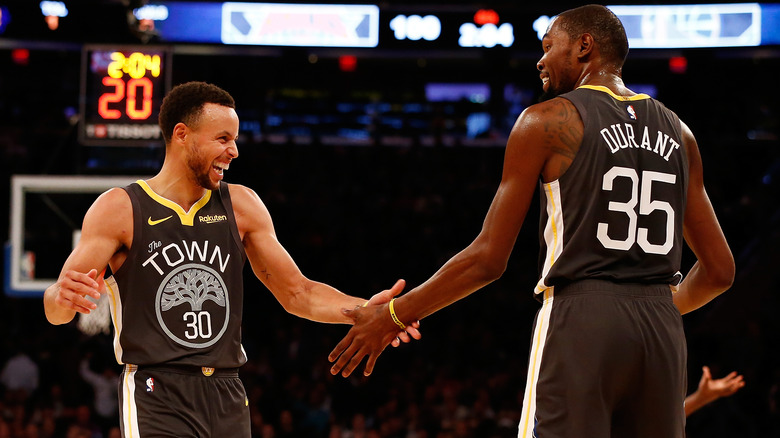 Mike Stobe/Getty Images
While Steph Curry and Kevin Durant achieved great things with the Golden State Warriors, some fans have theorized that Durant shared ill feelings toward Curry. Despite the rumor mill, the Brooklyn Nets player officially shut down the claims during a Twitter Spaces chat in 2021, per NBC Sports. After a fan asked if he was ever envious of the Bay area's adoration of Curry, Durant replied: "Show me any indication of me ever being pissed off about not getting no love in the arena." He later added, "Everywhere I went in the Bay Area, people showed me love. I never talked about that. So where did that come from?"
Toward the end of his chat, Durant refuted claims made by author Ethan Strauss that he felt like an outsider while on the Warriors. "I don't give a s*** about what people have to say about who's better or who gets cheered the loudest," he added. "That s*** never mattered to me ... y'all [fans] just got irritated with the media, and you try and to blame that s*** on me like I was creating these stories." 
Fortunately, the former teammates are still on good terms to this day. When asked who he would want to compete against in a three-point contest during a November press conference, Durant playfully stated: "The God Steph, of course."