The Song That Sparked A Rivalry Between LeAnn Rimes And Trisha Yearwood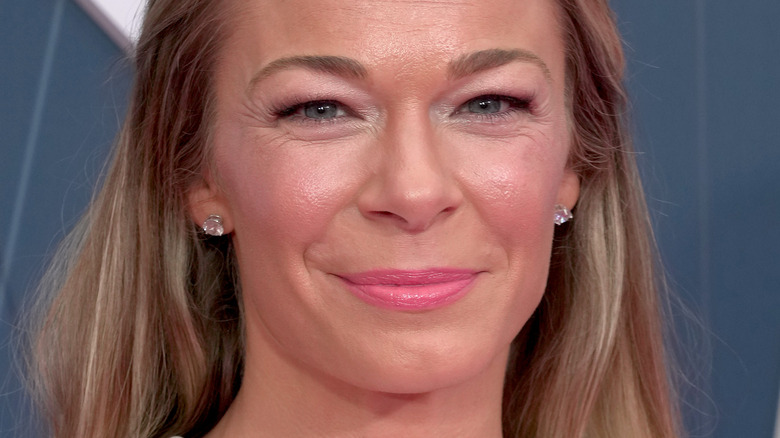 Kevin Mazur/Getty Images
Just like movies and TV shows that get the reboot treatment every few years, songs get repackaged all the time. More often than not, an artist decides to cover a track, only for it to top the charts as if it's a new song. A popular example is Dolly Parton's "I Will Always Love You," which was later re-released by the great Whitney Houston as part of the soundtrack of the 1992 film "The Bodyguard." While Parton's original version made waves, the impact Houston's cover had was unprecedented. Billboard noted that the song snagged the No. 1 spot in the charts for 14 straight weeks and managed to sell an impressive 3.1 million copies. 
The same thing happened with Nine Inch Nails' "Hurt," which was later covered and even more popularized by Johnny Cash. Although Trent Reznor felt honored that his band's song was covered by a legend, he told NME that hearing Cash's version for the first time felt "like someone kissing [his] girlfriend".
But there are rare cases when a song was given to two artists to record, only for the singers to release it at the same time. It happened in 1997 when both LeAnn Rimes and Trisha Yearwood covered a Diane Warren track meant for the film, "Con Air," starring Nicolas Cage.
LeAnn Rimes and Trisha Yearwood both released How Do I Live
Picture this: it's 1997 and you hear LeAnn Rimes' "How Do I Live" on the radio. Minutes later, you hear the same exact song, only that it has a different arrangement and is sung by a different vocalist, Trisha Yearwood, to be precise.
It's exactly what happened that year, when both singers released the Diane Warren-penned song. According to Entertainment Weekly, Disney commissioned the songwriter to compose a track for the film "Con Air," which producer Tony Brown first offered to Rimes, who was 15 years old at the time. But the studio was dissatisfied with her version and offered it to Yearwood instead, who was far more established then. Yearwood's rendition ended up being part of the film, but things got complicated when Rimes' label apparently got too attached to the project and decided to release her version anyway (via Rolling Stone).
To make the situation more awkward, both versions got nominated for a Grammy. Rimes performed the song on stage at the award show, but Yearwood took the trophy home. However, Rimes' cover was the fan-favorite, having spent a whopping 69 weeks on the charts, per Billboard. Funnily enough, Yearwood wasn't even initially aware that someone else had recorded the same track. "he Nashville rule is, if somebody has a song on hold, you don't record it," she told The Chicago Tribune. "But in this case I didn't think she (Rimes) had any kind of permission to do that, so I wasn't worried about it."
Did LeAnn Rimes and Trisha Yearwood ever fight?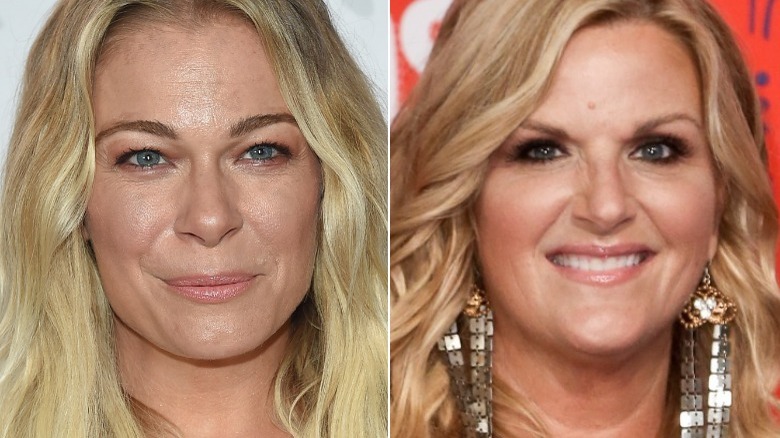 DFree & Debby Wong/Shutterstock
Despite the media saying otherwise, there was never any bad blood between LeAnn Rimes and Trisha Yearwood. Speaking with the Associated Press, Yearwood shared how impressed she was at how the teenage Rimes handled such a messy situation.
"They'd love to see some kind of hair-pulling thing. We both liked the song. I would not have chosen to be in a competition, particularly with LeAnn Rimes. She's very nice. I think she's handled herself with a lot of grace," she told the outlet. "Everybody won in this. It's been a big record for her and a big record for me. I'm ready for it — that competition she and I have unfortunately been put into — to be put to rest."
Meanwhile, Rimes shared that the whole incident toughened her up and gave her a taste of how convoluted the music industry can be. "I wasn't a happy person,″ she told the same outlet. "I felt betrayed. Not by fans but by people in the business. It's disheartening to see what the fans like and [have] politics take it from me." She recognizes the impact the song has on pop culture, though, telling Rolling Stone years later that the society has a "codependency" with the track. "It's played at weddings, they play it at funerals. You never know, there's just a magic about certain songs."