The Heartbreaking Loss That Changed Adam Levine's Career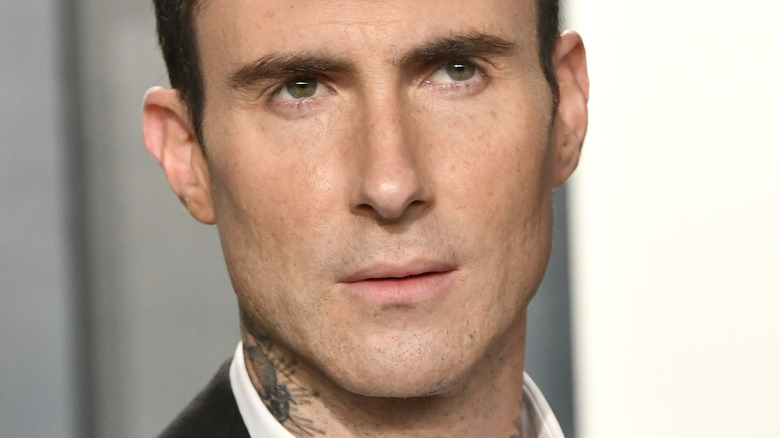 Frazer Harrison/Getty Images
Adam Levine and the members of Maroon 5 have come a long way since their inception all the way back in 1994. Four of the bands' original members — frontman Levine, bassist Mickey Madden, keyboardist Jesse Carmichael, and drummer Ryan Dusick — formed the proto-band called Kara's Flowers while they were still in high school! According to MTV News, the foursome decided to move to New York City after graduating, where they met the fifth and final member of what would become Maroon 5, guitarist James Valentine. Although they had the aura of a cool indie band, the "She Will Be Loved" creators saw immediate mainstream success with the release of their first album, "Songs About Jane," in 2002. In fact, the band won the Grammy for Best New Artist in 2003.
Since then, Maroon 5 — and especially Levine in his own right — have skyrocketed in popularity and achieved musical feats like performing at the Super Bowl Halftime Show in 2019. But many people don't know about the devastating loss that changed the trajectory of Maroon 5's career.
Jordan Feldstein, Maroon 5's manager, unexpectedly died in 2017
Many people know about the unexpected childhood friendship between Jonah Hill and Adam Levine, but Hill's older brother — Jordan Feldstein — was great friends with Levine as well. In fact, Feldstein served as the manager for Maroon 5 since the very beginning and played a part in both the band and Levine's success, per The Hollywood Reporter. Sadly, in December 2017, Feldstein died unexpectedly as a result of a pulmonary thromboembolism.
Levine called his long-time friend and manager's death "one of the saddest moments" of his life in an interview with Variety in 2018. "This is a kid I've known since we were in diapers. He was one of the most important people in my life from a very early age."
After Feldstein's death, Levine made a huge change and stepped up to become a co-manager of the band alongside Feldstein's successors, Adam Harrison and Irving Azoff. "Adam wanted to be involved in the decisions," Harrison told the publication. "So it's a collaborative conversation at all times. It's been one long text message and phone call for 10 months of the last year." Although it was tragedy that forced this decision, Levine was able to take the reins where he wanted to go. Just one year later, Maroon 5 would release one of their career-defining hits, 2018's "Girls Like You," which has over 3 billion views on its music video as of this writing.
Adam and Maroon 5 continue to mourn Jordan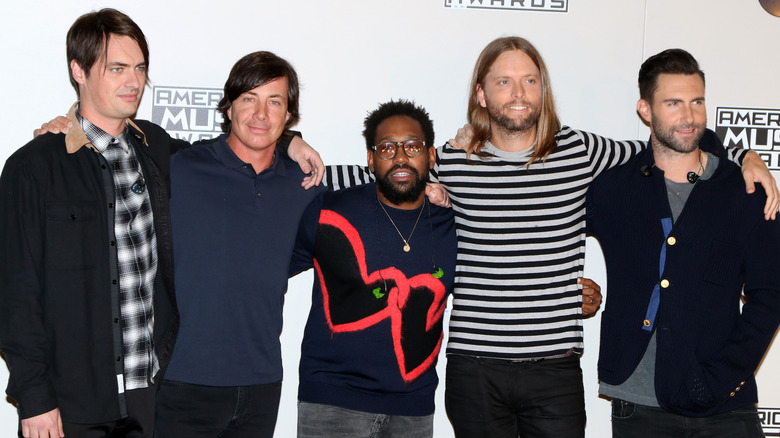 Kathy Hutchins/Shutterstock
Singer Adam Levine and the members of Maroon 5 dedicated their 2021 album, "Jordi," to their late manager and friend, Jordan Feldstein. Less than four years removed from his death, Levine admitted that his emotions were still raw surrounding the grief of losing Feldstein.
"The loss is tragic in ways I'm still learning how to cope with," the "Sugar" singer wrote on his Instagram when he announced the album. "All I can do is keep him with me and honor him in the best way I know how. I miss him every single day. And I'm proud to have etched his name into the history of this band that he helped build from the ground up ... every step of the way."
The album's track "Memories" specifically evokes the tragic loss. "Cheers to the wish you were here, but you're not," Levine sings. "'Cause the drinks bring back all the memories / Of everything we've been through." The ending card of the song's music video reads, "For Jordi."