What Kirstie Alley Was Really Like On The Set Of Cheers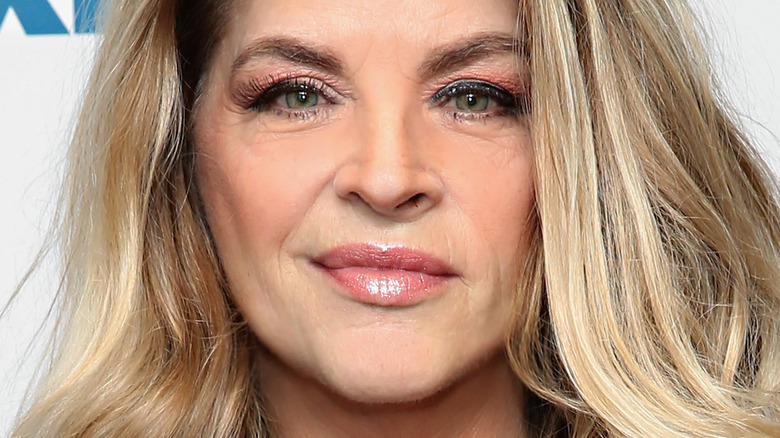 Cindy Ord/Getty Images
We may receive a commission on purchases made from links.
When actor Kirstie Alley died of cancer in December, tributes poured in thick and fast. Known for her roles in sitcoms like "Cheers" and "Veronica's Closet," Alley was equally famous for her personality and controversial political views. Many A-listers were quick to point out that, while they had not always agreed with her, Alley had touched their lives with her signature wit and humor. "[Kirstie] was a great comic foil in @tvscreamqueens and a beautiful mama bear in her very real life. ... We agreed to disagree about some things but had a mutual respect and connection," her former co-star Jamie Lee Curtis wrote on Instagram.
Overall, it was Alley's breakout role in "Cheers" that people remembered as they paid tribute to the late actor. Her co-star Ted Danson told Deadline that he'd re-watched "Cheers" and that, "Kirstie was truly brilliant in it. ...She made me laugh 30 years ago when she shot that scene, and she made me laugh today just as hard." Alley starred as bar manager Rebecca Howe in the long-running series, which centered on a group of locals who met at Boston-based bar "Cheers" to drink and socialize. "TODAY" reported that Alley joined the cast of "Cheers" after her predecessor, Shelley Long, left to pursue a movie career. "Cheers" made Alley a household name, ultimately earning her four Emmy nominations and one win — but what was she really like on-set?
Kirstie Alley was a hit with cast members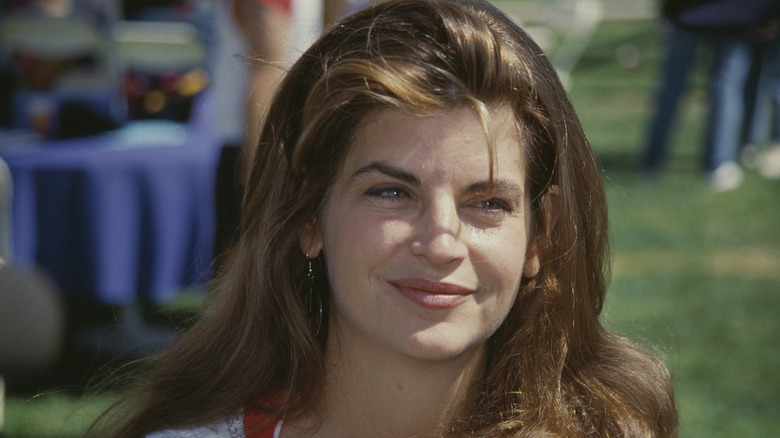 Michael Ochs Archives/Getty Images
Kirstie Alley was a force of nature from the moment she stepped foot on "Cheers." Knowing that she was starting off in Shelley Long's shadow, she did her best to (literally) emulate the actor who'd come before her. "I wanted to break the ice and get off to a fresh start," Alley told People, referencing her decision to dress like Long on the first day of filming. This included sporting freshly brightened eyebrows and wearing "a blond wig" and "a goody-two-shoes dress." The bold sartorial choice made her an instant hit with the existing cast. "If you ever want to leave, you'll have to shoot your way out," co-star John Ratzenberger reportedly told Alley, per People.
However, Alley's time on-set wasn't just smooth sailing. Copying Long's style was all well and good, but her on-screen interpretation of Rebecca Howe needed to be different. "While [Alley] made a grand entrance, her first run-through was abysmal. It was our fault. We had written Rebecca as a martinet. She wouldn't give Sam Malone the time of day. She was mean. It wasn't working," "Cheers" co-creator James Burrows wrote in his book, "Directed by James Burrows" (via TODAY). The team then made an about-face, highlighting the character's insecurities and making her feel more relatable to viewers. "The moment we found her frailty and vulnerability, we had it," Burrows remembered. "All of a sudden she became hysterically funny ... Bingo! [Alley] nailed it."
Kirstie Alley didn't take herself too seriously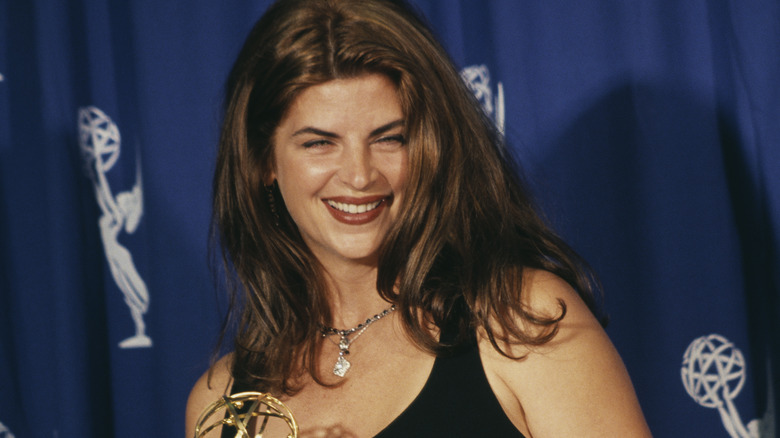 Michael Ochs Archives/Getty Images
One of the factors that made Kirstie Alley so beloved on "Cheers" was her sense of self-deprecating humor. "I think self-deprecation is my shtick," she once told The Orlando Sentinel in 1997, adding, "I can go to the point of total self-invalidation." Her "Cheers" character, Rebecca Howe, was vulnerable and neurotic, unable to achieve corporate success — and this was on purpose, according to Alley. Not only was her version of Howe perhaps more relatable than Shelley Long's version of the character type, but playing "flawed" characters was a trademark of Alley's. "For me, I guess it's self-deprecating, and that works best for me," she told Parade in 2015. "The more of a loser I play, I think actually, probably the better I am." In the documentary "Postcard from Hollywood" (via the Los Angeles Times), the "Veronica's Closet" alum joked about not taking herself too seriously. "If I get old and fat then I'll do old, fat character roles, I don't care. It's fun," she said.
Though Alley's Howe was fictional, it's clear she made a real-life impact. Following her death, the owner of Boston-based bar the Bull and Finch (aka the modern-day "Cheers") honored her with flowers placed at the pub's entrance. "[Alley] was a great comedian," Tom Kershaw said, per WCVB-TV. "She was a comic. She was a funny person." Meanwhile, other patrons gathered at the Bull and Finch to raise a toast in Alley's honor. Fans across the globe will likely do the same for years to come.