Inside Harrison Ford's History Of Plane Mishaps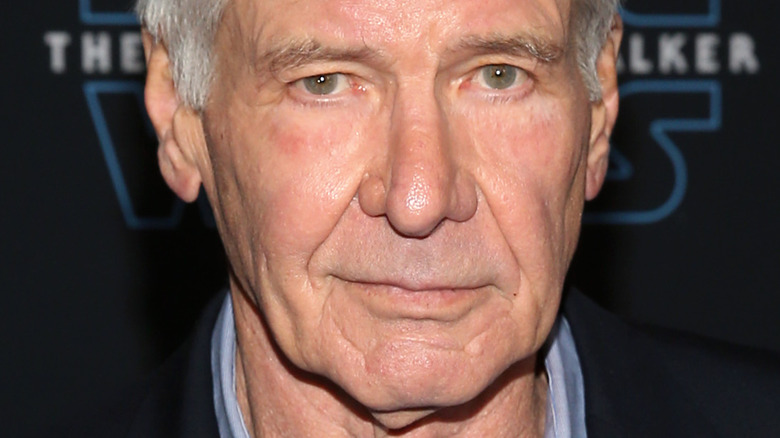 Jesse Grant/Getty Images
From dodging oncoming boulders to fighting off stormtroopers, Harrison Ford has become one of the greatest action heroes in modern film history. The actor also enjoys his thrilling moments off-screen.
Ford continues his adventurous lifestyle in the form of flying airplanes. Per Plane and Pilot Magazine, the actor's passion for flying started at an early age. It was during the '60s that the actor decided to seriously take on the hobby by taking courses in flight training. Unfortunately, Ford was unable to afford the $15-an-hour practice and had to put his dreams on hold. It wasn't until he became widely known for films like "Indiana Jones" and "Star Wars" in the late 80s and 90s' that the actor was able to afford and once again take classes to learn how to fly. Plane and Pilot Magazine reports that Ford now helps fund The Bob Hoover Academy, an organization that offers at-risk teenagers flying lessons, as well as working with Wings of Hope. 
At 53 years old, the actor proved that you can still pursue your passions as he officially obtained his pilot's license, per Wide Open Country. Just like his heroic characters, Ford has actually rescued an individual. Just a couple of years after receiving his license, Ford rescued a 13-year-old boy named Cody Clawson. The actor found Clawson amidst a range of hills. However, things haven't always been smooth sailing for the actor when it comes to flying.
Harrison Ford crash landed his airplane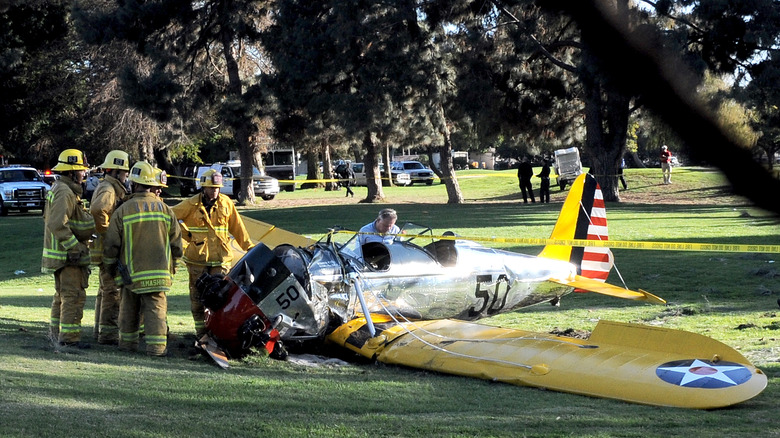 Albert L. Ortega/Getty Images
Harrison Ford handled piloting the Millennium Falcon in the "Star Wars" series like a champ, but nothing could have prepared him for handling a real-life aviation crisis. Wide Open Country reports that the actor had been involved in an airplane crash in 2015 in Southern California.
According to the outlet, Ford revealed that the airplane had suffered an engine failure which forced him to crash into a golf course. Harrison spoke about the airplane crash on "Ellen" where he shared more details about the situation. Harrison joked, "I would have preferred to land on the airport." The golf course had enough room to make the crash-landing a little bit safer. Wide Open Country reports that a spokesperson From Santa Monica Airport Association spoke on the incident. They shared that the landing was "an absolutely beautifully executed emergency landing by an unbelievably well-trained pilot." Still, Ford shared with Ellen Degeneres that he had suffered from an injured ankle, shattered pelvis, hurt back, and head injuries.
This wasn't Ford's first time experiencing a traumatic event in an aircraft. In 1999, the actor almost crashed a helicopter while conducting his training, per Wide Open Country. The unexpected aircraft situation had Ford landing the plane in a riverbed almost 50 miles from Los Angeles. It was never revealed why the aircraft landed in the riverbed, but luckily both the actor and his instructors were able to escape without injury.
Harrison Ford faced trouble with the FAA
Lisa Maree Williams/Getty Images
Harrison Ford is living proof that if you make a mistake you just get back up and go at it again –- maybe too many times. Ford has gotten in trouble with the Federal Aviation Administration not just once by twice.
In 2017, the actor made the grave mistake of landing on a taxiway instead of a runway, per Wide Open Country. The "Indiana Jones" actor's landing almost caused a collision with another plane. According to the outlet, Ford recognized his mistake while still aboard the plane as he called into air traffic control. Ford said, "I'm the schmuck who landed on the taxiway." While there was no crash the FAA still required the actor to take another set of training.
Just three years later, Ford faced another run-in with the FAA after he landed at Hawthorne Airport even after he was instructed to wait for another aircraft to do a touch-and-go landing, per E! News. Once the FAA confirmed it was Ford piloting the aircraft the actor decided to release a statement. The statement said, "Mr. Ford crossed the airport's only runway in his aircraft after he misheard a radio instruction from ATC. He immediately acknowledged the mistake and apologized to ATC for the error." According to The New York Times, a couple of months after the incident the FAA allowed Ford to continue flying. The now 80-year-old is not letting anything stop him from his passion for flying.