Who Is Kim Basinger's Boyfriend, Mitch Stone?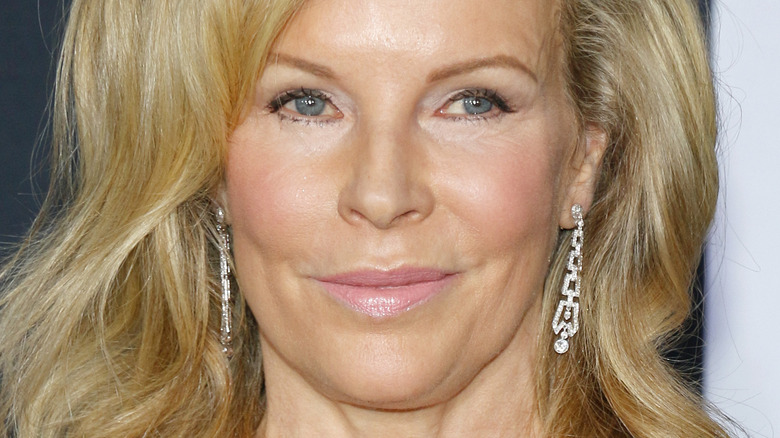 Tinseltown/Shutterstock
Kim Basinger is not exactly lucky in love. The actor, known for her roles in "The Natural" and "Batman," has been married and divorced twice: first to make-up artist Ron Snyder, then to actor Alec Baldwin, with whom she shares her daughter Ireland. She and Snyder were together for nine years until 1989, while Basinger and Baldwin were married from 1992 to 2002, per Page Six. In between those marriages, Basinger also got romantically involved with several other famous men, including actor Richard Gere, movie mogul Jon Peters, and singer Prince, although those relationships also did not work out. Per Who's Dated Who, she also briefly dated fitness trainer Phil Walsh and fashion designer Alexio Gandara, but again... no luck. 
Following her divorce from Baldwin, Basinger seemed to have given up on finding romantic love and was single for over a decade. She was briefly linked to her "8 Mile" co-star Eminem, but the "Rap God" rapper repeatedly quashed the rumors. Then, in 2014, Basinger threw herself back into the dating scene for the first time in years when she was spotted out with her hairstylist Mitch Stone. In an interview with a local newspaper, Basinger said neither she nor Stone ever expected that they'd fall for one another, having known each other for many years. "I have a wonderful boyfriend who I met over 20 years ago. We were just working together and were very good friends. In the last 3 years we became a couple which was quite surprising to both of us. But a beautiful surprise," she said (via Georgian Journal). So, who is Basinger's boyfriend, Mitch Stone? 
Mitch Stone is a top Hollywood hairdresser
Kim Basinger and her boyfriend Mitch Stone were collaborators long before they became an item. The two have worked in a number of projects since the early aughts, including the films "I Dreamed of Africa," "Bless the Child," "The Burning Plain," and "8 Mile." Per Daily Mail, Basinger was one of Stone's famous celebrity clients; his elite clientele also includes the likes of George Clooney, Ed Norton, Al Pacino, Helena Bonham Carter, Brooke Shields, and Jennifer Lopez, just to name a few. Per IMDb, Stone also worked with Michael Jackson on his music video for "Black or White" and "Remember the Time" in the early '90s. Moreover, Stone also did styling for blockbuster films such as 2001's "Planet of the Apes," 2004's "A Series of Unfortunate Events," and 2006's "X-Men: The Last Stand."
According to his bio on Model Mayhem's website, Stone was born and raised in the sunny beaches of Malibu, California. After establishing a career in Hollywood, Stone relocated to New York and entered the fashion scene there as an in-demand hairdresser, working with renowned photographers on fashion shoots and styling for shows like Armani and Cynthia Rowley, among others. In addition, Stone has been featured in publications such as Vogue, Vanity Fair, Elle, InStyle, and Rolling Stone. He's also worked on campaigns for brands like Victoria's Secret, Rayban, Pantene, and Levi's. However, Stone has since settled back in Los Angeles to focus on celebrity hairstyling. He most recently worked with Basinger on her film "Fifty Shades Freed" as her hair designer in 2018 (via IMDb).
Mitch Stone is also an artist and an activist
In addition to being a celebrity hairstylist, Kim Basinger's boyfriend Mitch Stone is also a professional photographer. He earned his degree from Santa Monica College in 1998 and has since established his own studio in California, Beauty Factory, where he offers "powerful imagery" solely for beauty brands. An artist through and through, Stone is also a screenwriter and an aspiring film producer. He's a member of the Writer's Guild — having written several screenplays for small-time projects — and also hopes to write and produce a major motion picture, as expressed in his Model Mayhem bio. 
Much like Basinger, Stone is also highly involved in activism and philanthropic work. A vocal Greenpeace supporter, Stone is said to have single-handedly initiated a movement to protest the nuclear weapon testing in the South Pacific. He reportedly arranged a donation-based screening with Johnny Depp and NYC's INDUSTRIA photo studio, with U2's Bono agreeing to help raise funds for the cause. In addition, Stone is an animal rights advocate; he and Basinger were spotted together attending a protest march against the South Korean dog meat trade in L.A. in 2018, per TMZ. During the rally, Stone was pictured wearing a mysterious gold ring on his wedding finger, causing tabloids and gossip mongers to quickly speculate whether he and Basinger have taken their relationship to the next level. Although Stone and Basinger have been mum about such milestones (and their relationship in general), the couple appears to be going strong, and was spotted together in public in San Fernando Valley just early this year, spending quality time together while out on a rare dinner date, according to the Daily Mail.