The Sweet Inscription That's On Chris Stapleton's Wedding Ring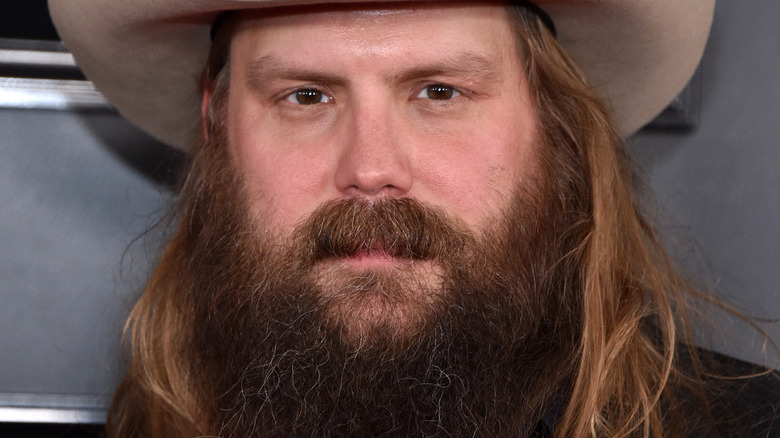 John Shearer/Getty Images
Chris Stapleton is one of the biggest country music acts at the moment. He may be a new talent to some] but his career spans over a decade. Shortly after graduating high school, the singer left his hometown of Kentucky and hit the road for the city of country music — Nashville. Per Country Music Hall of Fame, Chris moved to Nashville in 2001 and the rest is history. The desire to embark on a songwriting journey came to fruition after meeting with local Kentucky songwriters and piecing together his future. "I didn't know they would pay you money to sit in a room and write songs for other people," Stapleton told CBS News in April 2016. Once he realized that could be a job, he admitted, "'That's the job for me. I gotta figure out how to do that.'" The famed singer then hit the road and shortly after landing in Nashville, the "Starting Over" crooner was discovered and had a publishing deal. "Four days later I had a publishing deal. Which is not — that is not anybody's story, but that's mine," he admitted.
Nashville proved to be the right decision for the multi-talented singer, as he met his now-wife, Morgane Stapleton, two years later. Their romance is one of the books as the pair have chemistry on and off stage.
Fans love the inscription in Chris Stapleton's wedding ring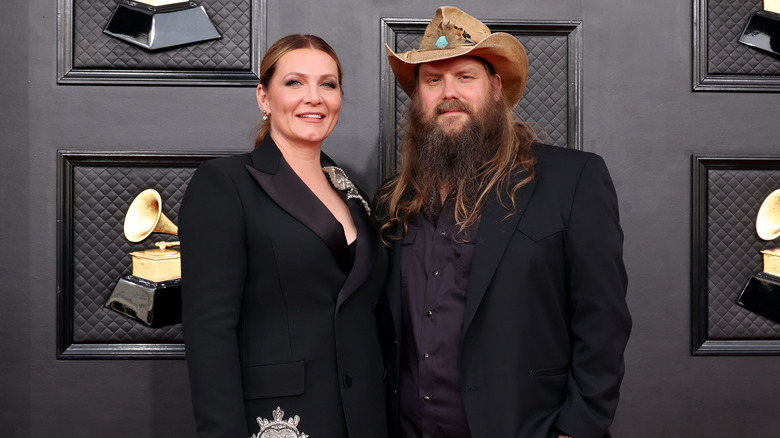 Amy Sussman/Getty Images
Chris and Morgane Stapleton have a fairytale romance that stems back to the early days of their relationship. Two years after moving to Nashville, the "Broken Halos" singer met his soon-to-be wife, Morgane. "I kinda did stalk him. A little bit," Morgane shared with Paste Magazine in August 2015 about how she met her husband. Eventually, Chris asked Morgane if she wanted to write a song with him on a Friday night and the rest is history. 
The pair wed in 2007, nearly four years after meeting. Nearly a decade after their big day, Morgane revealed that she secretly engraved her husband's wedding band with "You Are My Sunshine," in honor of the song by the same name, per Us. The sweet tribute is just one of the many admirable things about the dotting pair.
The two have nothing but love and admiration which has grown over the years and often shower each other with adoring messages on social media. In fact, Chris shared a sweet tribute for Morgane's birthday in January. "Happy Birthday to the coolest, kindest, and most generous woman/mother/daughter/friend/boss lady/wife I've ever known," he penned to the Instagram post. "You're my inspiration every day!"
Chris and Morgane Stapleton operate as a unified front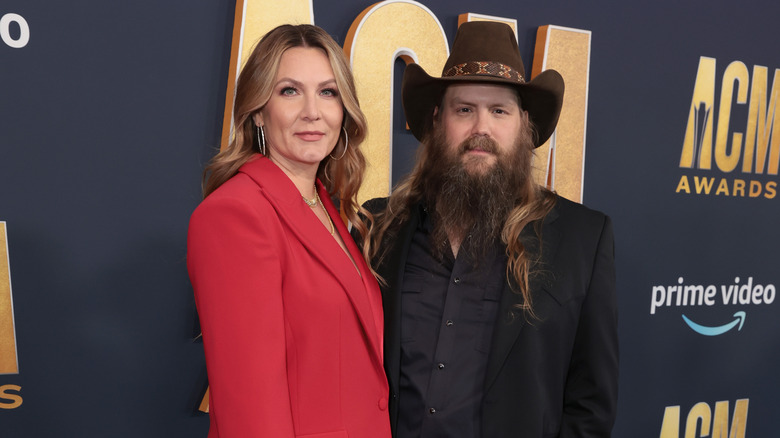 Jason Kempin/Getty Images
Undoubtedly Chris and Morgane Stapleton's relationship has grown over the years and the two currently have five children in addition to their bustling careers. The two support each other and inspire each other in many ways in their personal lives and within their careers and aren't afraid to get emotional about their love.
Chris' success is mainly in part due to his range in genre and the ability to connect with fans that aren't necessarily fans of country, however, many may not know that Morgane played a part in getting the recognition he deserved.
Since the release of his debut solo album, "Traveller" he has received many accolades according to IMDb. Such as eight Grammys, 10 ACM Awards (including Male Artist of the Year in 2022), 14 CMA Awards, 11 ASCAP Country Music Awards, five Billboard Music Awards, two iHeart Music Awards, and per Billboard, he was named ACM's Artist-Songwriter of the Decade in 2019. The pair couldn't possibly be more proud of each other and their accomplishments and support system. Chris often credits Morgane for a lot of his success and patience throughout his career. "I want to thank my wife for always, you know, being my rock and taking care of me and making me ... help me find the right thing to be and the right thing to do," the "Joy of My Life" singer shared in his CMA speech per Us in November 2018.