Who Is Frankie Jonas' Girlfriend, Anna Olson?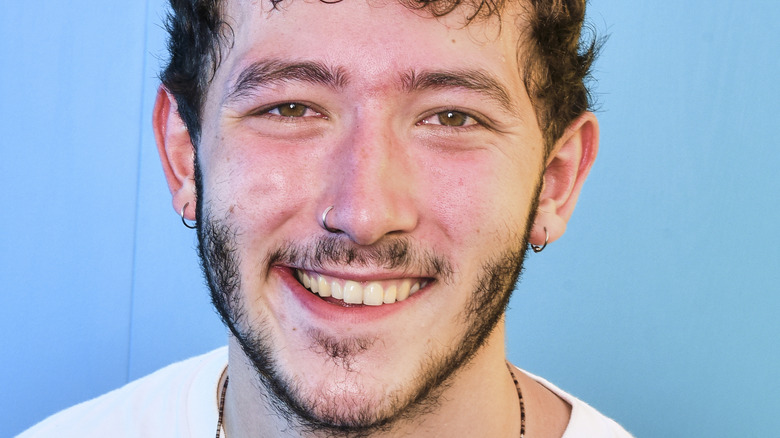 Irvin Rivera/Getty Images
Frankie Jonas, the youngest of the Jonas brothers, is known as the "bonus Jonas" because he's the only one of the siblings not a part of the popular band. However, he made headlines alongside his girlfriend, Anna Olson, when the two of them dressed up for Halloween 2022 as Frankie's brother Joe Jonas and his ex-girlfriend Taylor Swift. Per Just Jared, Joe was in a relationship with Swift that Swift claimed ended via a 27-second phone conversation, spawning lines from Swift including, "You might think I'd bring up Joe, that guy who broke up with me on the phone," during her "Saturday Night Live" monologue in 2009.
While Frankie's brother's break-up has remained ingrained in pop culture since, less is known about Olson, who channeled her inner Swift for Halloween. The two have made at least one red carpet appearance together since their relationship began, but there's more to know about Frankie Jonas's girlfriend than her having dressed up to poke fun at one of her boyfriend's siblings.
Anna Olson's social media reveals more about her
In fortunate news for all the internet sleuths, Anna Olson appears to have a social media presence; however, she seems to have recently made her Instagram account private. On Instagram, she has shared photos of herself and her boyfriend, Frankie Jonas, including a post in which she wished him a happy birthday, according to People. From a separate post on Instagram, we know that Olson turned 23 in July 2022. This would make her about a year older than Jonas, who was born on September 28, 2000 (via Famous Birthdays). 
Another post from Olson's Instagram account featured her posing outside of one of the buildings of The New School, a university in New York City. In her caption. Olson mentioned graduating from college, and People reported that she attended The New School.
Olson and Jonas appear to have gone public with their relationship in January 2022, via Twitter. Alongside photos of the happy couple, she wrote, "My man asked me to be his girlfriend last night, and he rented a whole a– suit and showed up with a bouquet of flowers." They were "Instagram official" that February, per People.
Frankie Jonas has not had many public relationships
Prior to going public with his relationship with Anna Olson, it is unclear how many serious relationships Frankie Jonas has had. As a child, Jonas was linked to Noah Cyrus when they both voiced characters in the English-language dub of the film "Ponyo," as interviewed at the time by MovieWeb (via YouTube). Jonas was said to be in a relationship with a girl named Austin at the time of his high school prom in 2016, per J-14. Teen Vogue shared additional photos of the event at the time, although the same snaps were deleted from Jonas's Instagram account since then.
Unfortunately, it isn't clear from either of their social media outlets how Jonas and Olson met and began a relationship with one another. It is known, however, that Jonas has taken courses at the Ivy League Columbia University (per Bustle), which, like The New School, is also located in New York City.