What Happened To Bam Margera's Parents?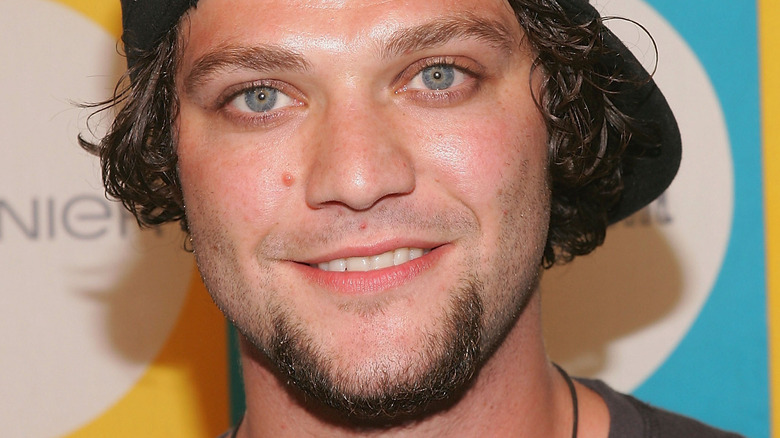 Evan Agostini/Getty Images
The explosive success of MTV's "Jackass" resulted in numerous spin-off projects, including original cast-mate Bam Margera's mid-aughts show, "Viva La Bam." Set in his hometown of West Chester, Pennsylvania, Margera adopted the unscripted prank format of "Jackass," honing it in on his family and close friends. Bam routinely targeted his parents, Phil and April Margera, for laughs, including digging a hole in their yard in hopes of Phil falling in. Viewers were responsive to Bam's fast ones on Phil and April, allowing the show to run for five seasons and Bam's star to rise even higher than ever before.
Unfortunately, the pro skateboarder experienced major setbacks in the years to come. While struggling with alcoholism, Bam caught a DUI arrest in January 2018, an incident that led to years of Bam entering and leaving different rehab centers, per Page Six. In February 2021, he was fired from the production of "Jackass 4" after he failed to meet the requirements of a "Wellness Agreement" included in his contract, reported Deadline. After suing Paramount Pictures and Johnny Knoxville for wrongful termination, the "Viva La Bam" star later dropped his legal case. 
Amidst all of Bam's drama over the years, what have the other two stars of "Viva La Bam" — his parents — been up to since its ending? 
Bam Margera's parents tried to turn Castle Bam into an Airbnb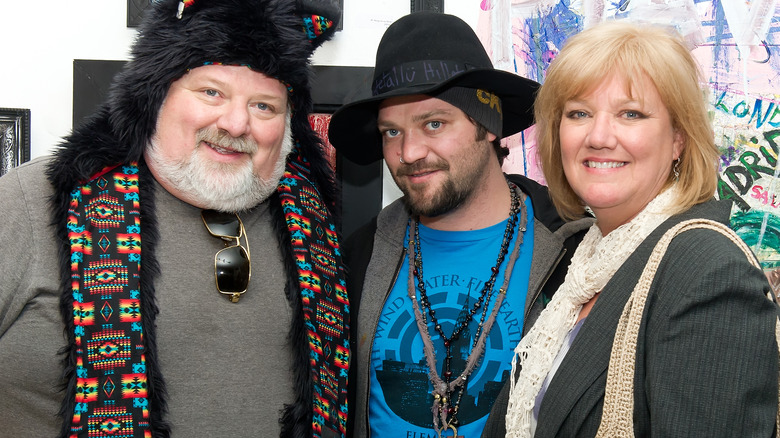 Gilbert Carrasquillo/Getty Images
Bam Margera's West Chester mansion — affectionately known to fans as "Castle Bam" — was arguably as much a star of "Viva La Bam" as he and his parents. Twelve years after the series wrapped production, Bam's mother, April Margera, announced her intention to turn the massive home into an Airbnb rental. With Castle Bam spanning 4,500 square feet, April spent much of 2018 renovating the property and updating fans on her progress. According to Philly Voice, the property last sold for $1.195 million and includes Bam's beloved skatepark and an area specifically designated for band practice. There's some sad news for fans of the manor's gothic decor, as April told The Philadelphia Inquirer that the finished project is "not going to look like the show set."
As of this writing, the house has yet to hit the West Chester Airbnb listings. During a 2019 appearance on "Dr. Phil," Bam said April became overprotective of Castle Bam during the renovation process — so much so that the two grew estranged over the matter. "If anybody comes in now, she doesn't want anybody sitting anywhere or doing anything," the MTV alum said.
While plans to revamp the home may be on hold, both April and Bam's father, Phil Margera, have kept in touch with fans via Instagram, frequently sharing intimate family photos. In September 2022, amid Bam's rehab struggles, April rooted for her son in a heartfelt birthday message, writing, "We've been through it this year... Don't let anyone who doesn't have ur back pull you down. This is your year!"
Bam Margera's parents staged an intervention for him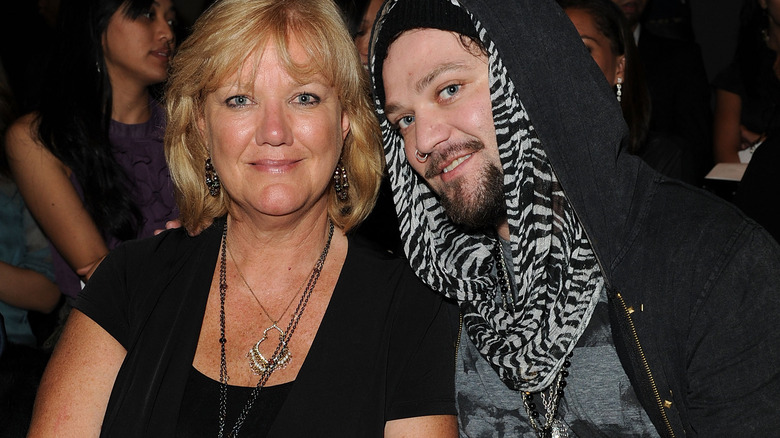 Craig Barritt/Getty Images
Bam Margera's parents have been actively involved in his wellness efforts over the years. According to Page Six, after Bam completed his third rehab stint in January 2019, the "Jackass" star posted a series of concerning Instagram videos in August 2019. In the videos, Bam reached out to TV personality Dr. Phil for help and had harsh words for his mom April Margera and estranged wife, Nicole Boyd. The MTV alum accused Boyd of using their son Pheonix Wolf as leverage. He vented, "She's stubborn. It would drive a person f***ing bonkers."
April and Bam's father, Phil Margera, publicly commented on the incident at the time. Speaking with Page Six, Phil described Bam as "having sort of a breakdown." Meanwhile, April was measuredly optimistic, telling the outlet that Bam was getting help from Dr. Phil. She and Bam, however, were communicating scarcely and "only by text."
Phil and April again took action in 2022 when Bam went AWOL from rehab multiple times. As reported by TMZ, police found the reality star at a nearby hotel after he disappeared from his court-ordered rehab stay in June 2022. Phil and April accompanied the police and arrived at the hotel with a crisis intervention team. The outlet claims that after an intervention was held, Bam agreed to check in to another rehab facility.
If you or anyone you know is struggling with addiction issues, help is available. Visit the Substance Abuse and Mental Health Services Administration website or contact SAMHSA's National Helpline at 1-800-662-HELP (4357).