What We Know About Yolanda Hadid's Farm In Pennsylvania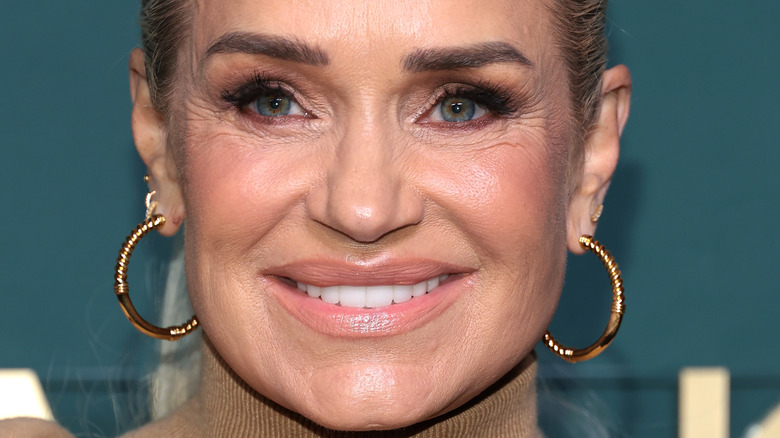 Dimitrios Kambouris/Getty Images
Despite her success as a former model and alum of "The Real Housewives of Beverly Hills," Yolanda Hadid has had her share of personal struggles. Hadid has spoken candidly about her battle with Lyme disease both on- and off-camera. She was diagnosed with the illness in 2012, but revealed that she was in remission in 2019. She told People, "I had a really bad year last year but I found a new frequency healing device and it's been amazing for me. It took away 90 percent of my symptoms. It helped with my joint pain, the exhaustion, the brain fog, all the symptoms that come with Lyme disease."
Unfortunately, Hadid relapsed following the death of her mother. Hadid took a 9-month break from social media, ultimately breaking her silence with a series of revelations. In an Instagram post shared in July, she wrote, "Learning to focus on myself, my health journey and being present in this moment of my life." Throughout the years, Hadid has maintained that she's a spiritual person who loves nature. So, it's no surprise that the star eventually found her ideal rural retreat.
Yolanda Hadid's farm has remarkable amenities
In mid-2017, Yolanda Hadid bought a farm in Pennsylvania to spend time gardening, growing fruits and vegetables, and grooming and riding horses, per Architectural Digest. Apparently, the 32-acre property, which includes a main house and several cottages, is worth $4 million, per The Sun. The lavish mansion also has a firepit, horse stables, and gardens. Besides horses, animals at the farm include goats, sheep, and chickens. According to Hadid's Instagram Story (via Bravo), the place also has a stunning pool with shrubbery. Vogue UK also revealed details about the home, such as Hadid's daughter Bella's rustic bedroom and a lovely outdoor dining area with a wooden table.
Hadid has posted numerous photos on social media showing off her tranquil farm life. In July 2017, she took to Instagram to share a photo of herself looking as happy as ever outside her new home. She wrote, "Sometimes in order to find peace, you have to disconnect from the people, places and things that no longer inspire you or grow your soul in order to live in your highest consciousness." Hadid's farmhouse clearly affords her space to relax and reflect. 
Yolanda Hadid's kids found peace at her farmhouse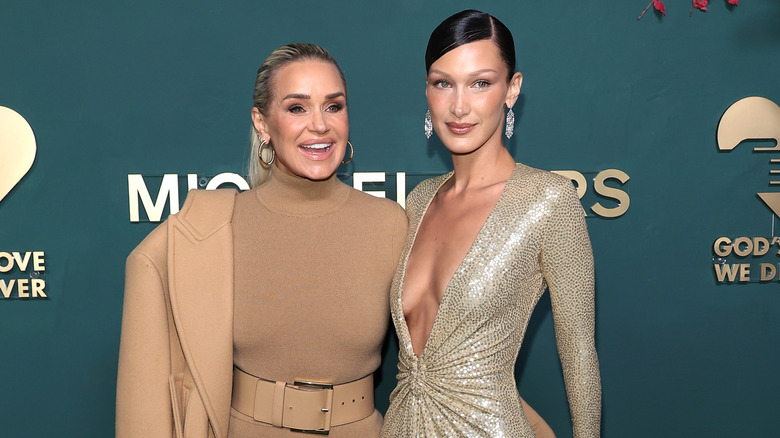 Dimitrios Kambouris/Getty Images
In 2020, Yolanda Hadid unwound at her farmhouse amid the global COVID-19 lockdown. She told Bravo that she was focusing on her personal growth, as well as spending more time with family. She talked about her experiences on the farm, sharing, "I've gone through the seasons with the trees and saw the blossoms coming in and going. For that, it's been incredible." While she admitted to not being much of a cook beforehand, she added, "We're gonna have everything from onions to potatoes, to different kinds of salads, cucumbers, hot peppers — you name it, we're gonna grow it."
During lockdown, Bella and Gigi Hadid relaxed at their mother's farmhouse, per Vogue UK.  The rural home was reportedly a nice escape for Bella, as she spent time there recuperating from her hectic modeling schedule, per a Vogue cover story. During her farmhouse stay in 2021, she rode her horse and relaxed with her family. Bella shared, "When you are forced to be perfect every day, in every picture, you start to look at yourself and need to see perfection at all times, and it's just not possible. That month off was really helpful for me."