How Did Ivanka Trump Really Meet Jared Kushner?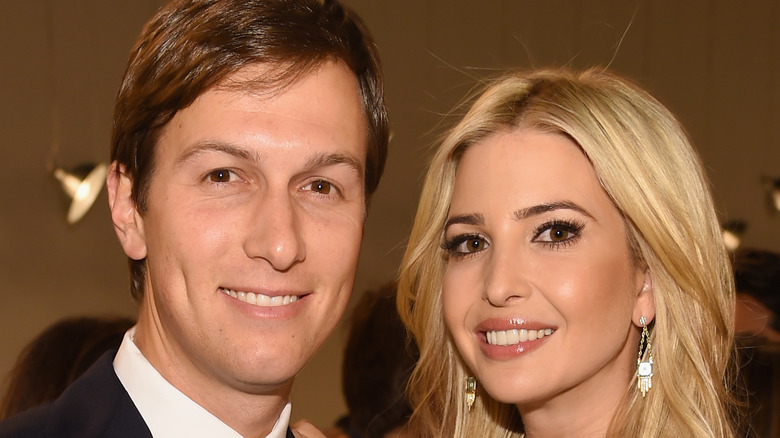 Dimitrios Kambouris/Getty Images
You could argue that former First Daughter Ivanka Trump and her husband, Jared Kushner, have somewhat of a fairytale romance. Both stood by one another's sides amid the ups and downs of Donald Trump's notorious presidency, and they've both got plenty of cash in the bank to do, well, pretty much any and everything they could ever possibly dream of. Ivanka is reported to be worth millions of dollars (and we really mean millions) in her own right, with Celebrity Net Worth putting her net worth at an eye watering $800 million. And that's only half of it! Yep, while many couples may opt for matching sweaters, these two actually have matching bank accounts, as Celebrity Net Worth puts Kushner's money in the bank on par with his wife's figure, reporting he too is worth a whopping $800 million.
But how does such a match made in money heaven actually occur? Well, Ivanka and her husband have quite the meet cute that was actually never even intended to end in a romantic connection.
Ivanka Trump and Jared Kushner were introduced by a mutual friend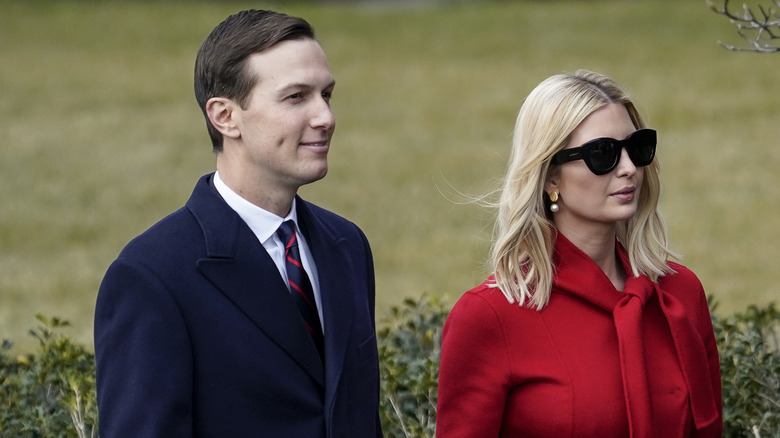 Drew Angerer/Getty Images
There have been some conflicting reports about exactly when Ivanka met Kushner, with The New Yorker claiming they were introduced to one another in 2005 by a mutual friend. They claimed the friend didn't actually have intentions of playing cupid, instead putting the two in touch because they could do business together. But, of course, we know it was far more than business these two ended up collaborating on!
Vogue claimed said meeting actually went down two years later in 2007 and their meet cute set up by the mutual friend was a business lunch. "They very innocently set us up thinking that our only interest in one another would be transactional. Whenever we see them we're like, 'The best deal we ever made!'" Ivanka joked to the outlet in 2015 of that first meeting, which pretty much turned out to be a surprise first date.
In his 2022 book, "Breaking History: A White House Memoir," Kushner reflected on what he and the woman that would eventually become his wife and the mother of his children chatted about, sharing, "We spoke about business, but the conversation soon turned to NASCAR, New Jersey diners and other unlikely interests that we had in common."
Jared Kushner broke up with Ivanka Trump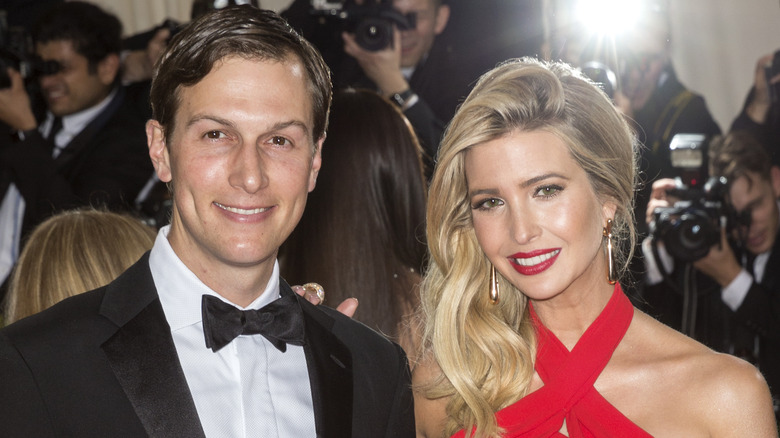 Ovidiu Hrubaru/Shutterstock
With Jared Kushner and Ivanka Trump having what appears to be a pretty solid relationship from the outside, you may be surprised to know there was actually a period after they met when they weren't together. The former admitted he broke up with Donald Trump's eldest daughter around 2009 in his book, "Breaking History: A White House Memoir," confessing that he was worried they didn't share the same religion. "As hard and painful as it was, I broke up with her," Kushner, who is Jewish, wrote, admitting he did it when he already knew he was falling in love with her. "Ivanka told me it was the worst decision of my life. She was right," he added.
But they weren't apart for too long. The twosome reunited later that same year, and she actually converted to Judaism for the man that would eventually become her husband. "It's been such a great life decision for me. I am very modern, but I'm also a very traditional person, and I think that's an interesting juxtaposition in how I was raised as well. I really find that with Judaism, it creates an amazing blueprint for family connectivity," she told Vogue of the decision in 2015.
Kushner went on to pop the question in July 2009, with Ivanka confirming the exciting news on Twitter. "I got engaged last night...truly the happiest day of my life!!!" she tweeted. And the rest, as they say, is history!