What Ivanka Trump And Jared Kushner's Wedding Was Really Like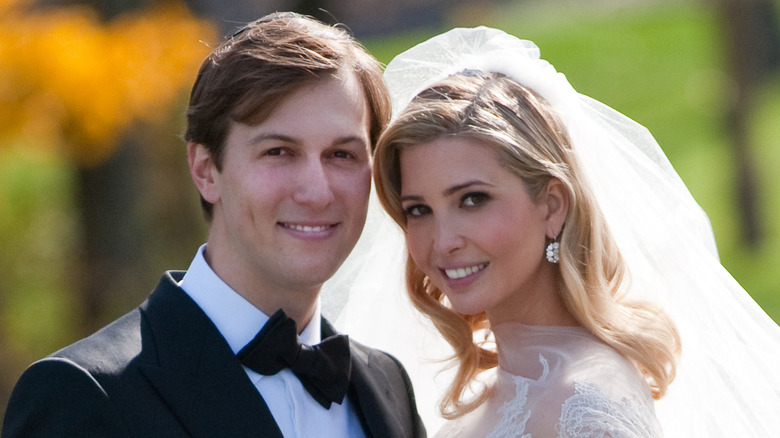 Brian Marcus/Fred Marcus Photography/Handout/Getty Images
Regardless of your opinion of them, there's no denying that Jared Kushner and Ivanka Trump are one of the most powerful couples in America.What was initially supposed to be a business-only relationship turned into something far deeper. Per Vogue, the couple met in 2007 when a friend set a business lunch for them to see if they could form a professional partnership, only for the two to strike up a romance. "They very innocently set us up thinking that our only interest in one another would be transactional," Ivanka told the outlet. "Whenever we see them we're like, The best deal we ever made!"
Of course, just like all relationships, Kushner and Ivanka's were far from perfect. Ivanka's father, former President Donald Trump, apparently did not approve of Kushner from the get-go and wanted NFL superstar Tom Brady to be his son-in-law instead (via The New York Times). The real estate magnate even made a joke that "Jared is half the size of Tom Brady's forearm."
What's more, Kushner and Ivanka also split once because of a conflict in religion. Kushner is of the Jewish faith, while Ivanka was raised Presbyterian. "As hard and painful as it was, I broke up with her," Kushner wrote in his book "Breaking History: A White House Memoir" (via The Times of Israel). But they reunited not too long after, with Ivanka converting to Judaism before they tied the knot.
Ivanka Trump and Jared Kushner planned their wedding in three months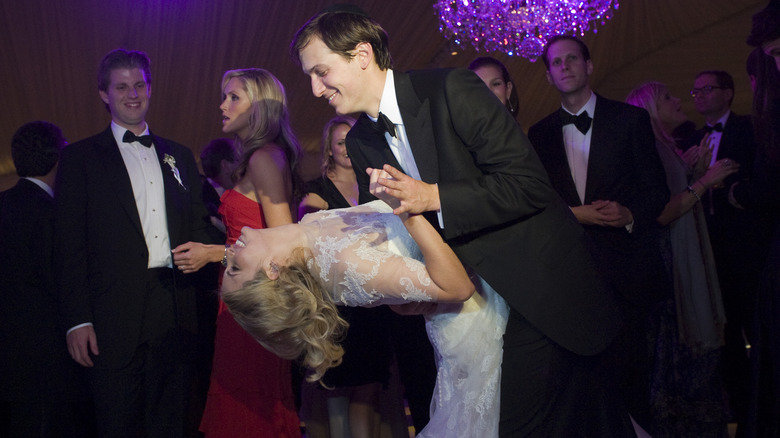 Brian Marcus/Fred Marcus Photography/Handout/Getty Images
Ivanka Trump and Jared Kushner's wedding solidified just how efficient of a planner Ivanka is. The couple got engaged in July 2009, with the Trump Organization executive announcing the news on her Twitter page. "I got engaged last night," she tweeted on July 16, 2009. "Truly the happiest day of my life!!!"
But what's surprising is they planned their wedding in a record time of three months, with Ivanka doing most of the legwork. "I've always envisioned myself having a traditional and elegant wedding, even before the engagement," she told Brides in an interview. "Once I met with Preston Bailey and his team, I was confident he would take my vision and make it a reality." But as much as she found planning fun, she made sure not to stray away from the essence of the wedding. "I always remind myself that it's the marriage that's important — not the party," she said.
As for Kushner? He apparently had little involvement with the planning, save for one special task. "He put so much time and effort into designing the most perfect ring for me!" Ivanka added. "I think he is now enjoying taking a backseat as I handle the rest." And so after three months of meticulous planning, they tied the knot at the Trump National Golf Club in Bedminster, New Jersey, on October 25, 2009, per The New York Times.
Ivanka Trump and Jared Kushner's wedding had over 500 guests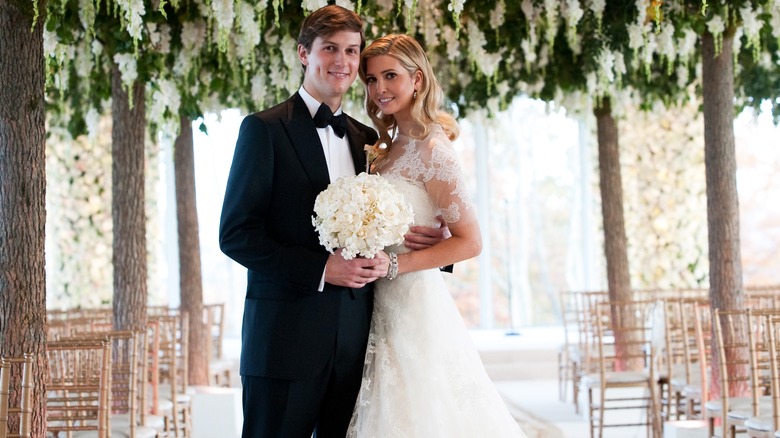 Brian Marcus/Fred Marcus Photography/Handout/Getty Images
To say that Ivanka Trump and Jared Kushner's wedding was lavish would be an understatement. They reportedly had a Jewish ceremony attended by 500 of their friends and family, which included celebrities, politicians, and famous personalities like Natalie Portman, Russell Crowe, Regis Philbin, Barbara Walters, and even former New York City Mayor Rudy Giuliani, and former New York Governor Andrew Cuomo, per People.
Unlike her stepmother, Melania, who donned a 50-pound wedding dress, Ivanka opted for something simpler, a custom Vera Wang gown inspired by the one and only Grace Kelly, per Glamour. But she made sure to go all out with the accessories, sporting $220,000 worth of diamonds from her own brand, the now-defunct Ivanka Trump Collection. Their cake was pretty grand, too, with cake-maker Sylvia Weinstock having created a 70-inch multi-flavored cake with each layer "ringed with flowers," per People.
Their giveaways were also apparently customized. According to The New York Times, the couple had white flip-flops as party favors, with the insoles having the couple's names inscribed and a tag that read "A Great Pair." And in the wedding invitations, there were also flyers that offered recipients a free round of golf at any of Donald Trump's golf courses.