How Dolly Parton Really Feels About Taylor Swift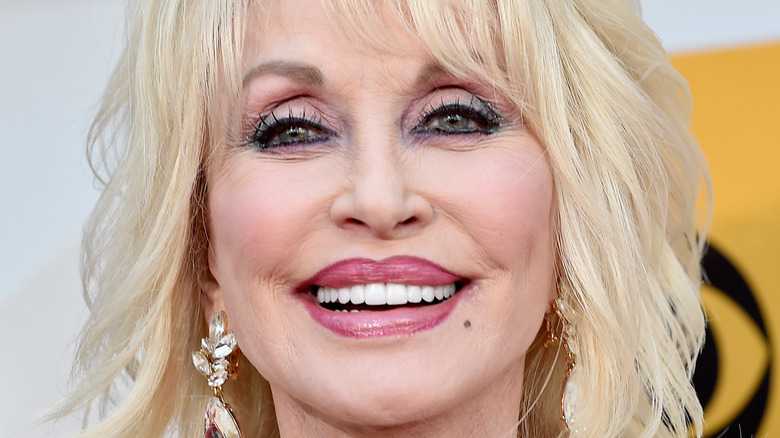 David Becker/Getty Images
Dolly Parton and Taylor Swift have plenty in common. Of course, both are super talented (current and former) country music singers who have also seen plenty of success outside the country music world, penning iconic hit after iconic hit with the likes of "9 To 5," "Love Story," and "Here You Come Again" in their respective repertoires.
Both have also spoken candidly about how much songwriting really means to them, with Parton explained of her incredible talent for songwriting to American Songwriter in 2019, "I've always prided myself as a songwriter more than anything else. That's my personal feelings. That's not to say that's what I do best. That's my way of speaking for myself and speaking for life the way I see it. It's an ability that I have and I've always loved being able to express myself." Swift clearly shares that view, admitting while chatting with Pattie Boyd for Harper's Bazaar in 2018, "There are mystical, magical moments, inexplicable moments when an idea that is fully formed just pops into your head. And that's the purest part of my job. It can get complicated on every other level, but the songwriting is still the same uncomplicated process it was when I was 12 years old writing songs in my room."
But, although we know Parton and Swift may have plenty in common when it comes to their passions, do they actually really like one another?
Dolly Parton can't stop gushing about Taylor Swift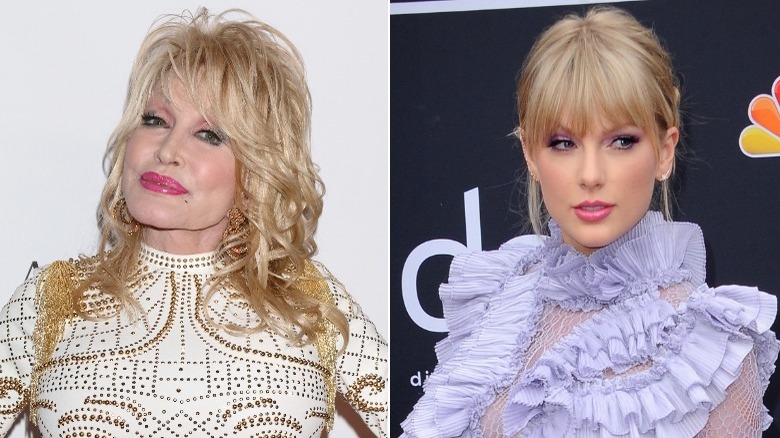 Kathy Hutchins & Tinseltown/Shutterstock
It sounds like Dolly Parton most definitely has a fan in the Queen of Country music, Dolly Parton. The legendary country singer has praised Swift on multiple occasions, with one of her most notable mentions coming when Parton defended the star against allegations she doesn't write her own songs. "She's a great writer — with or without anybody," Parton told Hollywood Life of Swift in January, "That's one of the things I admire about her because she's never sold herself. She's never felt like she's had to sell her body. She's always had good taste in how she's presented herself and with her songs," Parton continued, noting, "And she's very creative and very, very, very smart in the marketing of her life. She knows who she is and what she wants."
But that's hardly the last time Parton had sweet things to say about the "Anti-Hero" singer. The following November, the superstar heaped praise on Swift again for the huge success of her album "Midnights," which saw Swift score 10 songs in the Top 10 on Billboard's Hot 100 chart. "I think that is sensational, and congratulations to her," Parton told Access Hollywood, admitting she'd been a fan of Swift's for years. "I think she's spectacular, great writer, and I love how she presents herself; she's always been such a pro," she added. But is the feeling mutual?
Dolly Parton gave Taylor Swift the perfect birthday present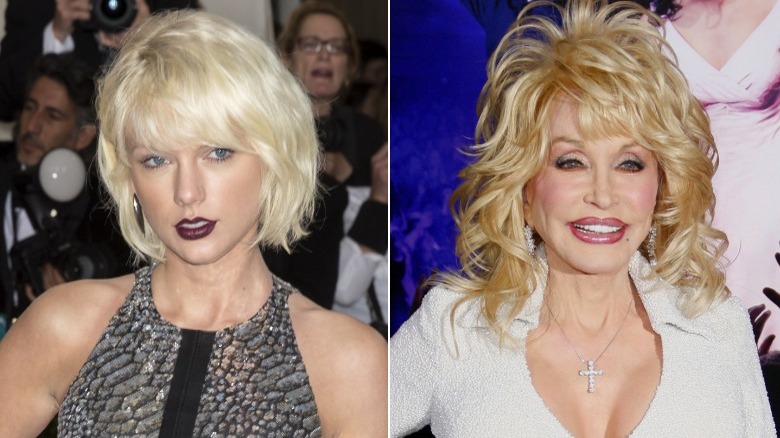 Tinseltown & Ovidiu Hrubaru/Shutterstock
Don't go thinking the admiration between Dolly Parton and Taylor Swift is all one-sided though, as it sounds like the latter is just as big of a fan of the former. Swift has made it very clear that she can't get enough of the "Coat of Many Colors" hitmaker, and she was particularly thrilled after Parton mentioned her in her acceptance speech at the Billboard Women In Music Awards in 2020. Swift quoted a tweet linking to Parton's speech and wrote, "I need nothing else for my birthday this year. Or any other year. Ever. This is it. I love you Dolly." As for what Parton said? Well, the star gave shout out to several female songwriters she admired, saying of Swift, "In this day and time, of course, Taylor Swift, she's just right up there, probably number one."
Swift has continued to show her support for Parton in subtle ways since, including liking and commenting on a TikTok video uploaded by "The Tonight Show Starring Jimmy Fallon" in December in which the two took on the Bejeweled Challenge (based on Swift's track, "Bejeweled", of course!) together. Swift was clearly a fan, as she commented, "NICE" with a diamond emoji. Nice, indeed!