Gisele Bündchen Dazzles At First Solo Appearance Following Tom Brady Divorce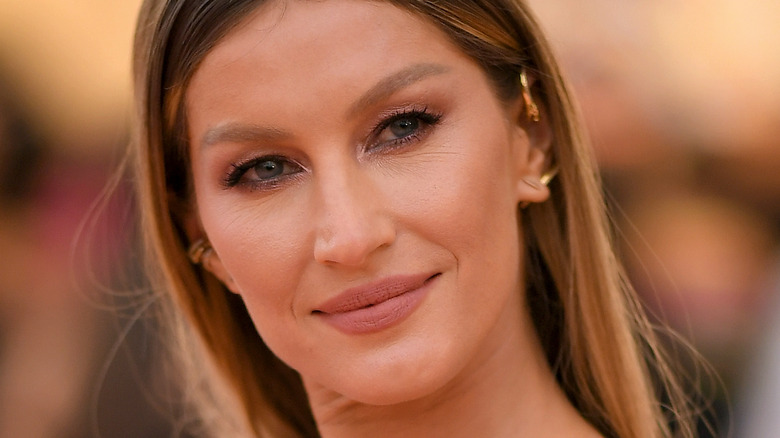 Neilson Barnard/Getty Images
Gisele Bündchen and Tom Brady finalized their divorce in late October, but the former power couple had seemingly grown apart long before that. In November, reports surfaced that Bündchen had been planning her post-divorce independence for a while. According to the New York Post, the 42-year-old supermodel used an LLC to purchase herself a Surfside, Florida, property on February 28 — two weeks before Brady un-retired from the NFL. According to records seen by the Post, Bündchen spent all of this past summer secretly remodeling the $1.25 million house.
Romantically, rumors have it that Bündchen moved on in that department, as well. On November 12, she was spotted dining in Costa Rica with jiu-jitsu instructor Joaquim Valente, per Page Six, with her and Brady's two children tagging along. Running his academy, Valente Brothers, with siblings Pedro and Gui Valente, Joaquim has even taught the model the Brazilian martial art, per a February Instagram video shared by Bündchen.
Continuing her bold march into the next chapter of her life,  Bündchen just made her first red carpet appearance since the divorce and it was, unsurprisingly, a head-turner. 
Gisele Bündchen struck a golden fashion statement not soon forgotten
BACKGRID
In a moment to rival Princess Diana's "Revenge Dress," Gisele Bündchen was a vision in gold at her first public appearance since divorcing Tom Brady. Stepping out in São Paulo for jewelry brand Vivara's 60th-anniversary dinner on December 12, Bündchen opted for a gold gown with a crisscross halter bodice, per People. With her skin emanating a dewy glow, Bündchen matched her dress with all gold accessories — including her earrings, heels, and clutch purse. The face of Vivara for several years now, Bündchen most recently shot the jewelry brand's 60th-anniversary campaign, topping it off with a video of her singing "Happy Birthday."
Although the supermodel swore to Elle in September that she had "zero desire" to grace a catwalk again, she still found modeling to be creatively motivational. "It's very easy for me to go there and create a character and play that role for the day," Bündchen said at the time, adding that the energy fuels her "to go and create more beautiful things in the world in different ways." 
In October, an insider explained to People that Bündchen adjusted to post-breakup life so easily because she was accustomed to Brady's hectic NFL schedule. Moreover, as Bündchen told Elle, she isn't done with her own career by a long shot. "I have a huge list of things that I want to do," she shared excitedly then.