Everything We Know About Gisele Bündchen's Rumored New Man Joaquim Valente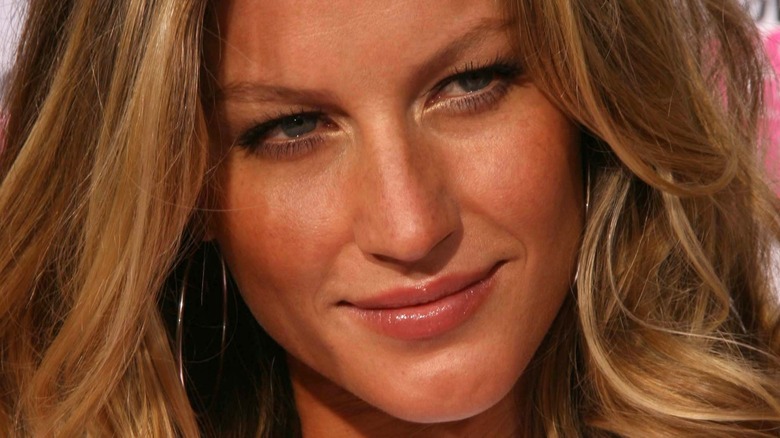 s_bukley/Shutterstock
Gisele Bündchen has gone from hitting the headlines for her split with Tom Brady to hitting the headlines for a rumored potential new romance. The former Victoria's Secret model and the football legend announced their divorce in October (after weeks of rumors there was serious trouble in paradise), with both confirming the news on Instagram Stories. In his post, the Tampa Bay Buccaneers star wrote of his divorce (via Page Six), "Doing so is, of course, painful and difficult," but also maintained, "We arrived at this decision to end our marriage after much consideration." As for Bündchen, she wrote on her Instagram Stories, "The decision to end a marriage is never easy but we have grown apart."
Both have stayed pretty quiet about their split since, but rumors have been very much swirling that the model has already moved on after we here at Nicki Swift spoke to two relationship experts who suggested Bündchen would be the first to land herself a serious relationship. The man she's rumored to be getting cozy with? Joaquim Valente. Bündchen was spotted out and about with Joaquim on November 12, with Daily Mail sharing photos of the two enjoying dinner with a group in Costa Rica where Bündchen has a house and used to vacation with Brady and their kids. Heck, she and Brady even had a wedding reception there back in 2009! But who exactly is the man everyone's talking about?
Joaquim Valente taught Gisele Bündchen
Joaquim Valente (on the right in the snap above) is a jiu-jitsu trainer who teaches alongside his brothers, Pedro and Gui. The trio own Valente Brothers, a jiu-jitsu school, and Joaquim is originally from Brazil (just like Bündchen!) but now lives in Miami (just like Bündchen!). Joaquim and his brothers are also pretty active on social media, particularly YouTube, where they discuss everything from health tips to raising children, while his personal Instagram is set to private.
Joaquim has a connection to the model, as Bündchen joined forces with the brothers for a photo shoot for Dust in 2021 which they shared via Instagram. Bündchen also shared a look at herself doing jiu-jitsu in February, giving the brothers a shoutout. "I feel stronger, more confidence and empowered since I started practicing self-defense. I feel it's an important skill for all, but specially for us women. Thank you @ValenteBrothers for being awesome teachers and for making training so much fun," she captioned the Instagram clip.
But the romance rumors have (so far!) been shut down. Daily Mail claimed the two were just friends, with People also denying they're dating. TMZ also suggested thy're strictly platonic, reporting they were in Costa Rica with four other adults and eight kids, including Bündchen and Tom Brady's children. As for Brady, though? A source claimed he's supposedly a little suspicious. "It always seemed weird she just one day abruptly ended the marriage," they claimed.