The Scary Injury That Left Zac Efron With A Shattered Jaw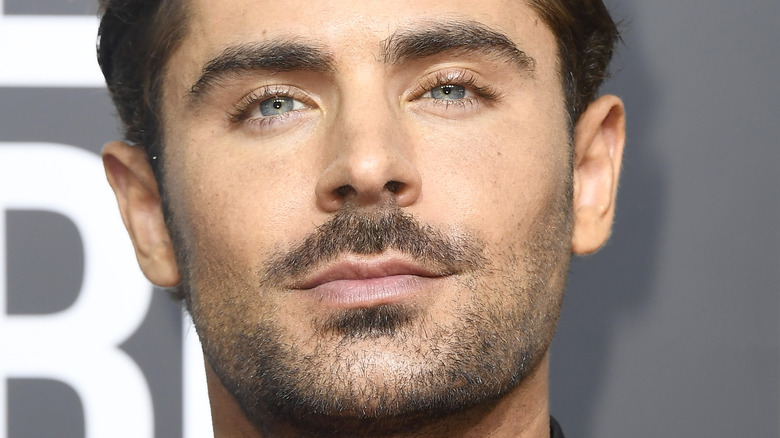 Frazer Harrison/Getty Images
Zac Efron became the ultimate heartthrob when he starred in the hit Disney Channel film, "High School Musical" in 2006. Even as the actor matured, he still captured fans' hearts with his handsome attributes. However, in 2021, when Efron joined Bill Nye for a special, many of these fans noticed that Efron's face looked slightly different, according to Insider. Specifically, fans noticed that his once chiseled jaw had grown in size. People quickly took to social media to talk about the new look and what they believed may have caused the drastic change. 
One Twitter user shared, "whoever made zac efron feel like he needed to change his face, i hate you." Another user wrote, "Zac Efron getting a new jaw and face structure is proof that even walking Demi-Gods aren't free of society's toxic beauty ideals." Both of these tweets were just the beginning of the thousands of comments stoking the speculation that the actor decided to get Botox or filler. While many made fun of Efron's new look, others suggested that something more serious occurred. One person tweeted, "Zac Efron still looks good to me. I've heard that he may have broke his jaw, could be photoshopped, could be a weird angle, I don't care ... Be nicer people." 
It turned out that this Twitter user was, in fact, right. After all the online buzz about his looks, Efron decided to reveal to the public the serious injury he experienced several years prior.
Zac Efron broke his jaw in a freak accident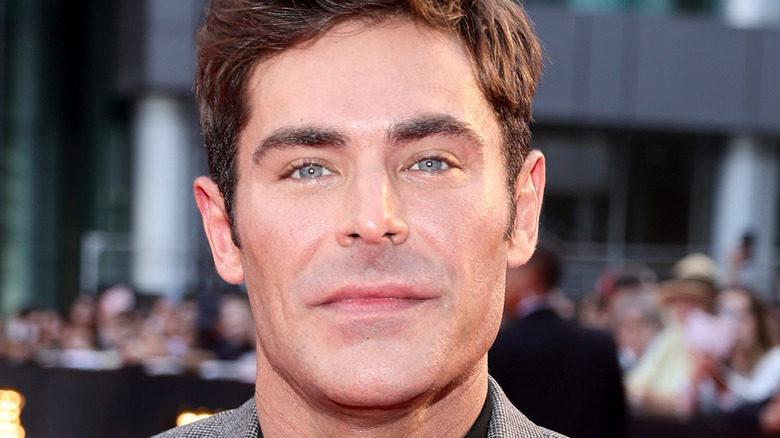 Matt Winkelmeyer/Getty Images
Zac Efron has always been an active guy. If anyone were to look at the "Hairspray" actor's Instagram, they would see him rock climbing, surfing, sandboarding, and partaking in several other daring activities. So, when the actor revealed he had broken his jaw in 2013, many thought it was because of some wild experience, though that apparently wasn't the case. In 2021, the 35-year-old spoke about breaking his jaw, but he never mentioned how he injured himself. According to Men's Health, Efron broke his jaw at home. The outlet reported, "He'd been running through his house in socks and slipped, smacking his chin against the granite corner of a fountain." 
Efron reportedly fell so hard that he lost consciousness, and when he woke up, "his chin bone was hanging off his face." While jokes about his appearance were made online, no one actually knew how serious the fall was. Efron told Entertainment Tonight, "I almost died, but we're good." There are quite a few medical steps following an injury of that caliber, from doctor's visits to physical therapy, and the actor had to work to get to where he is now. According to Insider, some of Efron's muscles healed quicker than others, specifically the masseters. The masseters are the muscles that allow you to chew your food, per Very Well Health. In Efron's case, that specific muscle "just grew." The inflammation is what everyone noticed when photos of his new appearance first circulated.
Zac Efron doesn't care about what other people think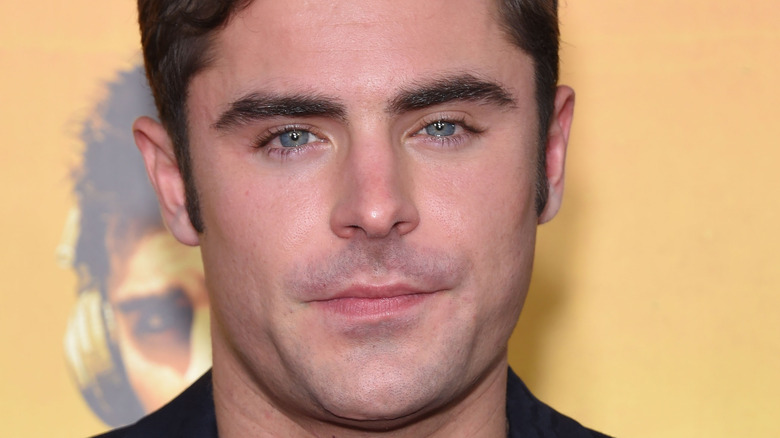 DFree/Shutterstock
When Zac Efron injured himself, he was unaware of how many people were talking about his appearance. In Hollywood, celebrities have been the subject of both positive and negative attention — especially when it comes to how they look. Since news spreads even quicker nowadays, it can truly affect one's mental health. Many celebrities have deleted or taken a break from social media when it has become too much for them to handle, per Insider.
Although Efron never deleted his social media, the actor has shared that he does his best to avoid the online world. So, when the uproar around his appearance occurred, he had no idea until his mom mentioned it to him, per Men's Health. Even though he ultimately talked about the incident in 2021, it has become a dark cloud that has followed him everywhere. But, the 35-year-old is showing that he's above all the noisy chatter.
In 2022, Entertainment Tonight asked Efron how he felt about the rumors circulating that he had cosmetic surgery. The California native responded, "I don't really read the internet, so, I don't really give a f***." Efron even called the public response "funny," before sharing how serious the injury was. He's clearly not concerned about what others think of him, especially after the accident. Instead, he's focusing on what he does best: acting.