How Big Is The Age Gap Between Adam Levine And Behati Prinsloo?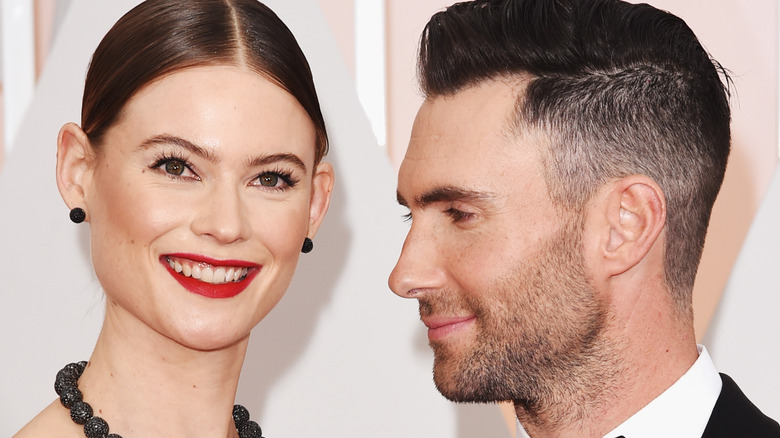 Jason Merritt/term/Getty Images
The internet had a field day when Instagram model Sumner Stroh claimed that she had an affair with married musician Adam Levine in a viral TikTok in September 2022. Stroh, 23, claimed she and Levine had a year-long affair but had not spoken in months when the Maroon 5 frontman surprisingly DM-ed her on Instagram, asking whether he could name his unborn baby with wife Behati Prinsloo after her. "I'm having another baby and if it's [a] boy I really wanna name it Sumner. You okay with that? DEAD serious," read Levine's supposed message to Stroh. Through a statement shared on his Instagram Story, Levine denied the cheating allegations, but did admit he crossed a line during what he described as a "regrettable period" of his life. "I used poor judgment in speaking with anyone other than my wife in ANY kind of flirtatious manner," he wrote. "In certain instances, it became inappropriate."
Fans were naturally shocked and outraged by the scandal, and on Twitter, there had been a discourse about power dynamics as many pointed out the wide age difference between Levine and Stroh. "Not [the] 20 year age gap between Adam Levine and Sumner Stroh," wrote one fan on Twitter. "Infinite wealth, fame, and status gap between them...yet because he's married people throw out all beliefs about manipulation and predatory behavior they usually have about those gaps?" Another pointed out that Levine could've easily been Stroh's father. "Seems like the 19 year age gap should be more of an issue," wrote another fan. "Man could literally be her dad ffs." 
Which, of course, begs the question: Just how big is the age gap between Levine and his wife, Prinsloo? 
Adam Levine and Behati Prinsloo have a 9-year age gap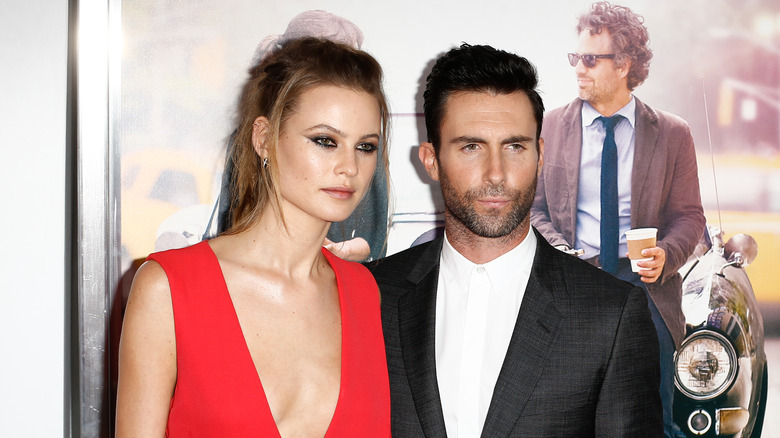 Debby Wong/Shutterstock
Adam Levine and Behati Prinsloo started dating in 2012, just one month after the Maroon 5 singer famously split from his girlfriend, Victoria's Secret model Anne Vyalitsyna. He and Prinsloo were first seen together in public in July 2012, per People, before making their red carpet debut at the GQ Gentleman's Ball in October. In 2013, it was reported that the two had called it quits, with Levine being subsequently linked to Danish model Nina Agnal. However, he and Prinsloo eventually got back together, and in July 2013, announced they were engaged. The couple tied the knot in a star-studded wedding in Mexico a year later, and in that time, welcomed two children, Dusty Rose and Gio Grace. Then, Prinsloo confirmed that she is pregnant with their third child through a social media post last September 16. 
As noted by Us Magazine, Levine and Prinsloo are among the famous Hollywood couples with a surprisingly huge age difference. Levine is 43 at the time of this writing, while Prinsloo is 34, meaning there's almost a 10-year age gap between the two. Nevertheless, it has never been an issue in their relationship, at least according to Prinsloo, who shared that she and Levine have gotten along well since the day they first met. "He took me for dinner and we talked for hours and had the best time," said the supermodel, as she recalled her first date with Levine to Net-a-Porter (via People). "It was love at first sight, it was crazy."
Inside Adam Levine and Behati Prinsloo's marriage after his cheating scandal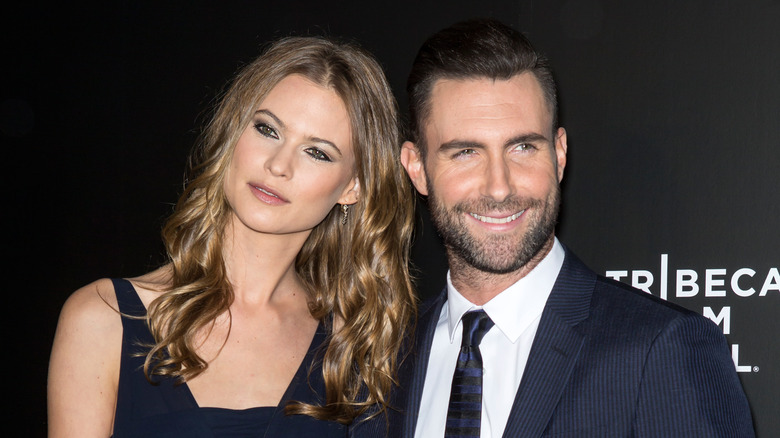 Ovidiu Hrubaru/Shutterstock
Since news of Adam Levine's cheating scandal broke, he and wife Behati Prinsloo have maintained a pretty united front, with Prinsloo continuing to support her husband by recently showing up at a Maroon 5 concert in Las Vegas, per Page Six. In addition, she and Levine were photographed enjoying a beach getaway in Montecito, California with their kids Dusty Rose and Gio Grace last September, just a day after Stroh publicized her supposed affair with Levine, per Daily Mail. This, amid reports that Prinsloo was "very upset" over the cheating allegations, but remains "100% committed to her family." Speaking of Levine, a source told Page Six, "He admitted that he acted like an idiot. She is still very upset though," before adding that Levine "is very understanding about her feelings." The insider continued, "He is trying his best to make things better. He never wants a divorce."
In his statement addressing the cheating scandal, Levine stressed that Prinsloo and their growing family are "all I care about in this world." "To be this naive and stupid enough to risk the only thing that truly matters to me was the greatest mistake I could ever make," he said (via People). "I will never make it again." He also stressed that he takes full responsibility for his actions. "We will get through it," he wrote. "And we will get through it together."