Inside Linda Cardellini's Life And Career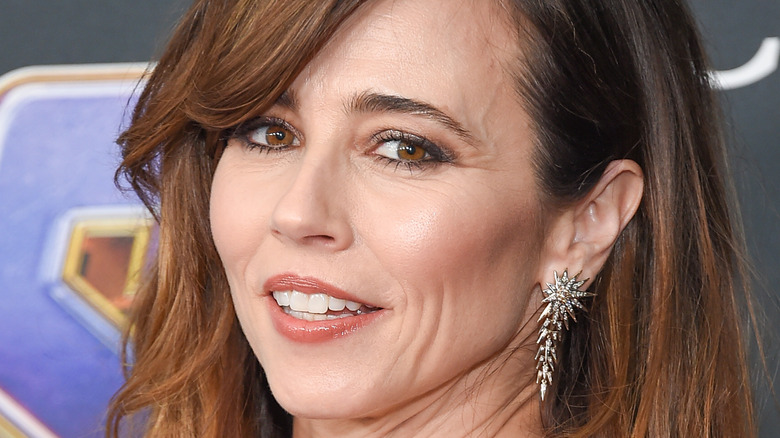 DFree/Shutterstock
Linda Cardellini is one of those actors whose name calls to mind a list of iconic characters. "Oh, it's Lindsay Weir!" or "hey, there's Velma!" or "OMG it's Chutney!" Chances are, everyone has seen Linda Cardellini in something. And her performances are good. So good that she gets mistaken for her characters at times. "[I]t's a double-edged sword," she once said in Elle. "You want people to believe what you're doing, so if they believe it, feel passionately about it—and, in turn, dislike you for something unlikable that your character does—in one way, that's a good thing."
Cardellini, who has been acting professionally since she was in college, has an impressive resume, including roles on legendary shows such as "E.R." and "Mad Men," the latter having garnered her an Emmy nomination. She has also appeared in Blockbuster films including the "Avengers" franchise, as well as critically acclaimed indie hits like "Brokeback Mountain." In recent years she has starred in two binge-worthy Netflix series, "Bloodline," and "Dead to Me." 
While Cardellini keeps her personal life relatively private, she is candid and funny in interviews, a devoted mom, and an awesome BFF. Whether you're a freak or a geek or just got a fresh new perm, let's take a closer look at the life and career of Linda Cardellini.
Linda Cardellini comes from a big family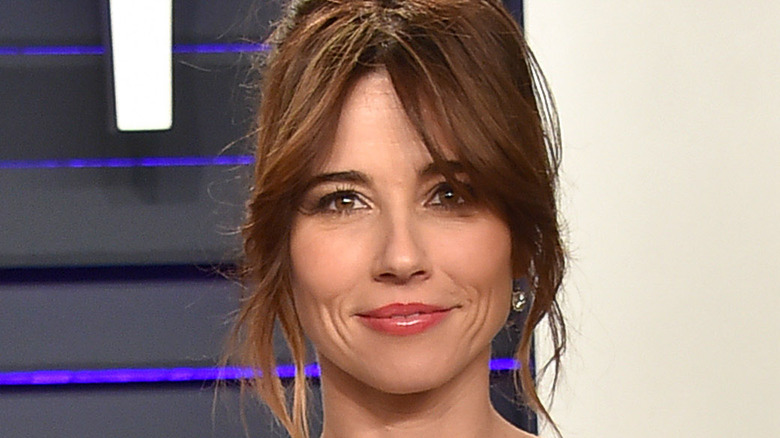 DFree/Shutterstock
Like her character on "Bloodline," Linda Cardellini is the youngest of four siblings. However, the Cardellini family is a lot less dysfunctional than the Rayburn clan. In fact, Cardellini says her family, especially her parents, were immensely supportive of her career. She said in Elle, "My mom was there for everything, every show. She led me to believe—and my dad, too—that I could do anything I put my mind to, regardless of whether it seemed impossible to other people." While some parents may advise their against putting their eggs in the acting career basket, it sure sounds like that was not the case in the Cardellini household. 
And Cardellini was a good girl growing up, which she attributes to being a bit of a late bloomer. "I don't think I gave my mom too much trouble as a teenager," she shared with Good Housekeeping.
Cardellini's whole family benefitted when the actor began to find success. While shooting "Scooby-Doo" in Australia, she finagled a way to fly even her extended fam out for a visit. Cardellini told the A.V. Club, "So, they gave us these two first-class tickets, and my dad and I figured out that we could take however much these two first-class tickets were worth and divide it into 14 tickets. So, I brought over my aunts, my mother, my father, my sister." Talk about a plan that was as sweet as it was resourceful.
Her TV debut was not an acting gig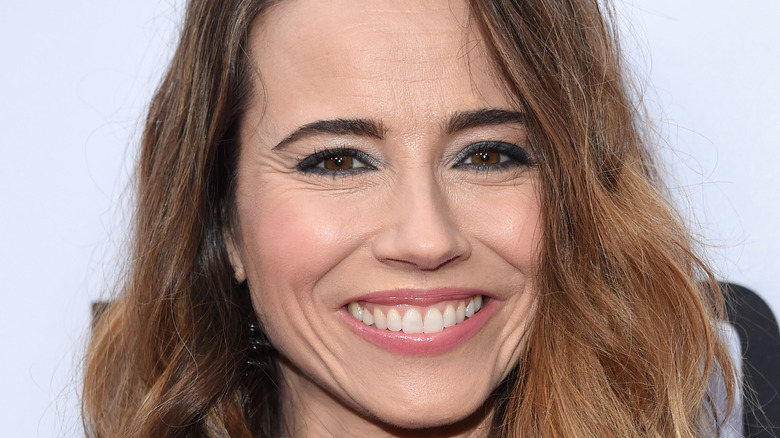 DFree/Shutterstock
Although Linda Cardellini's first acting jobs were on TV series, her very first television appearance was not a paid acting gig. But that's not to say she went home empty-handed. Cardellini was a contestant on "The Price is Right" when she was still a college student. "I was one of the first people called, but I was terrible at the game. And finally at the sixth try ... I bid $1,000 and I won a gas fireplace," she recalled on "Live with Kelly and Ryan." In the clip of Cardellini running down the aisle after she was told to come on down, she looks utterly ecstatic. "I have to say, when everybody asked me what it was like when 'Green Book' won the Oscar and it was exactly that feeling," she quipped.
So, what became of that gas fireplace? Well, as Cardellini told John Oliver on a 2013 episode of "The Daily Show," she had big plans for it. "[O]nce I was really an actress, I was going to put a plaque on it that said, 'My First Time on Television,' and be very proud of it. And so I kept it all these years and never bought the plaque. ... It looks terrible."
What Linda Cardellini learned from her early roles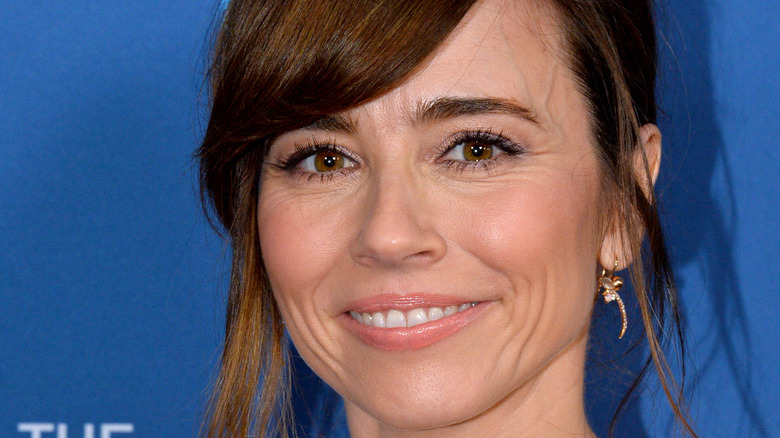 Featureflash Photo Agency/Shutterstock
Linda Cardellini made her acting debut in 1996 on "Bone Chillers," a spooky Saturday morning show geared towards children. Cardellini was in college at the time, and she and her friends would gather on Saturday mornings to watch her performance after a night out. She is still proud of the gig and it gave her some valuable insight into what goes on behind the scenes. "I learned that on kids' shows, you have to eat a lot of stuff. A lot of the humor comes from food and gross-out humor. My first week on set, I had a pile of cold, dirty lasagna, and I learned what a spit bucket was," she told the A.V. Club.
Cardellini's first film experience was not quite as wholesome. As she told Conan O'Brien, she answered an ad she found on a telephone pole and ended up an extra in a film that was not what she'd expected. "I think [it was] some kind of half nudie kind of movie," she said. The movie was shot at the L.A. County jail and apparently the production wasn't exactly up to SAG-AFTRA standards. "They said if anybody wants to take off their shirt, they could make an extra... I think it was $50, and your name would be in the credits," Cardellini recalled. She could not be swayed, but it was an eye-opening experience for sure. "I was like, 'oh my God, everything my grandfather said about Hollywood is true,'" she shared.
Her breakout role on Freaks and Geeks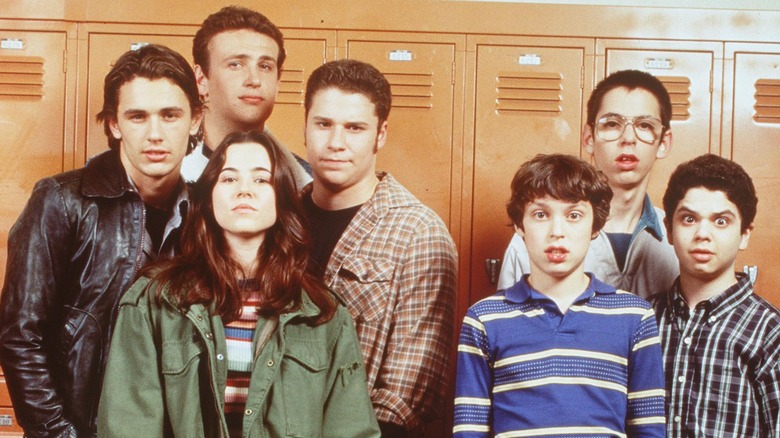 Getty Images/Getty Images
It turns out being a late bloomer worked out in Linda Cardellini's favor, as she was able to play characters years younger than she was in real life. Of taking on the role of high schooler Lindsay Weir on the cult classic series "Freaks and Geeks," she told HuffPost Live, "I was maybe 23 turning 24, but playing very young and I had been playing very young for a while."
The script was what drew Cardellini in, and she was willing to turn down other projects so she could play Lindsay Weir. "I got a call from an executive saying, 'you know, if you were smart you would be putting yourself out first for these other things,'" Cardellini recalled. "And I said, 'I don't want to do anything until I test for 'Freaks and Geeks.'" Although the show lasted merely one season from 1999 to 2000, it has found new life and new fans over the years due to its DVD release and reruns being shown on networks like IFC.
Cardellini was somewhat responsible for Busy Philipps taking on the role of Kim Kelly as well. Cardellini and Philipps both attended Loyola-Marymount University, and were acquaintances. Philipps' agents were also telling her to wait for a bigger part in a different project, but a chance encounter changed everything. "I ran into Linda at the airport ... and she was like, 'I just got Lindsay, you have to be Kim! Like, it'll be so much fun!'" Philipps recalled on HuffPost Live. From that moment, Philipps was sold. 
Forgetting Linda Cardellini?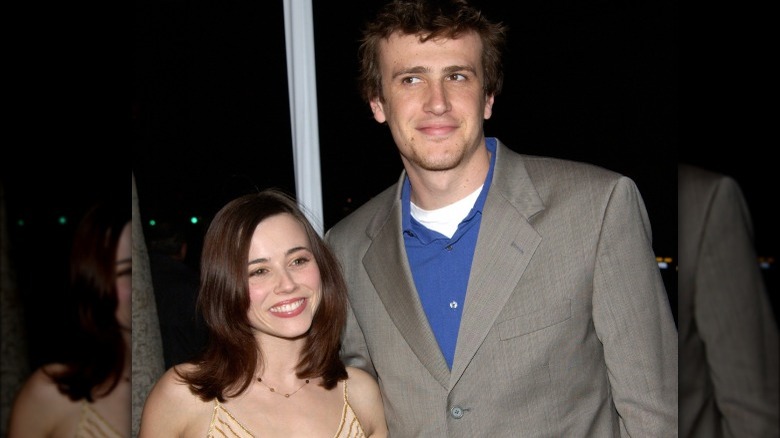 Featureflash Photo Agency/Shutterstock
Speaking of being chummy with co-stars, Linda Cardellini went on to date Jason Segel, who played Nick Andopolis on "Freaks and Geeks." Their characters were linked briefly on the show, but their real-life romance lasted quite a while. According to The Sun, the couple dated from March 2001 until January 2007.
In 2008, Segel wrote and starred in the hit film "Forgetting Sarah Marshall," and rumor had it that the movie was based on Segel and Cardellini's break-up. Although the film follows Segel's character as he tries in vain to get over the relationship, Sarah Marshall (played by Kristen Bell) is not exactly portrayed in the most flattering light. When asked directly by the Los Angeles Times if the film's titular character was indeed based on Cardellini, Segel responded, "I can't control what people think. I was still very much a child [then], and this was more an amalgamation of a lot of different relationships and breakups I've had. People are bound to talk, but she was a great girlfriend." Way to keep the rumor mill churning, Segel.
Her Scooby-Doo audition and her love for Velma
When Linda Cardellini got the opportunity to audition for the part of Velma Dinkley in 2002's "Scooby-Doo" film, she jumped at the chance. She told the AV Club that she was a fan of the classic animated mystery series when she was a kid, and her love for Scooby and the gang did not wane as the years went on. "Even when I was older, when I was in college studying and I needed to tune out for a while, I'd watch 'Scooby Doo,'" she said.
However, she wasn't sure she'd exactly nailed the audition. "I went in there with the costume and I had this voice, and I did this gag where I lost my glasses and I made my eyes look like tiny slits... Nobody laughed at that," Cardellini recalled. She was devastated, but it turned out the director loved the bit and the part was hers.
In October 2022, the animated film "Trick or Treat, Scooby-Doo!" was released. Velma's crush on a new female character had fans cheering, as she was finally outright portrayed as a lesbian. "I think it's been hinted at so many times, and I think it's great that it's finally out there," Cardellini told EW. "I just went trick or treating with my daughter and there were a lot of Velmas out there, so I love that she still has this place in culture that is sort of always active for decades."
Linda Cardellini's iconic appearance in Legally Blonde
"Legally Blonde" is a beloved film starring the likes of Reese Witherspoon and the legendary Jennifer Coolidge. But Linda Cardellini as Chutney Windham will always give us life. Cardellini was urged not to take the part, but she relented; she not only had a feeling the project could be something special, but she recognized how much fun she could have with this particular role. "I was looking into it and my agent said, 'It's kind of a cameo. I don't know if you want to do something like this.' And I said, 'I love it. I think it's hilarious, and I get to be the murderer. I've never been the murderer.'" Cardellini revealed to the A.V. Club.
Cardellini may have stolen the scene, but her glorious perm was perhaps the real star; the movie's climax hinged on the un-hair-ably good 'do. Sure, those curls damaged the actor's actual hair, but as far as she's concerned, that damage was all worth it. "I remember at first, they curled the front of my bangs, and the curling iron was so hot, it burned off the top of my bangs. So, for a while, I had just very short, like, spiky bangs after the movie. But I didn't care because, like, whatever, her hair looks exactly as obnoxious as I wanted it to!" she told BuzzFeed. 
She's an accomplished voice actor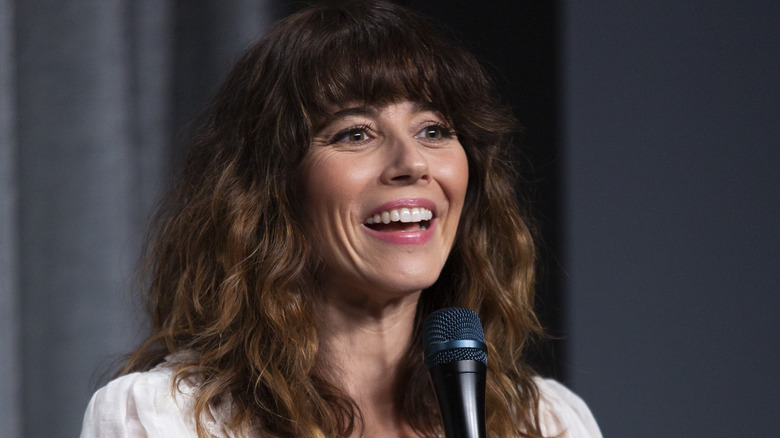 Vincent Sandoval/Getty Images
Linda Cardellini has a lovely face that fans love to see on both the small and big screen, but her voice is just as sought-after. Cardellini's mellifluous voice has given her the opportunity to do a lot of voice acting over the years. "I'd always wanted to try my hand at every bit of the acting field," Cardellini told Backstage. "And then, you know, it's a creative way to make money when I wasn't acting on camera."
Cardellini has lent her voice to popular series such as "Robot Chicken," "Sanjay and Craig," and "Gravity Falls." She also voiced the character of Sharla on "Out There," in 2013, a job which came at the perfect time for the actor. "I was incredibly pregnant at the time [of recording]...it was a really wonderful job to have during that time," Cardellini shared with the A.V. Club.
There was, however, a voice acting gig that didn't go as planned. Cardellini once lent her voice to the hit animated series "Family Guy," but didn't realize she didn't make the final cut. She eventually got the opportunity to confront the show's creator, Seth MacFarlane, on an episode of "The Late Late Show With James Corden." "I did a voice on it, and I told everybody to tune in and watch. And then when I watched it, I was replaced," she said. A seemingly shook MacFarlane replied, "In my defense, I have no recollection of anything past this morning." Well, okay.
Linda Cardellini met her fiancé when they were kids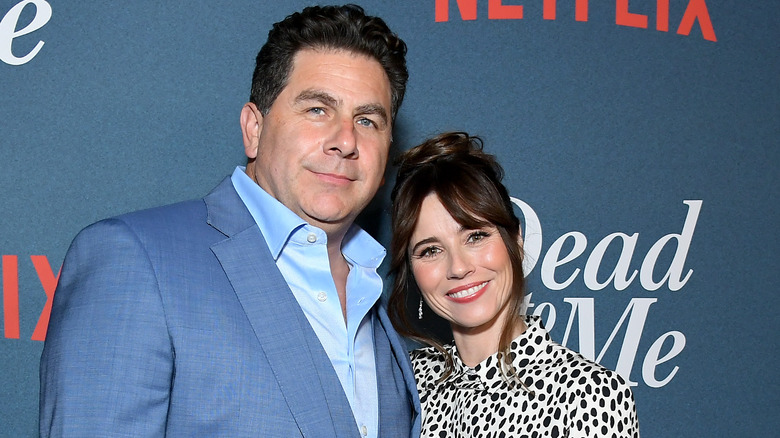 Charley Gallay/Getty Images
Linda Cardellini is not one to have her love life splashed all over the tabloids. Aside from Jason Segel, she hasn't really dated anyone in the public eye. In fact, she ended up engaged to her childhood crush, Steven Rodriguez. "He was 11. He was the new kid at my school," she told People. "He could do amazing bike tricks and I was impressed. Not afraid to say it." Rodriguez, who is an actor turned makeup artist, said of the union, "It seems very meant to be."
Fate did its thing, and the two reconnected in 2010. The couple welcomed their daughter, Lilah-Rose, in 2012 and became engaged a year later. Cardellini announced the engagement with the most adorable tweet: a photo of her baby's little hand sporting a diamond ring. "My daughter Lilah Rose wants everyone to know that her mommy and daddy are getting married," the caption read.
She had a very difficult pregnancy
Jaguar PS/Shutterstock
Linda Cardellini's engagement announcement featuring her daughter's hand is all the more precious considering that her daughter's birth was somewhat miraculous. The "Freaks and Geeks" alum suffered various serious health issues throughout her pregnancy and giving birth posed problems of its own. "My daughter and I are lucky to be alive," she revealed to People.
According to Elle, Cardellini became very ill when she was nine months pregnant, resulting in serious complications. "I got sick with this super-infection, which included double pneumonia. Both my eardrums blew. My face was paralyzed," she said. The delivery itself was also terrifying. "I was in labor and they were losing her heart rate, and mine was going down too, so I had to have an emergency C-section. And I had an epidural that went too far, so my breathing was compromised—and then my daughter was stuck and had the cord around her neck," the actor explained.
Luckily, baby Lilah-Rose was fine and is now thriving. And as for whether or not she might one day pursue the show business path, too? "I'm not going to encourage it,"  Cardellini said on a November 2022 episode of "Live with Kelly and Ryan," "but if she wants to do it there'd probably be no stopping her."
Linda Cardellini's connections to Will Ferrell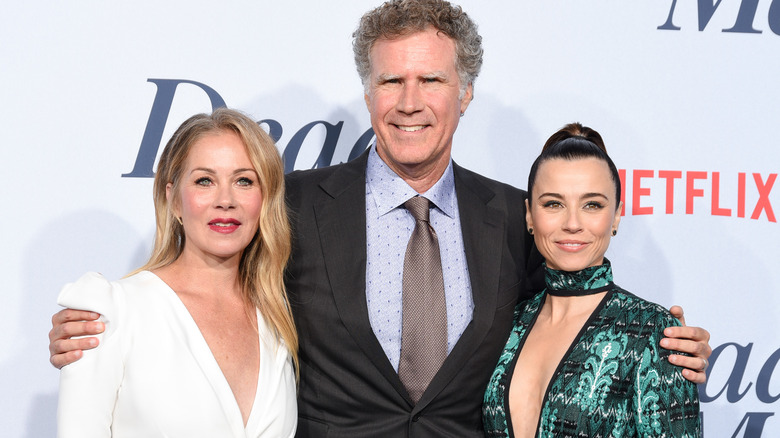 Presley Ann/Getty Images
Linda Cardellini has been in show business long enough to cross paths with the same actors time and again, but her connection to Will Ferrell is kind of uncanny. Cardellini first met Ferrell when she was a college student visiting NYC for the first time and got to attend a taping of "Saturday Night Live." "[T]he only people who really stopped and took a picture with us was Will and Molly [Shannon]," Cardellini told Jimmy Fallon on "The Tonight Show." "I mean, they made a point of it, it was so nice of them."
Many years later, Cardellini would play Will Ferrell's wife in both "Daddy's Home" and "Daddy's Home 2." Then in 2019, "Dead to Me" premiered on Netflix starring Cardellini and Christina Applegate, a show produced by, you guessed it, Will Ferrell. Funnily enough, Applegate and Ferrell also played love interests in "Anchorman" and its sequel. Some eagle-eyed fans have even picked up on a few nods to "Anchorman" sprinkled throughout episodes of the dramedy series, and the Netflix Twitter account even posted some screenshots from one scene where a character mentions mahogany, à la Ron Burgundy. 
Her friendship with Christina Applegate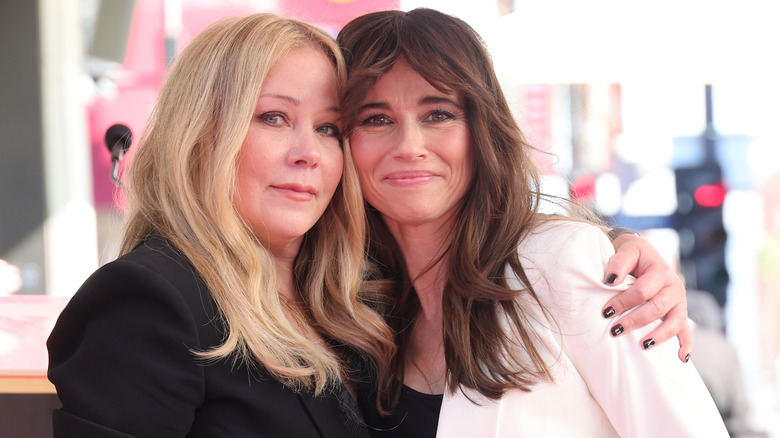 Emma Mcintyre/Getty Images
The hit Netflix series "Dead to Me," which stars Linda Cardellini and Christina Applegate, premiered its third and final season in November 2022. Cardellini's character, free-spirited and misguided Judy, is a great foil for Applegate's Jen, a cynical real estate broker grieving the death of her husband. The show is a fan favorite as well as being critically acclaimed, and that can be chalked up in large part to the amazing chemistry between Cardellini and Applegate. But not only do they play well off one another on screen, they are friends in real life.
The friendship between the two women deepened in 2021, while filming the last season of "Dead to Me." Applegate was diagnosed with multiple sclerosis and working became more challenging for her. "I was profoundly grateful that I could say, 'I need a half an hour,' or 'I need to go lay down — I can't walk,'" Applegate shared with Variety. Cardellini chimed in to say, "I just wanted my friend to be as OK as she could possibly be, whether we were in each other's kitchens or on set. Christina and I have a habit of mama-bearing for each other. We just try to look out for each other always, and that didn't stop." The friendship between Judy and Jen is the real heart of the show, and it seems Cardellini and Applegate have the real thing as well.
What she has literally taken from her roles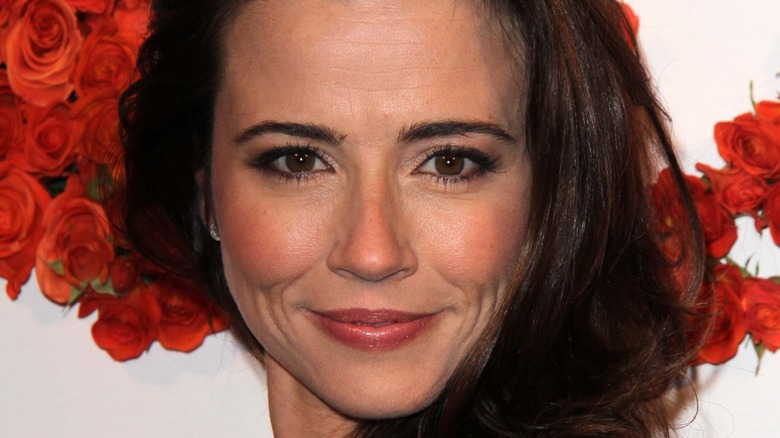 Kathy Hutchins/Shutterstock
Linda Cardellini has played many roles over the course of her career, and it stands to reason she'd have kept some souvenirs from some of her projects. In an interview with BuzzFeed, Cardellini revealed that she's kept Velma's outfit from "Scooby-Doo" as well as Lindsay Weir's ubiquitous army jacket from "Freaks and Geeks." She also snagged some of Judy's paintings and clothes from "Dead to Me." "Our wardrobe designers did such a great job. I just loved Judy's style," she said.
But her biggest haul? The outdoor furniture from the set of "Dead to Me." "All of those scenes when Jen and Judy are sitting outside or Judy falls asleep outside, I have all of the outdoor furniture; it's all in my backyard. And it's beautiful, by the way." Cardellini told BuzzFeed. It always looked so cozy out there, we must admit we're a bit jealous. But Cardellini has earned it. We only hope she still has room for that gas fireplace.